Telephony
Signal reception and call clarity are on a high level with the Nokia 6600 fold, so you won't have much trouble communicating with it.
Nokia 6600 slide is among the many S40 Nokia phones to feature an active noise cancellation technology for suppressing background noise in calls.
It's about time though Nokia introduced some sort of smart dialing in their feature phones, as most competing manufacturers have already done. It's quite convenient and might save the extra clicks to get to the phonebook.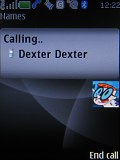 Calling Dexter on Nokia 6600 fold
We ran our traditional loudspeaker test to find out Nokia 6600 fold is a rather under-par performer. Missing a call in noisier environments is likely, unless you hold the phone right next to your ear. You can find more details about our test, as well as the results of all other tested handsets here.
| | | | | |
| --- | --- | --- | --- | --- |
| Speakerphone test | Voice, dB | Pink noise/ Music, dB | Ringing phone, dB | Overall score |
| Nokia 6600 fold | 66.7 | 62.1 | 64.6 | Below Average |
| Nokia 5310 | 64.8 | 62.0 | 75.9 | Average |
| Nokia 3600 slide | 67.7 | 66.7 | 75.7 | Good |
| Nokia 6500 slide | 74.2 | 72.8 | 78.2 | Very Good |
| Samsung M3200 Beat s | 76.1 | 78.3 | 84.7 | Excellent |
Messaging
Nokia 6600 fold is capable of handling all the common message types including SMS, MMS and email. The good menu structure and straightforward handling are commendable.
Texts and MMS use one and the same editor and all you need to do to turn a regular SMS into MMS is insert some kind of multimedia content.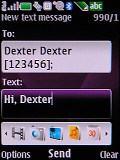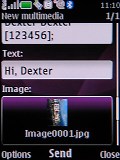 The SMS and MMS share an editor
Everything in the editor is intuitive and organized in a practical time-saving manner. Once you have inserted the relevant number, a single click will shift to the message body where you can start typing. The T9 dictionary and the handy delivery reports go without saying.
Message length is limited to 1000 characters with both the count of typed characters and the number of parts the message will break down into displayed on the screen. All messages use the shared memory, regardless of their type.
Nokia 6600 fold also comes with the dedicated audio message editor. Thanks to it creating an audio MMS is much faster and easier.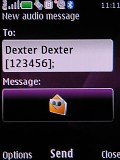 The audio message editor is really easy to work with
The email client is also doing pretty well. It works with POP3, SMTP, and IMAP4 protocols and supports multiple email accounts. The handset sports the ultra easy email setup. All you have to do is enter your username and password to start enjoying email-on-the-go. The phone downloads all the needed settings to get you going in no time.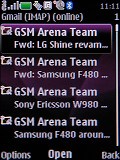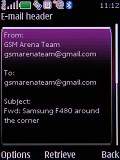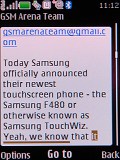 There is no problem checking your email on Nokia 6600 fold
When a message is to be sent, it looks up the email address of the corresponding recipient in the phonebook. Sent attachments are not limited in size. Either message headers only or entire messages can be downloaded by default, depending on your choice.