Plenty of applications on-board
There is a good amount of preinstalled stuff on Nokia 6600 fold outside the organizer too.
WidSets is a package that provides easy access to a number of web based applications, including weather and an online dictionary, to name a few. A unit converter is also on board and is in fact a really good one. It offers a good number of conversions, including currencies.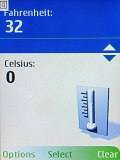 The preinstalled unit converter
The download application takes you to the Nokia download center. There you are going to find a lot of useful stuff for your handset.
Presenter is an application allowing you to wirelessly control PowerPoint presentations and a few other Windows applications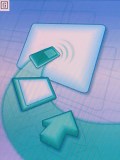 The wireless presenter application is also on board
The YahooGo application grants instant access to the most popular services offered by Yahoo.
The final featured application is World clock for checking the time in any time zone at the cost of only a few clicks.
The only thing missing here really is the office document viewer that can be found on every midrange Samsung and LG handset nowadays.
Say hello to Nokia Maps for S40
The Nokia Maps application has finally arrived on the S40 platform and the Nokia 6600 fold one of the first handsets to feature it. Among the things you can do without a GPS receiver is browse maps, look up addresses and locations, and plan routes.
Nokia Maps offers straightforward route planning. Having entered a start point and a destination, the application will plan your route with easy-to-follow directions to where you're heading.
Putting down some Landmarks while you're on the go, or saving locations in the Favorites section is another available option. Favorites contents can also be exported/sent via MMS, should you need to do so.
Having Nokia Maps on your mobile phone is a nice advantage. Of course you can always get the competing Java-based Google Maps but Nokia Maps has one crucial advantage - you can preload your maps on the memory card so that you don't need to download them on-the-go over the air.
Once you pair Nokia Maps with an external Bluetooth GPS receiver you can also enjoy real time voice-guided turn-by-turn navigation. It comes at a certain price, but it's always there as an option for those who need it.
If you don't have an external GPS unit, in some cases Google Maps may be the better choice. For one, it starts much more quickly (Nokia Maps takes quite a while to load on the 6600 fold), and then there's the convenient Locate Me feature that approximates your location based on the map based on cellular base station triangulation.
Six nice games are preinstalled
Gaming lovers will probably appreciate the preinstalled content on Nokia 6600 fold including six games.
Classic board game fans will be glad to find Backgammon II. It is a nice Java interpretation of the popular game. Snake is essential to Nokia phones, its presence in Nokia 6600 fold hardly a surprise.
The High roller casino includes some of the most popular games, such as Texas Hold'em Poker and Blackjack.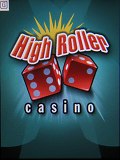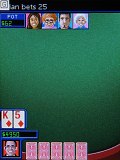 High Roller casino will be appreciated by gambling fans
Next two games in line are the sport simulation Golf Tour and the Java version of the popular Japanese game Sudoku. All the games have decent graphics and are comparatively easy to play.
The final game is the Rally 3D. It has decent graphics and can be quite amusing.
Final words
Nokia 6600 fold surely is a neat little phone with distinct personality. The shortish spec sheet won't get you too excited but what's there gets delivered right, except maybe for the camera. But let's not get into that. Performance in geek's terms has nothing to do with performance as in owning the stage. Nokia 6600 fold is the kind of thing to handle with loving care and nonchalantly get people to notice.
In all fairness, we can't help the thought it may be well overpriced. The OLED screen is the only thing that can possibly justify the price tag. We mean, the only thing beside the extra sweet exterior. Plus, cost may as well be irrelevant if you're looking at things from a different perspective. Where the cute Nokia flip seems the perfect fit for chick lit, shoe shop, chit chat.