Symbian phonebook with Windows Live integration
Symbian devices have phonebooks that can basically do anything you can think of with your contacts. Storage space can potentially extend to the whole phone memory, which is hardly possible to deplete. The Nokia 6760 slide can do much more than this though.
Now it offers Windows Live integration in contacts in a separate tab located next to the OVI tab. Logging on with the Windows Live ID gives you direct access to Messenger, Hotmail, Spaces, Search and msn.com which is a great step towards full integration with Windows live services. Of course, OVI integration is fully supported too.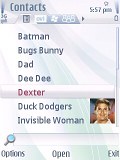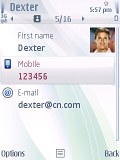 Symbian phonebook with Ovi and Windows Live
Contacts can be freely ordered by first or last name and can naturally be searched by gradual typing of any of the names. You can also set whether the contacts from the SIM card, the phone memory and the service numbers will get displayed.
Editing a contact offers a great variety of preset fields and you can replicate each of them as many times as you like. You can also create new fields if you happen to be able to think of one. Personal ringtones and videos are also available for assigning. If you prefer you may group your contacts and give each group a specific ringtone.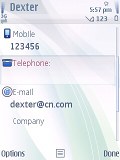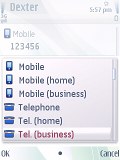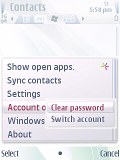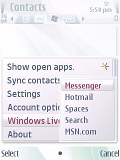 Quite a number of fields are available when editing a contact • windows live services
The Call log keeps track of your recent communications. The application itself comes in two flavors - accessed by pressing the Call key on the stand-by screen or from the main menu. The first one brings 20 call records in each of its tabs for outgoing, received and missed calls.
If you access the Log application from the main menu, you'll see a detailed list of all your network communications for the past 30 days. These include messages, calls and data transfers.
Symbian messaging
The Nokia 6760 slide supports all common message types - SMS, MMS and email. Given the Windows Live integration, a Hotmail inbox is predefined in the messaging submenu. The 6760 slide supports Nokia push Messaging as well.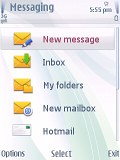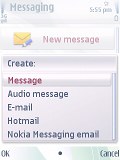 The SMS and MMS share a nice and intuitive editor
SMS and MMS messages share the all too familiar intuitive editor. It has a counter of characters left up to a limit of 160. An indicator in brackets shows the number of separate parts the message will be divided into for sending.
Switching from SMS to MMS is as simple as inserting some multimedia content. The phone prompts you to scale down photos that are too large for sending via MMS.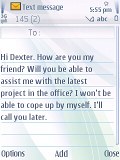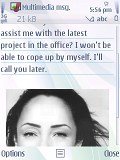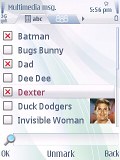 Creating a new message • easy converting into MMS
Delivery reports pop up on the standby screen and are then saved in a separate folder in the messaging sub-menu.
The email client is really nice, able to meet almost any emailing needs. The best part is that the Nokia 6760 slide is yet another handset that sports the ultra easy email setup we came to know and love in recent Nokia phones.
If you are using any public email service (it has to be among the over 1000 supported providers), all you have to do is enter your username and password to start enjoying email on the go. The phone downloads all the needed settings to get you going in no time.
Multiple email accounts and various security protocols are supported, so you can bet almost any mail service (be it POP or IMAP) is ready to run on the 6760 slide.
The client can download headers only or entire messages, and can be set to automatically check mail at a given interval. A nice feature allows you to schedule sending email next time an internet connection is available.
There is also support for attachments and signatures and generally the Nokia 6760 slide can meet most email needs.
The dedicated Nokia Messaging email client has better looks and functionality than the ones in the past. Each of the folders of your mailbox can now be sorted by whatever filters you might like and can then be searched through if necessary.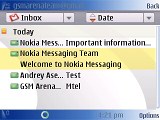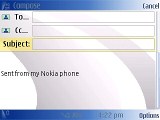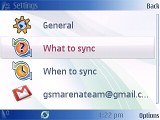 Nokia Messaging does things well
You can also set what the folders preview should look like, i.e. how many lines should be given to each entry, whether title dividers should be applied etc.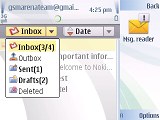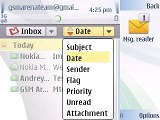 You can sort your email much like on a desktop computer email client