Ovi Maps and GPS
The Nokia 6760 slide has a built-in GPS receiver and Ovi Maps preinstalled. The application on our Nokia is the latest 3.01 version. It took under a minute to get a satellite lock with A-GPS on.
Ovi Maps offers four different view modes including satellite and hybrid maps. Those however always need an internet connection and cannot be preloaded on the phone in advance like you can do with the regular map data and the desktop Map loader application.
A 3D view is also available in addition to the regular 2D mode.
Though the Nokia 6760 slide does not feature a digital compass, it has an option to align map to route so you can always see the route as it naturally progresses or to align the map north.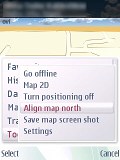 Aligning map to route is a convenient feature for the devices without a compass
The route planning algorithm is also rather easy to customize to best suit your preferences. Toll roads and motorways can be avoided and so can tunnels and ferries. Route selection can be set to either fastest or shortest. The dashboard is as usually onboard and displays speed, pace, altitude and geoposition.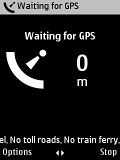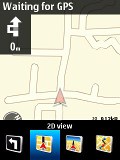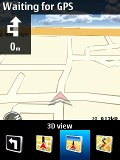 Large icons guide you on the road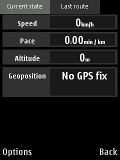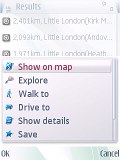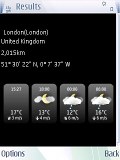 Dashboard • Weather details available for every destination
Additional features like traffic information and city guides can also be activated but they come for a fee.
Finally, in case you are still unhappy with Ovi Maps you can go for a third-party application and there are quite a lot of those available. GPS-wise, the not-so-big screen on the Nokia 6760 slide can hardly be considered a treat for full-featured in-car satnav use. Still, it can fill in when you need an occasional location service.
The separate GPS data app displays all the information concerning the current route from A to B points.
Final words
A friendly and compact messenger like the Nokia 6760 slide undoubtedly has its own place in the Nokia portfolio. It is far from perfect though and the brand definitely has better options for those who need superior hardware and additional functionality.
The lack of Wi-Fi support can be compensated by a solid data plan but the small display and questionable build quality may be too much of a compromise. The solid messaging and excellent QWERTY keyboard give the 6760 slide enough focus and motivation. But it certainly risks being eclipsed by some of its own Symbian siblings.
It will be insane to put the 6760 slide in the same league as the E75 but the 5730 XpressMusic looks by far the more logical choice in terms of sheer value for money. With nearly the same price tag, it brings extra features such as a 3.5 mm audio jack, dedicated music keys, Wi-Fi, and camera with Carl Zeiss optics, autofocus and LED flash.
The 6760 slide is not the usual Nokia phone though. It may as well be that its future was decided far away from home. It's a reasonable assumption that both Nokia and AT&T are happy with how the Surge performed overseas. So, Nokia decided to build on that by releasing a basic Symbian messenger that might be popular with European carriers. Not least, there's a niche on the market that seems too small for the S60 top brass but still worth it.
The Samsung B5310 CorbyPRO is one possible rival of the 6760 slide that's yet to be released on the market. It only fails to offer a smartphone platform but has a larger 2.8" touchscreen display, 3.5 mm audio jack, Wi-Fi, faster HSDPA and native DivX video support.
The LG GW520 is another full-touch QWERTY messenger to hope for solid carrier-subsidized sales. Just like the 6760 slide it's got 3G but no Wi-Fi and is focused on social networking. The GW520 bets on touchscreen against the Symbian skill of the Nokia 6760 slide.
In the end, the 6760 slide won't get away with the lack of certain features as a stand-alone offer but can hope to find some level of popularity if carriers embrace it (and go for some heavy subsidizing).