User interface: Latest Symbian S60 3rd
The Nokia 6760 slide runs on Symbian 9.3 OS with the Series60 3rd Edition user interface. It has Feature Pack 2 like most of the E-Series phones such as the E52, E75 or the recently released E72.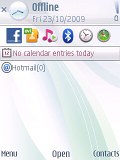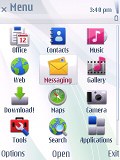 Nokia 6760 slide is a Symbian smartphone
The 6760 slide comes with the new S60 icons for a pinch of 5th edition (touch) styling. The interface can freely rotate to landscape mode thanks to the accelerometer, which also offers silencing calls and snoozing the alarm by flipping your phone over.
Auto-rotate smoothly kicks in as you slide the QWERTY keyboard in and out too.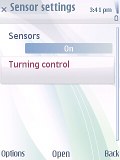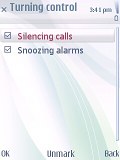 The accelerometer sensor has a number of settings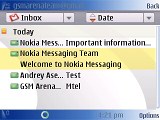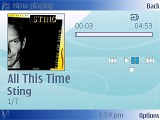 Almost every bit of the interface has a landscape mode too
The active standby mode goes without saying on the Nokia 6760 slide. This is a convenient way to add shortcuts to all your favorite applications on the homescreen. You can even assign shortcuts to websites of your choice for quicker access.
In addition you can bring different kinds of notifications on the homescreen: from email boxes and voice mail, through calendar and to-dos to the currently running track in the Music player and FM radio.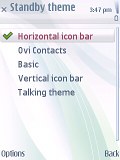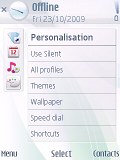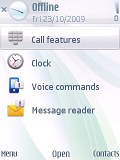 Standby themes modes • vertical bar and talking themes displayed
The Nokia 6760 slide built-in memory is 128MB, which is a decent amount. The included 2GB microSD memory card comes in very handy for extending it, and higher capacity cards up to 16GB are supported too (as we confirmed ourselves).
Accessing applications or any other files on the memory card is quick and you probably won't notice any difference compared to accessing data in the phone memory.
As with any Symbian phone, there is a built-in voice recognition system which works fine. It's fully speaker-independent and recognizes a very high percentage of the user commands.
And finally, there's a nice security feature known as Remote Lock. If your Nokia 6760 slide gets stolen or lost, you simply send a coded predefined SMS message to remotely lock the phone. After three unsuccessful attempts to unlock it, it wipes itself clean of all personal or sensitive info. You might not get your 6760 slide back, but at least nobody will get your personal data either.
Telephony is good
We didn't experience any problems with the in-call performance of the Nokia 6760 slide. Reception levels are good and there was no interference whatsoever. Sadly, there is no Smart dialing feature on the device.
At least the built-in voice recognition system is doing quite a good job recognizing most of the commands. It is also fully speaker independent and doesn't require prerecording of the commands. Bear in mind though that if you have multiple numbers assigned to a name, voice dialing only dials the default one with no option to change that as you go.
Here are the results from our loudspeaker test. The Nokia 6760 slide has a very good loudspeaker and well balanced voice reproduction but scores a Good mark on our test. No worries - it is as good as it gets for a non-multimedia phone.
In case you want to find out more about the test itself or a complete list of tested devices, hit this link.
| | | | | |
| --- | --- | --- | --- | --- |
| Speakerphone test | Voice, dB | Pink noise/ Music, dB | Ringing phone, dB | Overall score |
| Apple iPhone 3G | 66.1 | 62.1 | 71.7 | Below Average |
| Nokia 5730 XpressMusic | 68.7 | 61.7 | 75.1 | Average |
| Nokia 6760 slide | 67.7 | 66.2 | 75.1 | Good |
| Sony Ericsson X1 | 75.5 | 66.6 | 82.7 | Very Good |
| LG GW520 | 77.1 | 74.8 | 82.7 | Excellent |