Organizer and apps
The time-management skills of Nokia E5, like most other Symbian handsets, are impressive. Just name the application and you can bet the handset has it.
We start exploring the rich application package with the calendar. It has five different types of view - monthly, weekly, daily, Agenda and To-do, and five types of events available for setting up – Meeting, Meeting request, Memo, Anniversary and To-do. Every event has its own unique fields, and some of them allow an alarm to be activated at a preset time to act as a reminder.
Mobile office is also very well supported with preinstalled applications able to view Word, Excel, PowerPoint (including Office 2007 files) and PDF files trouble-free. Editing is supported out of the box – this is the Eseries after all. The final ingredient here is the included ZIP manager, which allows extracting archived files straight on your phone.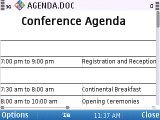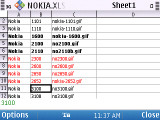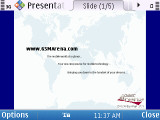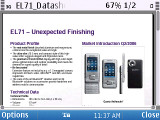 Nokia E5 handles .doc .xls .ppt and .pdf files seamlessly
The E5 sports a great unit converter, calculator and voice recorder, as well as the Notes application. The Active Notes application is also on board allowing multimedia content to be added to your notes.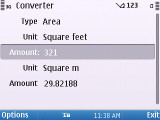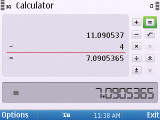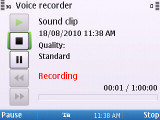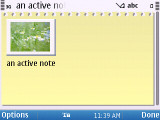 Converter, calculator, recorder, active notes
The alarm application allows you to set a huge number of alarms, each with its own name, set-off day and repeat pattern.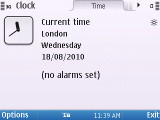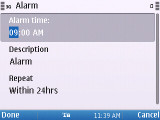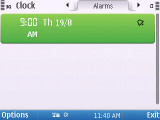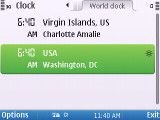 Setting up an alarm • The World clock
The Nokia E5 features a dictionary with a very rich database. English comes preinstalled but you can also download dozens of other languages for free off the Nokia website. A message reader can read your SMS and email messages out loud, which is a great option for drivers.
If the gallery file-management options (which even include sending multiple files at a time) is insufficient you can use the file manager. It allows you to do almost anything you can think of with your files. Copying, moving, creating new folders – you name it and it's a safe bet that the file manager can do it.
The useful "Search" application is also aboard the Nokia E5. The application itself finds almost every item in your handset containing a given keyword. From messages to landmarks, every bit of data is checked and then all results are displayed on the screen.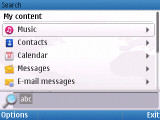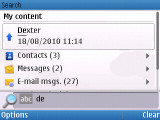 Every bit of data is checked by the search application
The Nokia E5 also comes with Ovi Files. You have to install the Ovi Files connector app on your computer but after you're done, you can access all the files on that computer from your phone or a browser on another computer. You also get "Anytime files", which lets you store 10GB of data online that is accessible even if the computer is turned off.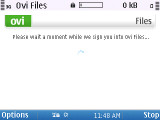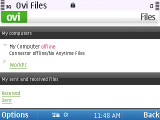 Ovi Files gives you access to any file on your computer
The social side of the Nokia E5 shows when you go into the Internet menu – you'll see many familiar names like Facebook, Twitter, MySpace and so on. Only Facebook gets a dedicated app, the others are just shortcuts to the networks' respective web pages.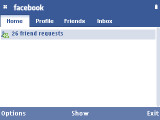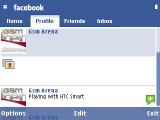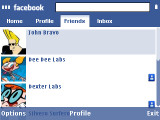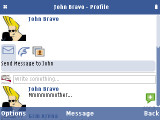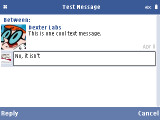 The Facebook app is available out of the box
The Nokia E5 doesn't come with any games but you can get some from the Ovi Store.
GPS receiver and Ovi Maps
The E5 comes with a GPS receiver and the Ovi Maps on board. You can browse the maps, look up addresses, plan routes, and enjoy turn-by-turn voice guided navigation. The route planning is widely customizable.
The Nokia E5 gives you a free lifetime walk and drive navigation license. With the Map Loader application for PC you can download map data to a compatible computer, and transfer it to your device to save on data charges.
The GPS receiver performance is not very impressive – it took quite a while to get a lock. For a faster fix you should enable Internet connectivity and the A-GPS.
Ovi Store
Speaking of the Ovi Store, it's easily accessible right off the phone as well as via a desktop browser. You can download the apps straight to your smartphone or transfer them later on from your desktop computer.
The structure of the Ovi Store client is simple – the general view lists apps with their names and category, plus the price and user ratings.
Selecting an app, gives you more details - a description, storage footprint plus reviews by people who have tried it.