User interface: classic Symbian with FP 2
Nokia E52 runs on Symbian 9.3 OS with the Series60 3rd Edition user interface. It has Feature Pack 2 like the E75side-slider and upcoming devices like the E55 and E72.
More importantly though, the Nokia E52 is powered by a 600 MHz CPU. In Symbian terms, that's a lot, not even Nokia's current flagship - the N97 - can match it.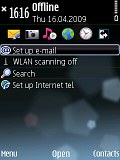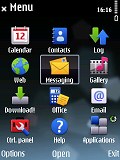 Nokia E52 runs on Symbian S60 3.2 much like Nokia E75
The E52 comes with the new S60 icons for a pinch of 5th edition (touch) styling. The interface can freely rotate to landscape mode thanks to the accelerometer, which also offers silencing calls and snoozing the alarm by flipping your phone over.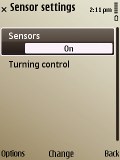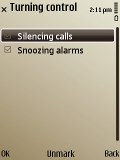 The accelerometer sensor has a number of settings
The phone's main menu has two view modes: a 4 x 3 grid of icons and a list. However, with the E52 you cannot opt for having animated icons like on some other Nokia phones. This is probably just another way of reiterating the specific business focus of the phone. At least the font size is widely configurable depending on your preferences and thanks to the Font.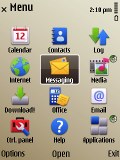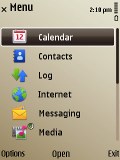 The main menu has two view modes
Inside the main menu, the circle next to the icon of a running application is a well known Symbian indication reminding users to quit unwanted applications that are still running in the background.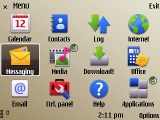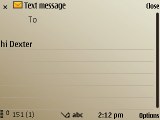 Almost every bit of the interface has a landscape mode too
The active stand-by mode goes without saying on the Nokia E52. This is a convenient way to add shortcuts to all your favorite applications on the homescreen. You can even assign shortcuts to websites of your choice for quicker access.
In addition you can bring up to 14 different kinds of notifications no the homescreen: email boxes and voice mail, through calendar and to-dos, to the currently running track in the Music player and FM radio. How many of those 14 get displayed is completely up to you.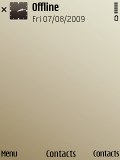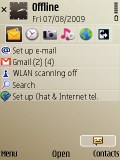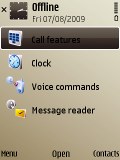 Basic, active or talking stand-by theme
Each of the one-touch keys (messaging and calendar) can be customized to access any feature (actually two per key) of choice. The two soft keys functions are user-configurable too.
If for some reason the active stand-by mode isn't your cup of tea you can use the basic theme or switch to the talking theme instead. The basic theme leaves the screen pretty bare and lets you assign shortcuts to the D-pad while the talking theme…well, talks. It brings four shortcuts to your homescreen and tells you what the currently selected one is.
Once you enter any of the menus, it tells you which menu you have opened and sometimes gives you some extra useful information about it. For example, when you enter the clock application, it tells you the current time. It would even read out the names of the contacts.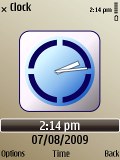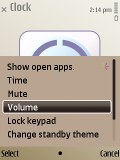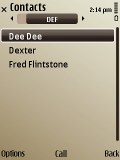 The talking theme has its own clock application
This talking theme is pretty handy to use when you can't look at the phone. It might be a good idea to activate it while driving for example so you don't need to actually look at the phone should you need it for something (not that we encourage cellphone use while driving).
Another cool feature of recent Eseries handsets allows you to toggle between two different phone setups - the so-called Mode Switcher. Each of them can be customized with its own theme and homescreen applications for maximum usability. This way you can have both a leisure and a business profile and switch between them with a single click.
The built-in memory is 60MB, which is a decent amount. The included 1GB microSD memory card comes in very handy for extending it, but higher capacity cards up to 16GB are supported.
As we managed to confirm, Nokia E52 has no problem handling a 16GB microSD card. Accessing applications or any other files on the memory card is quick and you probably won't notice any difference compared to accessing data in the phone memory.
As with any Symbian phone, there is a built-in voice recognition system. It is launched by the dedicated key on the right side of the E52 and does a good job. It's fully speaker-independent and recognizes a very high percentage of the user commands.
And finally, there's a nice security feature known as Remote Lock. If your Nokia E52 gets stolen or lost, you simply send a coded SMS message to remotely lock the phone. After three unsuccessful attempts to unlock it, it wipes itself clean of all personal or sensitive info. You might not get your Nokia E52 back, but at least nobody will get your personal data either.
The customization options for the user interface of the Nokia E52 are mainly restricted to its functionality out of the box. There are three themes preinstalled on the handset, each in two flavors - business and personal. You can assign a different theme to each of the modes - the preinstalled ones have subtle differences, just enough to indicate which mode you're in.
So if you are into changing those icons and colors you will have to download new ones online….but don't worry, there's plenty to choose from out there.