GPS navigation is pretty good actually
The Nokia E52 comes complete with a built-in GPS receiver, A-GPS and Ovi Maps preinstalled. Voice-guided navigation comes at a price, and the only free trial period you get is the 7-day one you can get at Nokia's website.
The preinstalled version of the Ovi Maps is 3.0 and as usual it's pretty nice to work with. It has really detailed map coverage of a huge number of countries and a lot of extras such as traffic information, city guides and so on. Sadly, the extra features need to be purchased separately, as must the voice-guidance after the trial period has expired.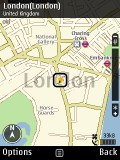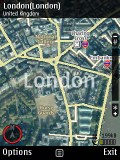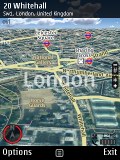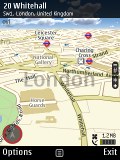 Nokia maps has four different view modes
The app also has very decent looks and easily customizable route planning algorithms. Our favorite feature is the 3D view mode, which unfortunately has to be turned on every time you restart Maps - that's an odd one, no doubt about that.
Ovi Maps is also usable for pedestrian navigation or you can switch the GPS receiver off and simply use the phone as an electronic map. The nice thing about it is that you can actually preload the map content, so you don't need to access the wireless network to download that on the go.
Nokia E52 also features a digital compass. In order for it to work, you need the map zoomed on your current GPS position. The compass (a magnetometer sensor) is turned on by default, but it doesn't work while turn-by-turn navigation is engaged. It's quite useful while making your way around on foot though as it rotates the map top match even your slightest change in orientation.
If you don't fancy using Nokia Maps, you can opt for any of the numerous third-party applications available on the market, there's no shortage of those.
The overall impression of the Nokia E52 GPS functionality is positive, with the GPS sensitivity pretty acceptable. It is good enough for most users' needs and won't make too many people look for alternatives.
Classic games and N-Gage
The Nokia E52 comes with two games preinstalled, both of which are pastime classics.
The first one, called Block Cascade Fusion is a variety of Tetris, in which color also comes into play - instead of just making lines, you have to line up 5 or more blocks of the same color horizontally or vertically. The changes in the rules take some time getting used to - the lines of 5 or more same-color blocks disappear only during the fusion… blocks are dropping frantically, while you're trying to figure out what the point is. It is part of the fun, so we won't spoil it.
The other option is Top Hit Solitaires bringing 15 types of solitaire, with classics such as Klondike and Freecell (if you ever owned a PC you've played them).
While it doesn't come preinstalled, you can install N-Gage on the Nokia E52, just head to www.ngage.com and follow the instructions. Strangely for a business-minded phone, there's full support for the recent Nokia gaming application. No need to tell you, there was no free activation code in our retail box.
Final words
The Eseries have certainly gone a long way, it's Nokia for business and they mean it. The Nokia E52 is a no-compromise tool and you can tell at a glimpse. The extensive use of metal doesn't go unnoticed by either eye or hand. Speaking of hand feel - the excellent build quality is perfectly matched by great ergonomics.
The hardware is top notch as you have every right to expect in the Nokia Eseries, except for the camera of course, but don't pretend you're surprised now. Well, the QVGA screen could be questioned too, but non-touch Symbians just seem stuck at that resolution and that's that.
With great email and office support, excellent browser and speedy CPU to run things fast and smooth, only one question remains. Is there really much left for the E55? It's practically the same phone with a half-QWERTY keyboard.
So we guess, the Nokia E55 kinda boils down to a limited edition E52. After all, most people will perhaps prefer the traditional phone keypad. The unusual half-QWERTY is not so much of an advantage after all when you factor in predictive typing on E52 and the steep learning curve when tackling typing on the E55 new type of keyboard.
Anyway, we're trying to put the E52 in context here and we can't do without its half-QWERTY sibling, the Nokia E55.
As to real competitors, the E52 is not really challenged beyond limits - Wi-Fi and GPS in a compact package seems to be largely reserved for touchscreen handsets or for full QWERTY phones like the E72.
There is one exception that delivers an even larger display in the same metallic design and the same Symbian S60 smartphone OS - the Samsung i7110. It somehow evaded the popularity it deserved, but that may be attributed to its quite high price. It is bigger than the E52, but's also got the imaging all covered with its 5 megapixel camera.
On the other hand, the BlackBerry Curve 8520 may be thicker and 11 mm wider and 4 mm thicker than the Nokia E52 it's just 12 grams heavier - not so much bigger overall considering the full QWERTY. If BlackBerry Connect is something you need the extra heft is something you'll just have to get used to.
Speaking of QWERTY-enabled handsets, we shouldn't also miss the best-selling Nokia E71 and its successor E72. The Nokia E72 follows the metallic styling of E52 almost to the letter.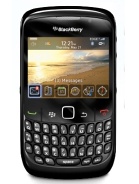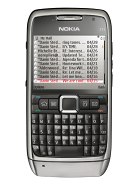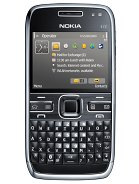 BlackBerry Curve 8520 • Nokia E71 • Nokia E72
The software packed into the E52 covers everything - from WiPresenter to Nseries-like gallery and N-Gage support. Neither the gallery, nor the games are that important in a strictly business device, but they would surely help push out the envelope of business-only manners to a wider public. And it sure helps to know that the E52 can kick back and relax too. Business sure comes first but those hot looks will as well connect with a different crowd too, to whom file attachments and mobile VPN are just a part of the nine-to-five rat race. And there's more to life than just work, right?