Customize your way
The choice of menu view modes with Nokia N86 8MP is quite extensive. You get to pick between four different options, which should have a little something for everybody. The first two are the well known 4 x 3 grid and a simple list.
The other two available modes are the 3D V-shape and Horseshoe layouts. They do look a lot better but working with them does take time getting used to. The font sizes throughout the menus are also configurable depending on your preferences.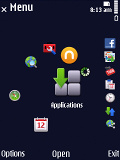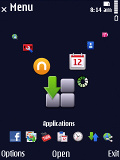 V-shaped and Horseshoe menu layouts
Your final option for customizing the UI is changing the currently active theme. There are three preinstalled themes on Nokia N86 8MP, but you are by no means limited to them only. Downloading additional ones from the internet and installing them on your N86 8MP is quick and easy and the choices offered are endless.
Telephony is a mixed bag
We didn't experience any problems with the in-call performance of Nokia N86 8MP. Reception levels are good and there were no interferences whatsoever.
Sadly, there is no Smart dialing feature on the Nokia N86 8MP (but that can be fixed with a third-party application). At least the built-in voice recognition system is doing quite a good job recognizing most of the commands. It is also fully speaker independent and doesn't require prerecording of the commands. Bear in mind though, that if you have multiple numbers assigned to a name, voice dialing only dials the default one with no option to change that as you go.
Here are the results from our loudspeaker test. Nokia N86 8MP didn't quite manage to impress us here, producing only an average score. So don't put the phone too far away in a noisy environment or you might end up missing quite a lot of calls.
Here is the table comparing the N86 8MP to some of the its Nseries siblings we've put to the same test. In case you want to find out more about the test itself or a complete list of tested devices, hit this link.
| | | | | |
| --- | --- | --- | --- | --- |
| Speakerphone test | Voice, dB | Pink noise/ Music, dB | Ringing phone, dB | Overall score |
| Nokia N82 | 70.2 | 61.2 | 65.9 | Below average |
| Nokia N79 | 66.6 | 65.8 | 71.7 | Average |
| Nokia N85 | 67.0 | 65.5 | 71.8 | Average |
| Nokia N86 8MP | 67.5 | 64.9 | 75.1 | Average |
| Sony Ericsson W995 | 66.1 | 66.0 | 75.7 | Average |
| Nokia N95 8GB | 75.7 | 66.2 | 70.2 | Good |
| Nokia N95 | 77.3 | 66.6 | 78.0 | Very Good |
| Nokia N96 | 73.7 | 76.0 | 78.1 | Excellent |
The Symbian phonebook is still perfect
The Symbian devices (Nokia N86 8MP included) have phonebooks that can basically do anything you can think of with your contacts. Storage space can potentially extend to the whole phone memory, which is impossible to deplete even if you tried intentionally.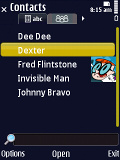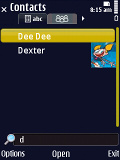 We all know how good the Symbian phonebooks are
Contacts can be freely ordered by first or last name and can naturally be searched by gradual typing of any of the names. You can also set whether the contacts from the SIM card, the phone memory and the service numbers will get displayed.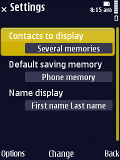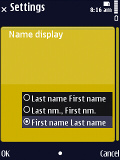 You can choose the contacts to be displayed and their display order
Editing a contact offers a great variety of preset fields and you can replicate each of them as many times as you like. You can also create new fields if you happen to be able to think of one. Personal ringtones and videos are also available for assigning. If you prefer you may group your contacts and give each group a specific ringtone.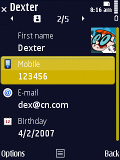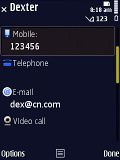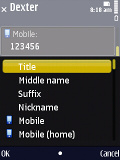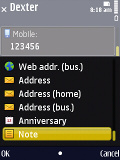 Quite a number of fields is available when editing a contact
The Call log keeps track of your recent communications. The application itself comes in two flavors - accessed by pressing the Call key on the stand-by screen or from the main menu. The first one brings 20 call records in each of its tabs for outgoing, received and missed calls.
If you access the Log application from the main menu, you'll see a detailed list of all your network communications for the past 30 days. These include messages, calls and data transfers (even WLAN connections are included).
A messenger within
Nokia N86 8MP supports all common message types - SMS, MMS and email. The first two share the all too familiar intuitive editor. It has a counter of characters left to the limit of 160. An indicator in brackets is showing the number of separate parts the message will be divided into for sending.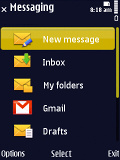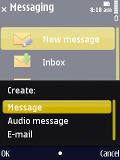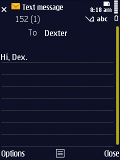 The SMS and MMS share a nice and intuitive editor
Switching from SMS to MMS is as simple as inserting some multimedia content. The phone prompts scaling down photos that are too large for sending via MMS.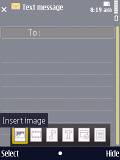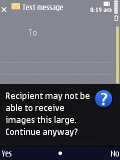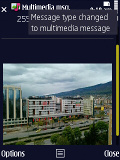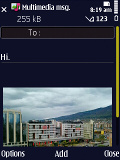 You can easily convert one type of message to another
Nokia N86 8MP also features the dedicated audio message editor for instant recording of audio. You can either record the message on the spot or use a sound clip from the phone memory.
Delivery reports pop up on the standby screen and are then saved in a separate folder in the messaging sub-menu. When you are exiting the message editor without having sent the message, the editor prompts saving it to the Drafts folder or discarding it.
The email client is really nice, able to meet almost any emailing needs. The best part is that Nokia N86 8MP is yet another handset that sports the ultra easy email setup we came to know in recent Nokia phones.
If you are using any public email service (it has to be among the over 1000 supported providers), all you have to do is enter your username and password to start enjoying email on the go. The phone downloads all the needed settings to get you going in no time.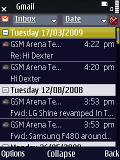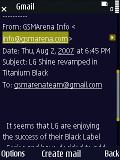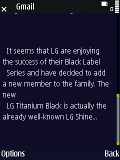 The email client is commendable
Multiple email accounts and various security protocols are supported, so you can bet almost any mail service (be it POP or IMAP) is set to run on the N86 8MP.
The client can download headers only or entire messages, and can be set to automatically check mail at a given interval. A nice feature allows you to schedule sending email next time an internet connection is available.
There is also support for attachments, signatures and generally, you can hardly think of something important that the Nokia N86 8MP is missing (except perhaps Blackberry Connect support, but if you are into that, obviously Nokia prefers that you go get yourself a Blackberry instead).