Video player
Nokia N86 8MP video player can work in both portrait and landscape mode and can be switched to fullscreen. When in full screen, the soft key labels are hidden so that they don't spoil the viewing and only pop up when a key is pressed.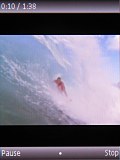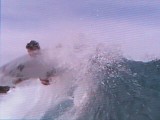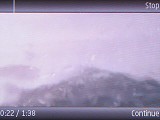 The video player offers fullscreen in both portrait and landscape modes
Watching video on the N86 8MP might not be the best experience around due to the smallish screen, but, hey, there's the kickstand to make up for that to an extent.
The video player has no DivX/XviD support so you need to use a third-party video player, such as the popular Core Player. Or you can of course leave it to Nokia PC Suite/Ovi Suite to transcode your videos to the MP4 format, the handset supports out-of-the-box.
FM radio
The FM radio on Nokia N86 8MP has the familiar neat and simple interface and can automatically scan and save the available stations in your area. It also has RDS support and Visual radio. The latter requires internet connection and WLAN won't do.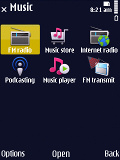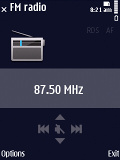 There is nothing more to be demanded from the FM radio
With RDS and automatic scanning however you're less likely to resort to network data transfers with Visual Radio. In addition Nokia N86 8MP offers a direct shortcut to the online radio directory where hundreds of stations are available.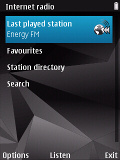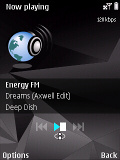 There is also a shortcut to the online radio directory
FM transmitter
An interesting feature of the Nokia N86 8MP is the built-in FM transmitter. It allows you to broadcast your favorite tracks over a predefined radio frequency. Those can then be picked up by any device with an FM radio receiver in the vicinity.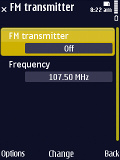 The FM transmitter has quite simple interface
The transmitting signal strength of the N86 8MP is decent, making it quite usable in a car for example. The FM transmitter application itself has a really nice and simple user interface so the handset has every chance of replacing a CD changer in your car for example.