Pretty basic phonebook
Nokia N900's phonebook is hardly the most functional we have ever seen. In fact when you launch it from the phone application it looks a bit better, packing a letter search at the side.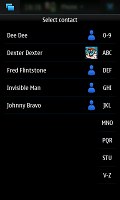 There's also alphabetic search when you access your contacts through the phone app
When you open the main phonebook however you can only choose whether contacts should be ordered by first, last name or nickname. Searching here is only done by gradual typing of some of the contact's names. Grouping contacts is also possible.
Nokia N900 offers integration of the most popular instant messaging clients out there in the phonebook. Additionally, if you enter, say, a contact's Skype account to their details you will be also offered a choice between a regular and a Skype call the next time you want to dial that contact.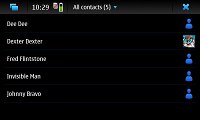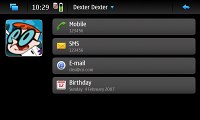 The phonebook is nothing to rave about
Editing a contact offers a good variety of preset fields but not as good as the Nokia S60 handsets. Yet we don't think the difference will be perceivable in real life usage. And you can still replicate each field as many times as you want.
An interesting omission is the option to assign specific ringtones to particular contacts. But we think that can be easily fixed in future software revisions.
The Nokia N900 doesn't have a call log in the classical meaning of the word. There isn't a dedicated application for that but the phone app shows all your recent communication as a scrollable list. Additionally when you look at a single contact's details in the phonebook you can check your past communications with that contact.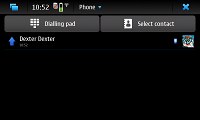 Your recent communications appear in the phone app
Telephony has room for improvement
We are really pleased with the in-call performance of Nokia N900. Reception was really clear and there were no interferences whatsoever. Only the earpiece wasn't as loud as most other Nokia handsets we have tested but it isn't too bad either.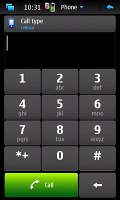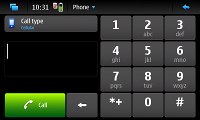 The phone app works in portrait mode too
Unfortunately, neither smart or voice dialing is an option with the N900 at this stage. Another pretty comfortable feature omitted by Nokia that we hope will make its way to the device in the near future. A third party app and a feature added by a firmware upgrade are both options and we hope at least one of them gets to the market soon.
Thanks to the built-in proximity sensor the Nokia N900 automatically turns off its display when you hold it against your face during a call. Once you take it away the display is reactivated so you can easily interact with the phone.
There is also the so-called turn-to-mute functionality on the N900 thanks to the accelerometer. All you need to do in order to mute an incoming call is flip the phone over.
A really cool innovative feature of the N900 allows the phone application to automatically start when you turn the phone to portrait mode. This feature is switched off by default and will probably be sacrificed altogether when portrait mode becomes available throughout the interface but it works pretty cool now.
There are four big buttons available when you are in a call - speaker, mute, hold, dial pad and end call. There's also a shortcut to the task manager which send the active call to background.
We also ran our traditional loudspeaker test on Nokia N900. The handset didn't break any glass around the office but still managed to achieve a "Good" mark. That means that you are okay in most cases, but need to keep an eye on the phone in extremely noisy environments.
| | | | | |
| --- | --- | --- | --- | --- |
| Speakerphone test | Voice, dB | Pink noise/ Music, dB | Ringing phone, dB | Overall score |
| Nokia E75 | 64.8 | 60.7 | 65.9 | Below Average |
| Nokia N900 | 66.7 | 66.6 | 70.5 | Average |
| Nokia N97 | 72.8 | 67.3 | 75.8 | Good |
| HTC Touch Pro2 | 74.6 | 70.0 | 78.1 | Very Good |
| HTC Touch HD | 77.7 | 73.7 | 76.7 | Excellent |
More info on our test can be found here.
Messaging: it's got all but MMS covered
Coming with a full QWERTY keyboard the Nokia N900 will naturally be regarded as a good choice for heavy texters. Indeed the handset is a pretty powerful messaging tool but there are a few limitations when compared to its S60 siblings and some other competitors.
For one Nokia N900 doesn't support MMS, which leaves SMS and email as your only messaging options. The audio messaging available on the S60 devices is understandably unavailable too as it is merely a type of MMS. Whether or not that matters to you or not is not something for us to say but it's good to have in mind when comparing options.
The SMS editor has a counter, indicating the number of characters left to the limit of 160. Naturally, you can also activate delivery reports to confirm that your message has reached its addressee.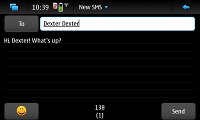 Sending Dexter an SMS with the Nokia N900
When you are exiting the message editor without having sent the message, the Nokia N900 saves it and the next time you enter the editor resumes form where you left. It's can be irking at times when you want to save message as a draft and start another one but in the other cases that's the more comfortable solution.
The email client is also pretty nice on the Nokia N900 although its easy setup process isn't as easy as it was on the Nokia N97. We needed to enter a few of the settings manually in addition to the username and password.
For example, the handset filled our POP3 and SMTP servers automatically but left to us to activate the SSL protocol manually (Gmail works only over SSL encrypted connections).
There is no problem setting up multiple email accounts, which co-exist peacefully on the Nokia N900.
The client downloads the entire messages automatically so there is no option to get only the headers if you're stingy with the data traffic. You can enable the handset to check your mail at a given interval or when WLAN is available. The messaging format (HTML or plain text) is also customizable.
There is also support for attachments and you can open any incoming documents or other files with the suitable Nokia N900 applications. Signatures can be activated and customized too.
Finally, we need to mention that Nokia N900 offers a virtual QWERTY keyboard for text input in addition to the regular one. We cannot see too many cases where its use is justified, which explains why it is turned off by default but if you think otherwise, feel free to use it.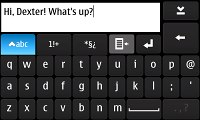 There's also an on-screen QWERTY
The N900 doesn't have handwriting recognition though, despite there's a stylus onboard.