Connectivity at its best
With web browsing being Nokia N900 thing, connectivity simply has to be good. But the handset even managed to surpass expectations by adding the Infrared connectivity to the basket, making a grand slam of data transfer means.
It's not that Infrared has too much application for file transfers or something. The lack of manual control over it suggests just the opposite but it's nice to have it onboard so you can use your handset as a universal remote control with the appropriate software.
The Nokia N900 has USB 2.0 support and Bluetooth 2.1 (A2DP support goes without saying). Wi-Fi connectivity is also at hand, easily manageable through the shortcut that appears when you touch the status icons from the homescreen.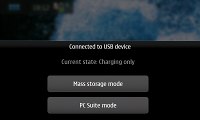 The Nokia N900 offers Mass storage mode when connected through USB
All kinds of network connectivity are at the user disposal - GPRS, EDGE and 3G with HSPA. The GSM/GPRS/EDGE support is quad-band which makes the Nokia N900 capable of wordwide roaming, while the three supported 3G bands are 900, 1700 and 2100 MHz. HSDPA speed is up to 10 Mbps, while HSUPA reaches 2Mbps.
The bad news (for some of our American friends anyway) is that AT&T's 3G network isn't supported by Nokia N900. Unless Nokia release another version of the N900, it's either T-mobile or no 3G with this hansdet in the US.
Finally, the Nokia N900 has a memory card slot, which combined with a proper card reader can usually give you the fastest data transfer rates. Indeed with 32GB onboard storage the card reader is more of a connectivity option than memory expansion.
Web browser supreme
Now this is an area where the Nokia N900 really excels. The internet tablet pedigree shows big time in the web browser, which is certainly the best part of its software equipment.
The Mozilla-based application gives a new meaning to the term desktop-like browsing. It sports the same rendering algorithm as what seems to be the favorite desktop browser around the office so the fact that every website renders perfectly goes without saying.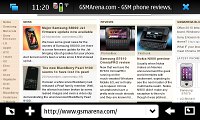 The Mozilla-based browser is superb
There is visual history, automatic form-filling and Google Search shortcut for maximum convenience. Double-tapping on a website element zooms it in to fill the WVGA resolution of the display. Another double tap and you are back at where you started. Panning and zooming is really fast and accurate.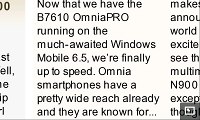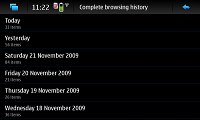 Fullscreen mode and visual history
Nokia have also came up with another zooming method for the N900 - you can make a spiral gesture with you finger. You simply start the spiral with a movement to the right side for zooming in and to the left for zooming out. However we find that too slow to be actually useful. You need to make four or five circles instead of two short taps. And there isn't auto-alignment when you use that gesture zooming.
Panning is pretty smooth provided that you have waited for the whole page to load. Not that with a WVGA display you will have to resort to it too often anyway.
Multiple tabs (or rather windows) are also available and each of them appears as a different application in the task manager. That means that their number is only limited by the available RAM memory.
The QWERTY keyboard also enhances the web browsing experience greatly. Instead of tapping once for the controls to appear, then deactivating full screen mode and clicking the address bar, you just start typing the address of the next page you would like to visit and press enter. It doesn't get much better than that really.
Finally, we would like to mention one of the most important features of the browser - its Flash support. Nokia N900 comes with full Adobe Flash 9.4 and not the Flash Lite that most other handsets support. We have never seen a handset handle Flash content as smoothly and quickly as the N900.
And here is some more good news for you. The Nokia N900 will also get an upgrade to Adobe Flash 10.1 with hardware acceleration when that becomes available. Take that, rest of mobile world!
If the web sites you browse have a lot of Flash elements you should definitely check out the Nokia N900 when looking for your next handset. Come to think of it, even if you don't need the Flash but still do a lot of browsing, you should probably consider N900 very seriously.
Organizer has a few misses
To be a true workhorse, the Nokia N900 should have an excellent organizer. The set of applications available isn't the most extensive we have seen but their performance is excellent. There are a few major gaps however that need to be filled and we really hope that will happen soon.
The calendar has the usual available view modes - monthly, weekly and daily. In addition you can see all the tasks that you have regardless of their date. The birthdays of all your contacts are automatically added to the calendar in a special smart event group.
The other groups of events are up to you to create, giving a different color to each so you can easily tell them apart. There is only a single type of event that you can create, but it offers all the commonly used options - start and end time, location, description and allow for an alarm to be set to act as a reminder.
The Nokia N900 calculator has two modes - Basic and scientific. That gives you the choice between simpler operation and better functionality. There isn't a cool way to change the two modes such as the iPhone, where the accelerometer comes into play but the functionality is all there.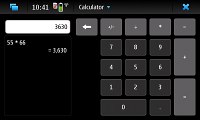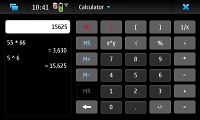 The calculator offers two modes
The Mobile office that goes with the Nokia N900 is rather disappointing as it only offers a 15-days trial version after which you need to purchase the full version to continue using it. It handles .xls .doc and .ppt files but doesn't even allow editing.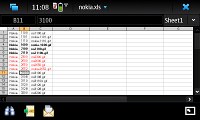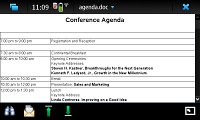 Unfortunately the document viewer is trial only
Anyway you can try it for the trial period and than switch to a third party option if you don't want to hand out the cash.
At least the PDF viewer is a complete application with no hidden fees.
The organizer package also includes a Notes application, which automatically converts your notes to HTML and a sketch application where you can draw directly on the phone's display.
Unluckily, there's no unit converter among the preinstalled apps so you will have to get one yourselves after you purchase the handset. A voice recording app is not present either.
The alarm application allows you to set up as many alarms as you want, each with its own name, trigger time and repeat pattern. The interface is pretty simple and the graphics offered by the clock application are rather cool.
Thanks to the built-in accelerometer, you can also snooze an alarm by simply flipping your phone, much like with an incoming call.