File manager does a fine job
The file manager of Nokia N900 is splendid. It has decent graphics but what makes it so good is of course the functionality.
You can do basically anything you would like to with your files on the Nokia N900. Moving, copying, renaming or sorting - you name it.
There are only two things missing when we compare the Nokia N900 file manager with the S60 file browser. The first is the option to send a file straight from the file manager with the N900. The other omission is the search functionality for finding a file or a folder by just part of its name.
Image gallery is pretty limited
The image gallery of Nokia N900 is one of the things that confirm its non-multimedia dedication. It has an unassuming interface and its functionality doesn't reach far beyond the basics. No 3D-view or some Cover Flow-like animation.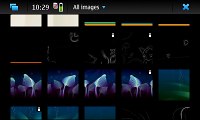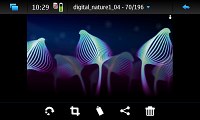 We aren't particularly thrilled with the gallery
At least sweep gestures work here, enabling you to go through your pictures by sweeping your finger across the screen.
Portrait and landscape mode aren't automatically alternated, despite the built-in accelerometer. You will have to use the on-screen control for that purpose or just silde the keyboard out.
Strange as it might this touchscreen phone doesn't have any touch-driven zooming in its gallery - the only way to zoom in and out is by using the volume rocker key.
On the positive side picture browsing is pretty fast and so are zooming and panning. Going from minimum to maximum zoom only takes about a second with 5 megapixel photo and that is good enough in our books. The smooth kinetic panning is also on the better side of implementations we have seen on other smartphones.
Unimpressive music player
The music player of Nokia N900, just like its gallery covers all the basics but that's basically all it does. If you just want to listen to music you'll be fine with it but features such as track recognition or automatically generated playlists are out of the question.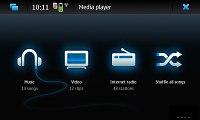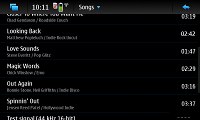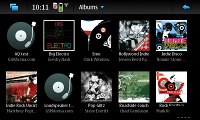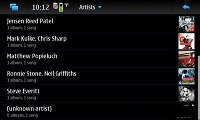 The music player won't blow your head off either
Album art is supported but there is no fancy animation to go with it. It just gets displayed on the thumbnails and next to the running track name in Now playing mode and that's that.
The music library of Nokia N900 can be sorted by artist, album and genre and can be searched by gradual typing. Custom playlists can also be created.
There are no equalizers on Nokia N900, leaving the shuffle and repeat as the only extra buttons in the Now playing screen. Well that and the finger-friendly volume key, but it doesn't really count.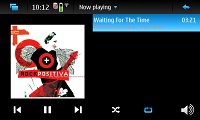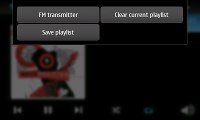 The now playing screen is pretty plain
The music player has its own homescreen widget which can be used for controlling it straight from the homescreen. If you don't fancy the prospect of the music player eating some of your valuable homescreen estate you can still minimize it to play in background and access it via the Task Switcher.
FM transmitter - the quickest way to share your music
The Nokia N900 also sports a built-in FM transmitter . This quite handy piece of hardware allows you to stream music tracks from your phone to any standard FM radio receiver nearby at a frequency of your choice.
The interface (if you can even call it that) of the FM transmitter is simple enough to guarantee smooth and easy operation.
If you live in a city with lots of radio stations, it might take some trying before you find a free frequency slot within the standard FM scale of 88.10 to 107.90 MHz.
The strength of the transmitter is decent. You can get good reception at 2.5-3 meters when the N900 and the receiver are in clear sight, and excellent when you move to within a meter of the radio antenna.
Strangely enough, even though the Nokia N900 has built-in FM radio receiver there is no preinstalled application to utilize it. Instead Nokia expects the users to find one themselves - an effort (little as it might be), which might have been saved.