The image gallery got even better
The gallery of Nokia N96 is simply great with the 3D rotating view. The Navi wheel is in its prime here, making image browsing quite fun.
Feature Pack 2 also brings some really cool improvements to the gallery application. The browsing system is now letting you speed up photo browsing if you press and hold the direction buttons on the D-pad. This allows quick skipping of tons of files if you're not in the habit of cleaning up your memory every now and then. Besides, the gallery has a much more conveniently placed shortcut for accessing picture details.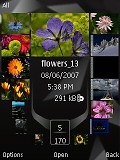 The gallery has seen some improvement
Otherwise, no changes are to be seen here in terms of features - pictures can be viewed in both portrait and landscape mode and zoomed in up to 8x (not that anyone would actually need that much). The zooming is now in much smaller steps, which makes it quite a lot slower than it used to be on Nokia N95 8GB. Still the general performance is on the better side of phones we have tested.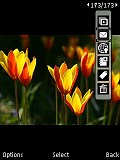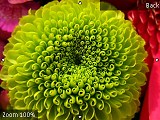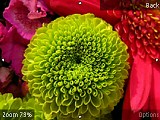 Browsing the gallery in portrait and landscape modes • zooming in
The gallery also offers a nice slide show with customizable effects and delay between slides. You can also choose the direction of the slideshow - forward or backward from the currently selected photo and the track to go with. The music can also be switched off if you prefer.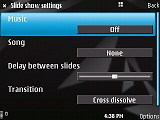 The slide show can be easily customized
The gallery also has a nice picture tagging system. In addition to the geotagging which is automatically handled by the camera, you can add as many tags as you like to each photo and then use them as filters.
If the gallery file-management functionality (which even includes sending multiple files at a time) is insufficient you can use the file manager. It allows you to do almost anything you can think of with your files. Copying, moving, creating new folders - you name it and it's a safe bet that Nokia N96 can do it.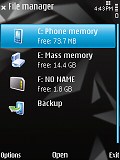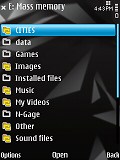 The file manager can do almost anything with your files
There is also an application manager to take care of the installed applications on Nokia N96. Not much to talk about here, as it is identical to the one in any other Symbian device. Its functionality boils down to providing details about installed applications, removing them and keeping a log of movements in either direction.
A new version of the useful "Search" application is also aboard Nokia N96. It has a reserved line in the active standby menu, which is hardly a surprise given how useful it is. The application itself finds almost every item in your handset containing a given keyword. From messages to settings, every bit of data is checked and then all results are displayed on the screen.
Read my lens
Nokia N96 is equipped with a 5 megapixel camera with a maximum image resolution of 2592x1944 pixels. It sports autofocus and a dual-LED flash but unluckily no lens protection whatsoever. This means the glass protecting the lens is quite vulnerable to scratches and finger smudges.
Just a quick glance at the text on Nokia N96 lens is enough to tell us that its sensor has been downgraded. It shows a focal length of 5.2, while Nokia N95 8GB has a focal length of 5.6. Having in mind that both handsets have the same angle of view this clearly indicates that a smaller sensor has been used in Nokia N96. The photos also come to confirm this.
Autofocus is surely the best thing about the Nokia N96 camera. The software bit of it, that is. The atrocious shutter key is doing its best to ruin things big time. Anyway, autofocus is almost instant in broad daylight and quite quick in low light too. The dedicated AF assist light also helps here. N96 sure is the first cameraphone we see to achieve focus lock as quickly.
Another nice camera feature is geotagging, which by the way, works with videos too. GPS locks are quite fast, so you won't have to wait too much for your first geotagged shot.
However, it's not all bed of roses for the camera in N96. The camera key deserves every ounce of our indignation and we just won't leave it be. The button is almost impossible to use and makes taking a decently focused photo a real challenge even with the great AF system.
The camera UI of Nokia N96 is the same as in N95 8GB. Using our favorite tab layout, it offers extensive settings - starting from manual white balance and ISO sensitivity and including exposure compensation, sharpness and contrast settings. Various effects are also at hand, labeled color tones. However, we are disappointed to find the option of customizing icons on the toolbar we saw on the low-key Nokia 6220 classic missing in N96.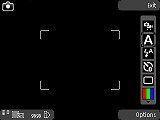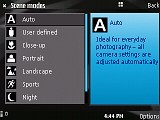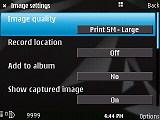 The camera UI is really convenient
The picture quality of Nokia N96 is decent but, much to our surprise, not as good as any of the Nokia N95 versions. It is quite obvious that a smaller sensor have been used in Nokia N96 resulting in a reduced dynamic range. The handset also has a strong tendency to overexpose photos which brings in quite prominent highlight clipping. The clipping of a single color channel, resulting in loss of detail is also quite common.
At least the colors are rather precise and the noise is kept to a decent level. In favorable weather there is more than enough detail and even foliage seems to come out pretty well. Sharpness levels are also very good with no traces of excessive sharpening.
Have a look at the sample photos made with the camera of Nokia N96.











Nokia N96 camera sample photos
Here is also an impromptu little shootout we made between Nokia N96 and Nokia N95 8GB. At this point, it seems the N96 will be struggling to motivate cameraphone admirers.





Nokia N95 8GB • Nokia N96 • Nokia N95 8GB • Nokia N96





Nokia N95 8GB • Nokia N96 • Nokia N95 8GB • Nokia N96
Impressive video recording
As for video recording, the N96 camera shoots in VGA resolution at the sweet 30fps. Sounds like really good quality and it very well is.
Videos are captured in MPEG-4 format and can have automatic or manual white balance. The other available settings are night mode and color effects.
Here is a sample video (5.8MB) for you to enjoy.