Connecting people
Nokia Nseries are all about connectivity and it is hardly a surprise that the flagship supports all popular means of data transferring. USB 2.0 and Bluetooth 2.0 are a nice start of the lengthy list. All kinds of network connectivity are also on board - from ageing GPRS, through EDGE to 3G with HSDPA - Nokia N96 has it all.
By the way if you are interested where you can find UMTS 2100Mhz or you are not sure whether it's supported in your country, you should definitely check out our Worldwide Network Bands distribution database.
To complete the wireless communication tally, Wi-Fi with UPnP support is also at hand. A nice improvement coming with the FP 2 now allows for quick locating of hidden wireless networks with the sharpish WLAN scanner right on the stand-by screen. This was also possible with the previous Nokia handsets but took a lot more time, as the WLAN wizard had to be used.
Even the memory card slot is here and makes good value if you have a card reader at hand. The missing thing with Nokia N96 is the Infrared port but we are not going to pretend that we are even slightly missing it.
Web browser good as always
Browsing the internet with Nokia N96 is at typical smartphone heights. Even the most complex and elaborate of web pages are rendered problem-free and fit the screen perfectly.
The virtual mouse cursor earns the browser another point. It is easy to control and generally works great. A mini-map can be activated to help finding your way around large sites where lots of scrolling is required. The zoom level and font size are also adjustable at the expense of only a few key presses.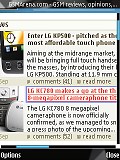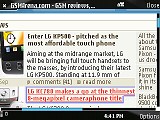 The web browser has portrait and landscape mode
The large display is one of the best things about browsing the web on Nokia N96. Even the smallest font is readable on the 2.8" unit and that allows you to fit more content and save some scrolling effort. The large amount of RAM makes sure you will never get memory full warnings even if you load several quite heavy web pages.
Splendid organizer
The organizing skills of Nokia N96 are really top-notch. The handset comes with a huge number of time-managing applications and they all have nice functionality and user-friendly interface.
The calendar has the typical three different view modes - monthly, weekly and daily, and four types of events available for setting up - Meeting, Memo, Anniversary and To-do. Each event has unique fields of its own, and some of them allow an alarm to be activated at a preset time to act as a reminder.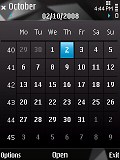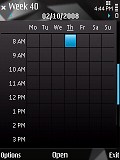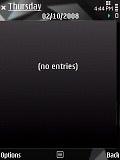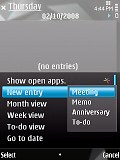 The calendar view modes and events available for setting up
The mobile office is also very well geared, with preinstalled applications able to open Word and Excel, PDF and PowerPoint files seamlessly. Unluckily, editing documents is not supported by the included version of the Quickoffice. If you would like editing enabled you will have to purchase the complete application from the Nokia Download center for a rather hefty fee.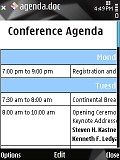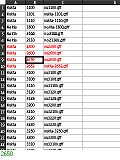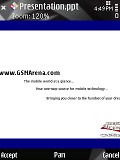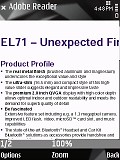 Nokia N96 can open .doc, .xls, .ppt and .pdf files out of the box
The final file managing application is the ZIP manager, which allows extracting archived files straight on your phone.
Some of the other included organizing and time-management applications are a great unit converter, calculator and voice recorder, as well as the Notes application.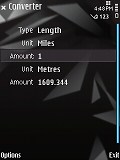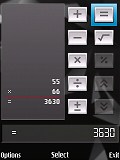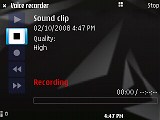 Some of the other time-management applications
The alarm application allows you to set up as many alarms as you want, each with its own name, trigger day and repeat pattern. If this seems too complicated, there is a quick alarm setup where all you do is set the time and you're good to go. This is quite convenient for, say, setting up your wake-up alarm.