Third-party applications
Nokia N97 and Nokia 5800 XpressMusic are currently the only touch smartphones that Nokia has on the market running the new S60 5 edition UI. They do have another one - the Nokia 5530 XpressMusic in the oven but it's far from actual release.
The competition has even less choice with Samsung Omnia HD being the only available device and Sony Ericsson Satio due for release later this year. That makes the new smartphone platform quite limited and thus possibly not as attractive to developers.
Nokia however have gone through a great deal of effort to make the Nokia 5800 XpressMusic as popular as possible with careful pricing planning and the Nokia 5530 XpressMusic will spread the user interface to even wider user base.
So for now, not surprisingly, there are not many third-party applications for these N97. The Symbian S60 5th edition is just too new.
Back in the day when S60 3rd edition was first introduced the situation was pretty much the same. We had to wait a good six months before a reasonable amount of application became available.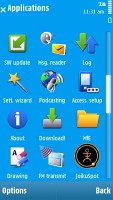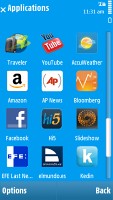 Two of the four pages of the applications menu
Thanks to the Ovi Store, however, the users are currently offered to choose among as many as 525 applications, both paid and free of charge, which seems a nice beginning.
Our Nokia N97 comes preinstalled with a load of third party applications, but most of them are simply online shortcuts or at most offer simple menus again prompting for internet browser usage. Of course several of them are very handful tools for reading news, managing and browsing images, weather forecasts, etc.
Of course, since this is Symbian we are talking about, you can also pay a visit to some of the numerous sites for software available online. 8 months was enough time for almost every one of them to make its own 5th edition section. Here is one to get you started, while a simple Google search will show you the rest.
You can download the apps straight from your phone or from your desktop computer and than transfer them as you find fit.
Finally, with Nokia Download! you can access a variety of content directly from the phone. You can choose from applications, games, graphics, news, ringtones, screensavers, themes, videos, wallpaper and more. We guess the Download! app will become obsolete once the Ovi Store gains momentum.
Preinstalled application
Nokia Drawing is a new and simple piece of software that lets you draw stuff with different colors and thickness of the pencil.
JoikuSpot Light is a free limited edition of JoikuSpot that shares your phone's 3G internet connection over WiFi (WLAN) to laptops and other WiFi devices. For a full feature set, you have to purchase the full JoikuSpot Premium at the Ovi Store.
The trial version on Nokia N97 supports only HTTP browsing, whereas the Premium one has more secure browsing plus VPN support.
World Traveler is a handful open platform application developed by Psiloc that is aimed to make the traveler's life easier. The program offers four services - weather, world clock, currencies, and world map. More about this piece of software to be found here.
AccuWeather for Nokia N97 is a Widget, which provides users with weather information for global locations including current conditions, 4-day forecasts, radar or satellite images, 15-day calendar view for a quick check of upcoming weather, hourly forecasts in graph format for visual display of temperature and conditions. It is also displayed on the home screen tab.
Amazon is a simple application with different categories. There is also a search engine, which opens results directly in the Amazon site. You are also allowed to choose in which country you'd like to look for an item, which is great for the local buyers.
AP Mobile, which was announced this month with the launch of Nokia N97, is an application that enables users to choose their news, offering personalized delivery of content set according to their preferences. Consumers can scroll through stories and AP photo galleries as well as watch AP videos. Interesting images, videos or news can be directly shared via Twitter or Delicious.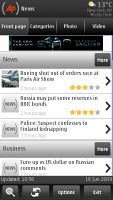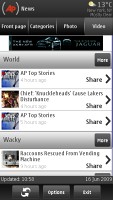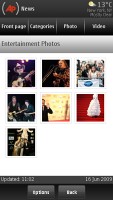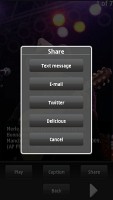 AP Mobile is great for the Associated Press readers
Bloomberg application brings you up to date financial information. It has four tabs - news, markets, my stocks, and search section. If you are into finances, you can find out more about it at their website.
The final noteworthy app is the Reuters Slideshow, which gets you galleries from the mobile version of Reuters.com. It's not a news application, it just displays images from the several available categories with short explanatory texts.