Nokia HERE Maps with voice-guided offline navigation
Nokia X comes with an integrated GPS receiver and the company is bringing their own mapping solutions to the table - the unified HERE Maps app, which is pretty much as powerful as its Windows Phone famous sibling.
Nokia HERE Maps is the premium app - it offers free, life-time voice-guided navigation. All you have to do is download a voice in your language of choice and you're good to go. Of course, to make use of the key selling point of HERE - offline navigation - you have to download a map for your country.
HERE Maps can only be used for navigation in your home country, but not abroad. Even if you buy a new SIM when visiting abroad, it will not change the license.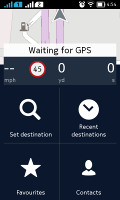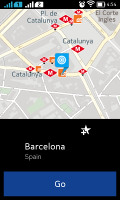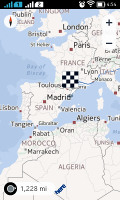 Activating the Drive navigation
With HERE Maps you can easily plan routes (no data connection needed) and you can choose whether the app will use or avoid motorways, toll roads, ferries, tunnels, unpaved roads and motor trains. There are icons to remind you of the selected settings.
Drive uses big, clear instructions on its screen in addition to the voice prompts, which is ideal for in-car use. You can switch between 2D and 3D mode and switch the color scheme (day, night, auto). There are speed alerts and real-time traffic information.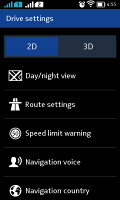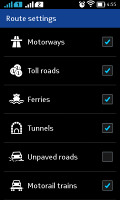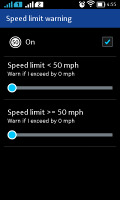 Tweaking the route-planning algorithm
Nokia Store
Since Nokia X doesn't have Google Play onboard, Nokia had to come up with its own solution. Nokia Store is the dedicated app repository for the Nokia X Platform. Nokia claims 75% of all available Android apps are fully compatible with the Nokia X Platform, the developers just need to submit their apk file to the store.
The remaining 25% of Android applications available in the Play Store require tweaking in order to work on Nokia X as calls to Google services need to be replaced with ones to Microsoft replacements. Nokia promises the developers won't lose more than 2 hours to do the necessary changes.
We opened Google Play Store on one of our standard Android phones and checked the Editor's Choice, Top 30 Paid and Top 30 Free sections, then we searched for those apps on the Nokia's.
What we found is that the X phones use an interesting setup – there's Nokia's app store, but there are several others preinstalled too.
If an app isn't available in Nokia's store, but is available in one of the others, it will show up in the search results. Just tap on it and the other app store will launch and repeat the search. We spotted 4-5 different app stores in our searches. Apps marked with a * are from other app stores.
Available
Missing

TuneIn Radio
BBC News
Super Stickman Golf 2
Viber
WhatsApp Messenger *
Tiny Flashilght + LED
Facebook
Facebook Messenger
Farm Heroes Saga
Candy Crush Saga *
Twitter
Instagram *
Clean Master (Cleaner) – FREE
Skype – free IM & video calls
SwiftKey Keyboard (free)
Swype Keyboard *
Battery Doctor *
Adobe Reader *
Opera Mini Web Browser
Angry Birds
uTorrent Beta
PowerAmp
OfficeSuite 7 Viewer
Camera Zoom FX *
SoundHound *
Tapatalk
AccuWeather
MX Player

Cut The Rope 2
CSR Racing
Magisto – Magical Video Editor
Flow Free: Bridges
Toy Story: Smash It!
Minecraft
Super Hexagon
Tasker
NOVA Launcher
Runastic Pro
Smart Tools
Banjo
Anomaly Korea
Plants VS Zombies
Where is My Water?
Modern Combat 4: Zero Hour
Flow Free: Bridges
The New York Times
Weather Pro
Cut the Rope
Wolfram Alpha
Shazam
Pou
Volleyball Hangout
Temple Run 2
Zombie Tsunami
Snapchat
Fruit Ninja
Angry Birds Rio
Smash Hit
Panda Run
Swap the Box
Despicable Me
Tennis 3D
Groove Racer
As you can see the list of missing apps is longer, but a big portion of those are games, where entry-level phones are always going to be limited. And some of the apps you might be missing can be sided-loaded - as is the case NOVA Launcher. The social networking apps (Facebook and Twitter) and the popular chat apps (WhatsApp, Skype, Line, even Telegram) are all on board and even some popular keyboard replacements such as SwiftKey and Swype are here.
Using Android has advantages after all, huh? More importantly, this seemingly confirms Nokia's claim that most apps are compatible with its brand of Android (the missing apps may be missing because they are not uploaded to the alternative app stores, not that they're incompatible).
By the way, Nokia has a cool site to help developers test if their app is compatible with Nokia X – it's literally just drag and drop.