Nokia X runs on unrecognizable Android 4.1.2 Jelly Bean
Nokia X is the company's first smartphone running on Android. Well, sort of. Nokia X is officially calling it the Nokia X Software Platform v1.0, which is basically a forked version of Android 4.1 Jelly Bean. Long story short - it's Android where the Google services have been replaced by Microsoft ones and a custom Nokia launcher.
Before we start exploring the so-called Nokia X platform, here is a UI video walkthrough to get you warmed up.
Let's take a look at Nokia's custom launcher. It's a mix between the latest Asha Software platform and Windows Phone with an entirely new twist here and there. There is a Glance screen with notifications, there is also the quite familiar lockscreen. Swiping it reveals one of the two homescreens - the app drawer and the Fastlane.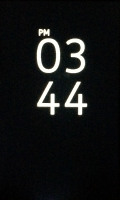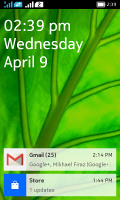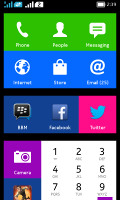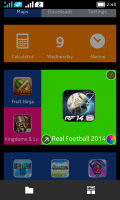 Nokia X Software Platform user interface - Glance, Lock, Home, Fastlane screens
The lockscreen doesn't have any active shortcuts to directly launch apps but it will display notifications for missed calls, incoming messages, installed apps or calendar events. Depending on which side you swipe such notification it will either take you to the relevant app (right) or it'll be dismissed (left).
The app drawer on Nokia X looks a lot like a Windows Phone homescreen - all apps shortcuts look like Windows Phone live tiles. They are resizable too and you can even change the base color of each tile. What's different is actually none of those tiles is "live" due to the hardware limitations of the device. This homescreen will list of all your installed apps, so it might get really long if you are lazy not to organize your shortcuts in folders.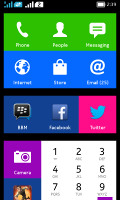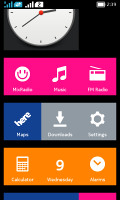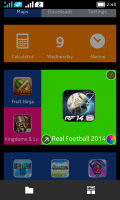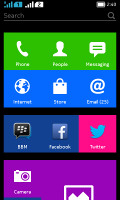 The app drawer homescreen • changing a tile's color • search is available too
Standard Android widgets are also supported - you get the familiar analogue clock, calendar, email, Facebook, Power Control Deck and more. Apps that come with a dedicated widget, such as the BBM, will also appear in the widget menu too. We suggest not to use too many widgets though because they may noticeably impact the overall system performance.
Swiping left or right the app drawer will take you to the other homescreen called Fastlane. Those of you familiar with the Asha user interface will recognize it immediately. The Fastlane keeps track of all your recent activity, opened apps go there, recent web pages, along with contacts you've called, messages and emails, calendar events (birthdays, to-dos), recently installed apps, recently shared content, recently taken notes and pictures, radio stations, and even social network posts, replies, likes and goings-on. The music player and the FM radio, if active, will also appear here.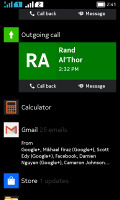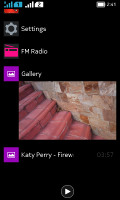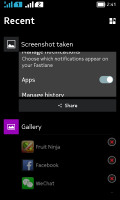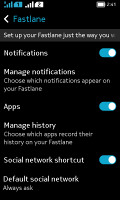 Fastlane homescreen • Personalizing Fastlane
Fastlane can be personalized from the Settings menu. You can opt out of some of the services and notifications in case you are getting overloaded with content.
You can tap pull down the status bar to show notifications for missed events and quick toggles for sound profiles, Wi-Fi, Bluetooth and mobile data.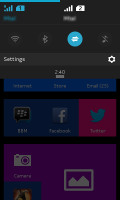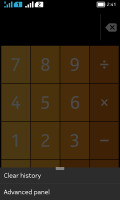 The Notification area • A contextual menu
Contextual menus, if available, are accessible by swiping up from the bottom of the display. If an app supports such menu, you'll get a small virtual handle at the bottom, so you won't have to guess if there are additional settings or not.