Final words
We have to admit the Nokia X3 is a tough sell, and that has almost nothing to do with the competition. In fact, there are only few top manufacturers that take music phones as seriously as Nokia. So, whether it's XpressMusic or X3 (we like that one better), Nokia phones are having a ball. But there are so many of them scattered across different price ranges and platforms that any newcomer inevitably risks not getting enough attention.
The X3 ventures to offer many nice UI features such as active standby, threaded messaging, Ovi Contacts, Maps for S40, the new image gallery and the Ovi Store and it's a versatile portable music player with an accent on FM radio among everything else. But it does look sloppy – both in terms of hardware and software.
Even if you look past the bad slider (maybe we just got a bad sample), it's hard not to balk at that poor display. And what about loudness – a Below Average result from the loudspeaker of a music phone? Sure, music sounds quite good on it, but only if you can hear it.
On the software part we wish we saw real multitasking on S40. Competing manufacturers have long offered that on their feature phones. A document viewer wouldn't have hurt either. Some social networking integration won't be bad too.
And there are also the the software bugs that irked us. Getting an app for your highly promoted service that doesn't work properly straight out of the box looks kinda bad to us.
Sure, we quite liked the Nokia X3 for its musical prowess, but the competition is tough, so we have to wonder if the X3 will make its mark or will it just be the Nokia X6 rouge brother that nobody in the family likes to talk about.
So let's break it down for you as we see it. Close to that price range the Nokia 6303 classic can match the Nokia X3 spec for spec, and it even has an autofocus camera with a LED flash and VGA@15fps video recording. It's more compact and has some metal on the body. On paper, the screen is the same size and resolution, but in reality, it's much better. On the downside, it only has one speaker, comes with a 1GB microSD card, supporting only 4GB cards. But, the Nokia 6303 classic is cheaper.
The Nokia 5235 Comes With Music is another option – a 3.2" touchscreen of 360x640 pixel resolution, 3G with 3.6Mbps HSDPA, Symbian skills and a built-in GPS. Oh, and 12 to 16 months of free subscription to the Comes With Music service, which means you can download all the music you want without paying a penny. If you already have a big music collection, you can just go for the Nokia 5230, which loses the 3G and GPS for Wi-Fi and a slimmer profile.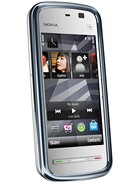 Nokia 5235 Comes With Music • Nokia 5230 • They look exactly the same
And here's a previous generation Nokia music phone – the 5630 XpressMusic. It's small, it weighs 83g, runs Symbian on a fast 600MHz CPU, has 3G with 10.2Mbps HSDPA and 2Mbps HSUPA, Wi-Fi and though it costs more, it comes with a 4GB microSD card. It's also got the audio quality to match.
All told, we can't help but wonder if the Nokia X3 is not an old, forgotten design Nokia stumbled upon and decided to dust off. There are better phones on the market already, so the prognosis for the Nokia X3 doesn't look good. But Symbian and touchscreen are not everyone's cup of tea, so a new generation music feature phone can hope to do reasonably well in the lower midrange. And the Nokia X3 price tag is an important ingredient in the mix.