Warp Charge 30
The new Warp Charge 30 adapter debuts in the McLaren Edition phone and is a 50% increase in power over the 20W Dash Charge adapter. Following some legal roadblocks with two companies that also use the name Dash, OnePlus is now calling its VOOC-based charger Warp 30.
With the theme of speed, OnePlus claims that the phone can charge a full day's worth of battery in just 20 minutes. We tested this and were able to get the phone to charge to 25% in the first 10 minutes, and then we reached 65% in a half-hour. The phone topped all the way up to 100 in an hour and a couple of minutes.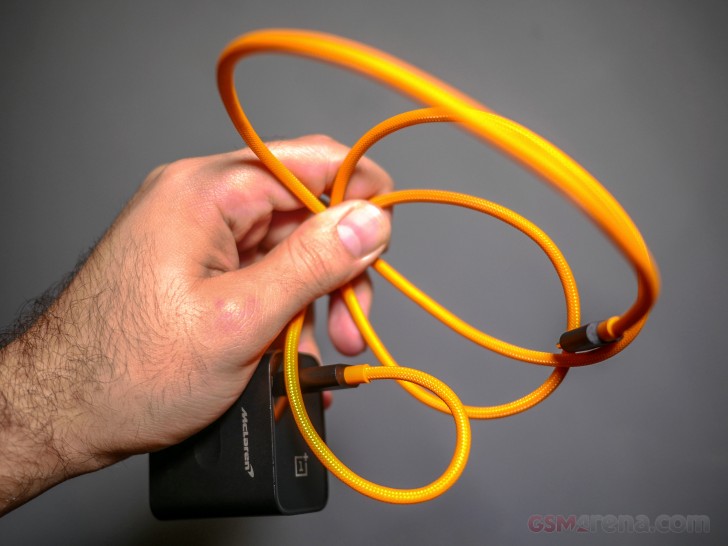 By contrast, the OnePlus 6T reaches to 55% in a half-hour, 10% below what the McLaren Edition can do. Despite having updated charging technology, battery life is identical to the 6T's 90h overall rating with about 29h of talk tie, 12h of browsing, and 15:40h of video playback.
Chinese companies seem to be the only ones pushing forward with fast-charging standards: OPPO with its 50W VOOC on the RX17 Pro and Huawei with its 40W Super Charge on the Mate 20 Pro. Other brands rely on either Qualcomm's Quick Charge or USB-C Power Delivery. We do expect to see Warp Charge make it to the Next OnePlus device.
Check out our comparison of Warp Charge against other fast-charging standards.
Snapdragon 845 with 10GB of RAM
The McLaren OnePlus 6T is officially among the smartphones with the most RAM in the world. At a whopping 10GB, this phone is no joke when it comes to performance. Even with the 6GB or 8GB model 6T, the Snapdragon 845 is still no slouch thanks in part to OnePlus' excellent job of optimizing the firmware as well.
We don't predict a significant difference with the added 2GB of RAM. Naturally, we ran the usual benchmarks tests to see. Unfortunately, there were no changes in the scores so whatever benefit the extra 2GB of RAM might have, it's not easily detectable or measurable.
GeekBench 4.1 (multi-core)
Higher is better
Apple iPhone XS Max
11432
Apple iPhone X
10215
Huawei Mate 20 Pro
9712
Samsung Galaxy Note9
9026
OnePlus 6
9011
OnePlus 6T McLaren Edition
9005
Xiaomi Pocophone F1
9003
OnePlus 6T
8977
Google Pixel 3
8146
Oppo Find X Lamborghini Edition
8032
Oppo Find X
8018
Google Pixel 2
6437
Oppo RX17 Pro
5944
GeekBench 4.1 (single-core)
Higher is better
Apple iPhone XS Max
4777
Apple iPhone X
4256
Samsung Galaxy Note9
3642
Huawei Mate 20 Pro
3291
OnePlus 6
2450
Xiaomi Pocophone F1
2438
OnePlus 6T
2431
Google Pixel 3
2377
OnePlus 6T McLaren Edition
2376
Oppo Find X
2322
Oppo Find X Lamborghini Edition
2315
Google Pixel 2
1912
Oppo RX17 Pro
1835
GFX 3.1 Manhattan (1080p offscreen)
Higher is better
Apple iPhone XS Max
99
Apple iPhone X
65
OnePlus 6T McLaren Edition
61
OnePlus 6T
60
Oppo Find X
60
Oppo Find X Lamborghini Edition
60
Xiaomi Pocophone F1
60
OnePlus 6
58
Google Pixel 3
57
Huawei Mate 20 Pro
53
Samsung Galaxy Note9
45
Google Pixel 2
41
Oppo RX17 Pro
23
GFX 3.1 Manhattan (onscreen)
Higher is better
Apple iPhone XS Max
60
OnePlus 6
55
Google Pixel 3
55
OnePlus 6T McLaren Edition
54
OnePlus 6T
53
Oppo Find X Lamborghini Edition
53
Xiaomi Pocophone F1
53
Oppo Find X
50
Apple iPhone X
49
Google Pixel 2
43
Huawei Mate 20 Pro
27
Samsung Galaxy Note9
25
Oppo RX17 Pro
19
AnTuTu 7
Higher is better
Apple iPhone XS Max
353210
OnePlus 6T
293994
OnePlus 6T McLaren Edition
292716
Oppo Find X
291218
Oppo Find X Lamborghini Edition
286938
Huawei Mate 20 Pro
273913
Xiaomi Pocophone F1
265314
OnePlus 6
264200
Samsung Galaxy Note9
248823
Google Pixel 3
233699
Apple iPhone X
233100
Oppo RX17 Pro
154861