OnePlus usually holds pop-up events around the world which double as fan meetups. That's not possible this year, of course, but the pop-up events are still happening. If you're wondering what's the point when you're missing out on the in-person experience, the answer is simple – freebies. Thanks to a leak, we get a sneak peek at what will be in the gift bag.
Besides the usual retail package with the phone and charger, you will also receive a pair of Bullets Wireless Z and three cases. The first cases is transparent (save for the "Never Settle" tag), this allows you to show off the new colors – Glacial Green and Interstellar Glow.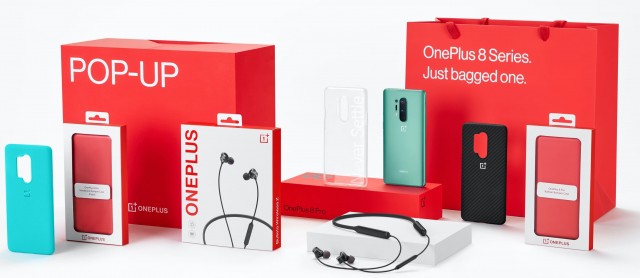 OnePlus 8 Pro pop-up event promotional package
There are also two bumper cases – Karbon and Sandstone in Cyan. Bumper cases are thicker and offer more protection than the basic cases. These are the goodies for the OnePlus 8 Pro, it's not clear what accessories will be bundled with the vanilla OnePlus 8 (most likely the same).
Usually there's also some swag in the bags from pop-up events, say a OnePlus t-shirt, but that's not pictured here. That doesn't necessarily mean you won't get your swag, however, we'll find out for sure tomorrow.
By the way, OnePlus was running a blind sale, which promises "exclusive content". Chances are that those who bought into this will be getting a similar bundle of accessories.
a
I think the cost for One plus 8pro is higher whereas there is going to be a big competition for them in 2020 from other brands....
?
No periscopic then crap..not flagship No 3.5mm not midrange.. Then where does this fit in.. God knows.. Without even 5x zoom what is the use spending so much.oppo and vivo costs less and oppo color os 5 seems to be best ..so big no...
ADVERTISEMENTS