Display
The OnePlus 8T has a 6.55-inch, 2400x1080 resolution AMOLED display capable of 120Hz refresh rate. It has a full coverage of the sRGB and DCI-P3 color spaces and also supports HDR10, HDR10+, and HLG content.
For this model, OnePlus is using a chip-on-panel display, where the display controller is placed at the end of the display and then bent underneath it, similar to what Apple does on the OLED iPhones. This has resulted in a reduction in the bottom bezel, which is still not as thin as the top bezel but is one of the thinnest we have seen. OnePlus calls this their Flowscape display.
The OnePlus 8T display has above average brightness that is adequate in most lighting conditions. However, the brightness is not sufficient for a truly impactful HDR performance and the OnePlus 8T display is noticeably dimmer than the more expensive OnePlus 8 Pro while watching HDR content.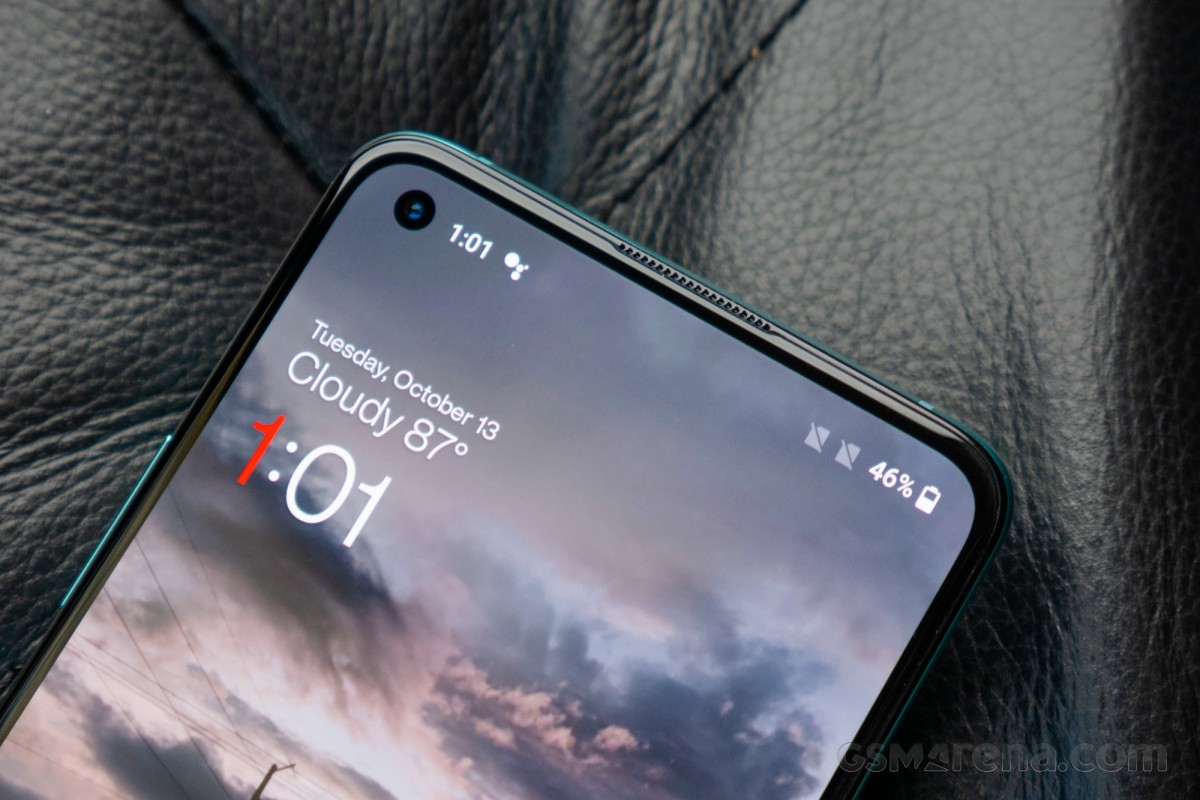 This screen also has a variable 120Hz maximum refresh rate. You can choose between a locked 60Hz or a variable 120Hz from the settings. In the 120Hz mode, the display will switch from 120Hz to 60Hz when you stop interacting with the touchscreen regardless of which application you are in unless you are using Dark mode or the brightness is set below 50%.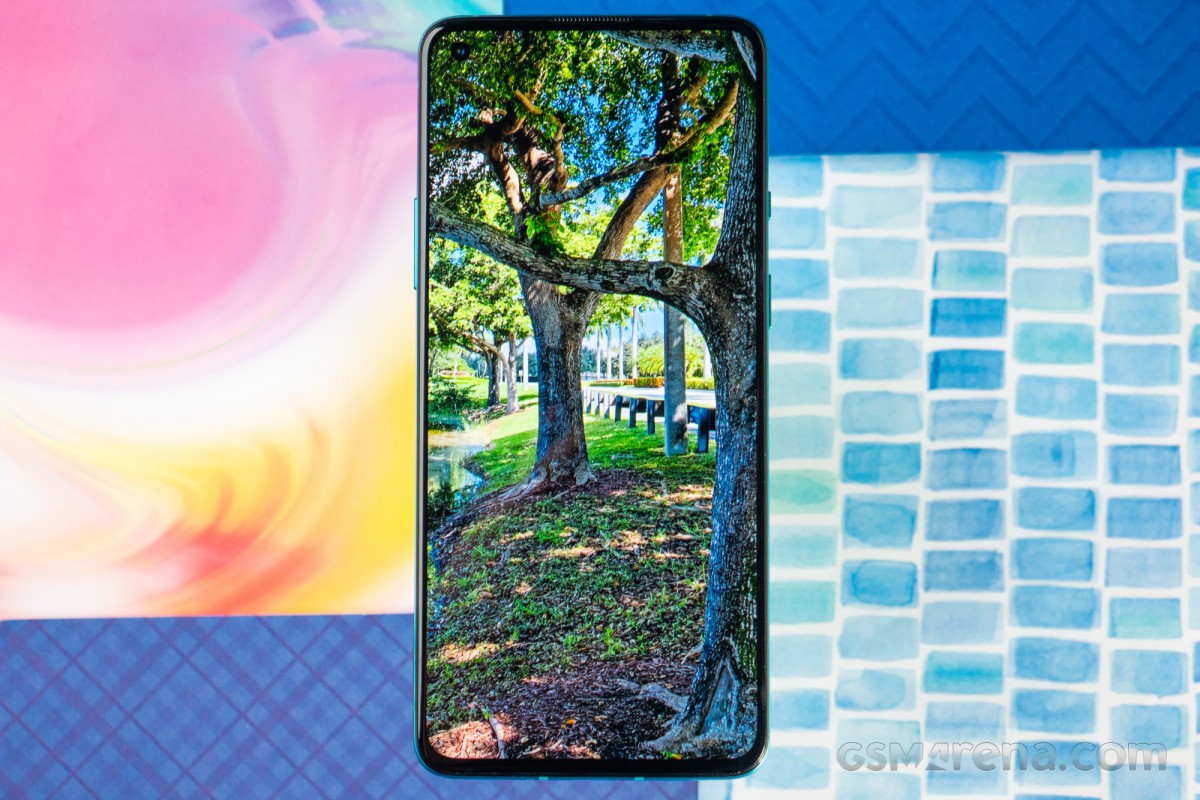 Despite high refresh rate displays featuring prominently in OnePlus' marketing, the OnePLus 8T does not support high refresh rate games outside of its partnerships. The only two games that work at high refresh rates (90Hz, to be precise) are PUBG Mobile and Fortnite. None of the other games we tried went beyond 60fps.
Watching HDR content also brings forth two issues with the display on the OnePlus 8T. The first issue is something we also observed on the OnePlus Nord, where the area of the display that is outside the video frame isn't black as it should be but dark gray. This is noticeable when you are watching HDR content in a dark room and you can see the screen area to the left and right side of the video is noticeably gray when it should be perfectly black and thus completely switched off, considering this is an OLED panel. This issue only surfaces in HDR and not in SDR content.
The other issue is with how the display handles near-black posterization. While OLED panels are capable of displaying perfect blacks, they struggle to display colors that are just above black. This results in noisy or blocky colors in this range, especially while watching compressed content, which manufacturers generally tend to "fix" by just crushing the near-black levels.
On the OnePlus 8T, the near-black levels have a noticeable gray glow with large macroblocking artifacts. This was quite surprising, as we never saw anything similar to other recent OnePlus devices.
Finally, like the Nord, the OnePlus 8T does not offer a DC dimming option.
Overall, the OnePlus 8T has a good display for a phone in its price range. Most of the issues we mentioned here may just be limited to the early software build on our review unit and can potentially be fixed with an update. However, the viewing angle color shifts are inherent to the display and harder to fix in software. We also don't expect OnePlus to do anything about the lack of high refresh support in games, which is our biggest complaint with the display.
Battery and charging
The OnePlus 8T has a 4500mAh battery, a modest 5% or so of improvement over the OnePlus 8. However, the bigger change here is the way it is charged.
Before we get to that, here are some preliminary results from using the phone for about a week. From just regular usage, it was easy to go through a full 24 hours with about 6 hours of active use before having to charge the phone again. Nothing special but fairly typical of a device with a powerful chipset and a non-comically large battery.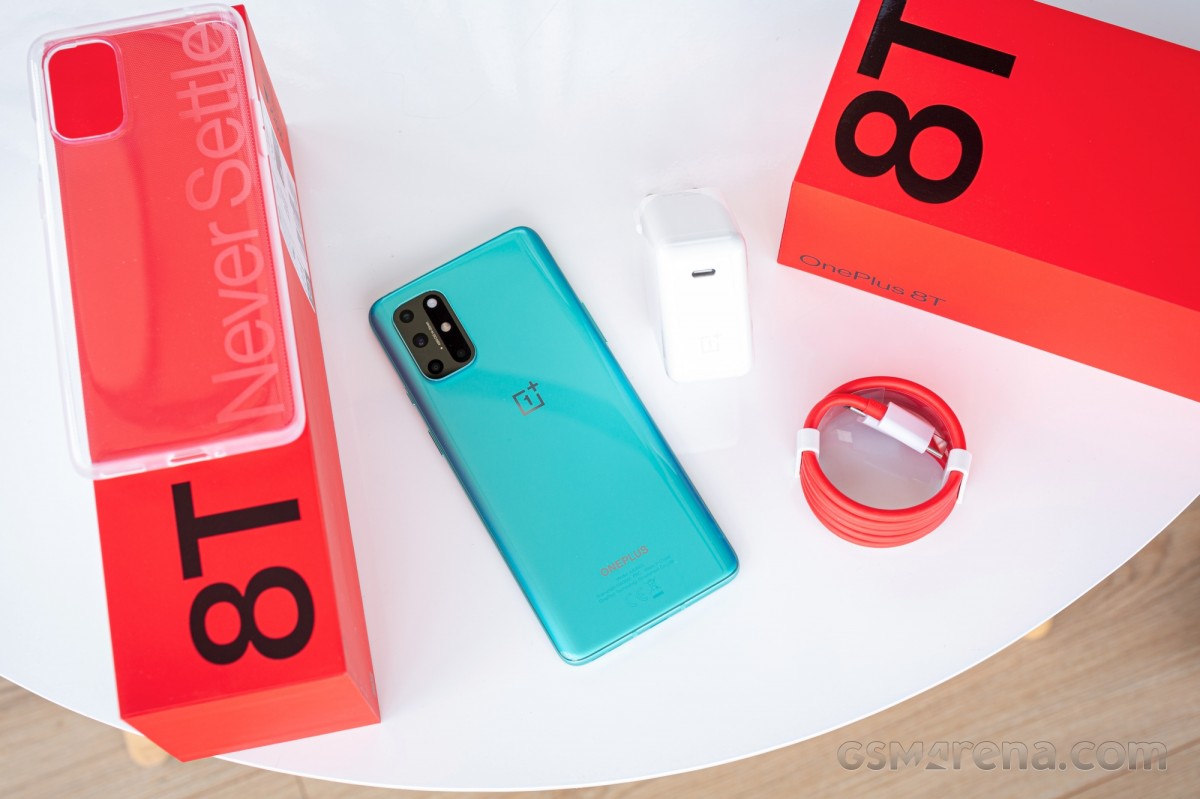 The OnePlus 8T is the first OnePlus smartphone phone to support 65W of charging. It comes with the new Warp Charge 65 power adapter, so you're getting everything you need to charge the phone at its top speed right in the box.
The Warp Charger 65 adapter can push out up to 10V 6.5A to a compatible device. The way it can do this safely is by having a two-cell battery built into the phone, which splits the voltage into two 5V streams per cell so neither cell overheats. The charger itself is also equipped with 12 thermal monitors to keep temperatures in check.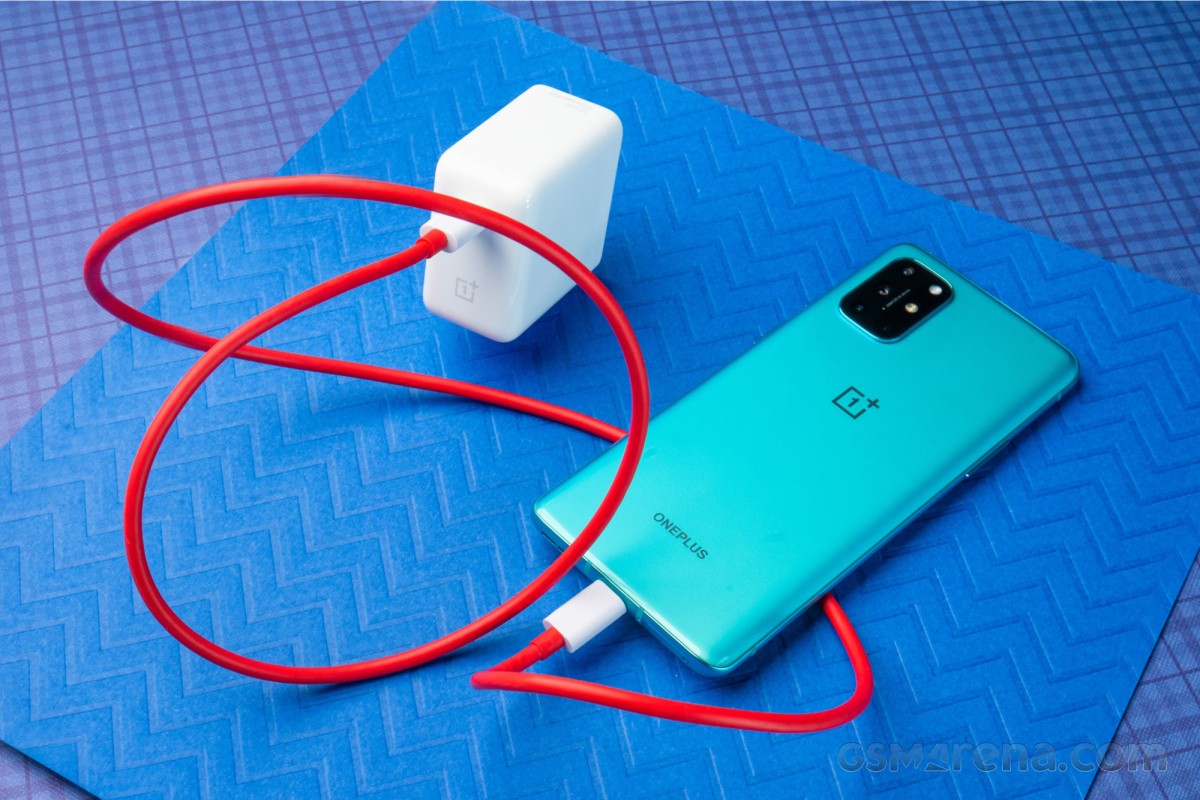 The Warp Charger 65 is also capable of fast charging USB-Power Delivery devices. In USB-PD mode, the charger can push out up to 20V/2.25A, which is 45W. This is enough to charge all smartphones and tablets and also laptops with USB-PD charging, such as all modern MacBook Air and MacBook Pro models. This means as long as your other devices support USB-PD charging, you can get fast charging from this charger across all your devices, meaning you only have to carry one charger while traveling.
Coming back to the OnePlus 8T, the Warp Charge 65 adapter managed to charge the phone from flat to 100% in 38 minutes. During this entire process, both the phone and the charger were only slightly warm.
Due to its rapid charging speed, it doesn't make sense to set this phone to charge overnight. If you must charge the phone overnight, we recommend using a standard 5W charger instead of the bundled charger.
Unfortunately, OnePlus does not offer a mode to reduce the charging speed as some other OEMs do. If you must charge with the bundled charger, we recommend setting the phone to charge after you wake up so it would be ready by the time you are about to head out.