When opportunity strikes
OnePlus One review: When opportunity strikes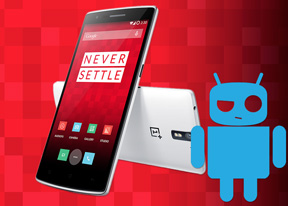 Chrome browser
The OnePlus One comes with Google Chrome as its preinstalled browser. The interface is the same as on any other Android smartphone - clean and minimalist.
Opening the tabs area reveals a list of tabs which can be closed again with a left or right swipe. Incognito tabs are supported too.
Of course, one of Chrome's strengths is its ability to seamlessly sync with its desktop version, using nothing but your Google account. This allows you to open an article on your PC and finish reading it on your mobile phone or simply sending an article from your PC to your device (but you'd need the separate Chrome to Phone app on both devices). It also syncs your bookmarks and favorite sites.
Google Chrome is generous on customizable settings as well. You can control almost every aspect of your web browsing by choosing what content you want to allow to load like JavaScript, images, cookies and pop-ups.
The only downside we found is the continuing lack of a much requested feature. Google Chrome lacks any sort of a Reading Mode, which, as seen on other platforms, makes reading longer articles more enjoyable by stripping web pages of all ads and clutter and leaving the text front and center in an easy to read font size.
Other apps
The OnePlus One comes with the CyanogenMod File Manager. It isn't the most useful we've seen around - it allows you basic copying, pasting and moving of files and folders but the whole operation involves a lot of taps and menu buttons. You'd probably be better off going for a suitable Google Play store replacement that's easier to operate.
The Torch app is very simple and turns your dual LED into a flashlight. The nice thing about it is that unlike most of its competitors it will keep the LED on even if you lock the device.
The good old calculator is here too - it has big, easily thumbable keys and you can swipe to the left to bring up the advanced functions (trigonometry, square root, brackets, etc.).
The OnePlus One also comes with a pre-installed voice recorder app.
Opening the Clock app brings you to your local time giving you the ability to add as many additional world capital cities as you'd like (they will also be visible on your lockscreen widget upon expanding).
The Google Calendar app is here as well. It has four view modes - Daily, Weekly, Monthly and Agenda. The app can easily handle several online calendars as well as the local calendar. You can add multiple reminders for each event and search through all events. Recently, Google added color-coding to events, which helps with organizing tasks.
The OnePlus One features Screencast - it allows you to record videos of using the device, complete with your recorded comments. The videos are then exported into your gallery with the option to upload them to YouTube, share them or just watch them later.
Google Now, accessed by swiping up from any of the navigation buttons or by a press and hold on the capacitive home button, integrates with your Google account and can access your daily routine, internet searches, email, etc. and give you information relevant to your interests and daily needs.
It provides traffic information to your work or home, parking location, it knows the scores of the sports teams you follow and gives you the weather forecast for your location. It's great for at-a-glance info, but can handle voice Google searches as well. It also has a dedicated homescreen/lockscreen widget.
Satellite Navigation on the OnePlus One is handled by Google's own Maps app. It plays nicely with the OnePlus One's built-in GPS/GLONASS chip. Google Maps offers free voice-guided navigation. There's traffic and public transit information where Maps supports it.
Maps show alternative routes and you can see alerts if there are any potential holdbacks along your route like construction zones, traffic jams and so on. Google's involvement with the live traffic info crowd-sourcing app - Waze - seems to be paying off.
The app also supports the Street View mode, allowing you to see the landmarks you're looking for before you set off. That makes them much easier to find when you arrive.
The rest of the app package on the OnePlus One includes Google Play - Google's app store. It hasn't seen any changes and has all the apps for your needs - both paid and free.