Gallery is basic
Oppo's custom Gallery for the R7s prioritizes simplicity. The default view is a grid of folders, with a name and number of images for each folder labeled underneath. You can't filter images by location, time, people or tags like you would in the stock app. You can select multiple images (folders too) and then Share and Delete options become available.
The available features when viewing a single image are pretty standard - set image as wallpaper/contact image, share it, delete it or get a menu with more functions.
The image editor has also fallen victim to the trend for simplicity and offers one-touch color filters and image frames. Editing goes as serious as sharpening, blurring and applying a mosaic effect, which get a slider to control the intensity. You also get to crop rotate and mirror, and that's all.
Video player
The Oppo R7s comes with a pretty simple-looking video player with extensive codec support - DivX, AVI, MKV, MP4 files played without a hitch, as did MOV videos. AC3 sound was a no-go, but that's often the case, and here at least you get to watch the silent video, while other phones may refuse to play it back altogether.
The interface for video selection is pretty basic too - a list of all available files. The player supports subtitles too, but there's only an on/off toggle here, you can't manually pick the subtitle file (so it would have to be named the same as the video file to work, and it also should be hosted in the same directory).
While watching a video you get a timeline slider, play/pause along with forward/back controls, a lock option (which locks the display against accidental touches) and a pop up toggle. It's a small floating window that lets you have other apps working underneath. You can move it around and use a pinch gesture to change its size, but there's no transparency option.
Music player with Dirac HD
Oppo's music player is pretty straightforward too - your music library is organized into a local list of all music, favorites, artists, albums and folders. There's also an option to add a playlist.
The Now playing interface is split into two - the current playlist and the album art/music controls screen. You can swipe between the two. By default the player will look for lyrics and display them under the album art, which imitates a vinyl record. You can add album art if it's not built inside the tracks (but the player won't look for it automatically).
There's a playback mode button (normal, shuffle, repeat track) and a toggle for audio enhancement. That cycles through Dirac HD on and off, but it only works with headphones attached.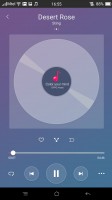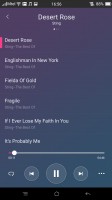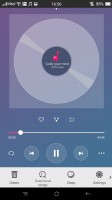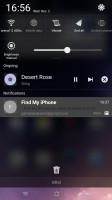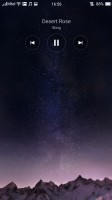 Now playing • Playlist • Contextual menu • Music player on the lockscreen and in the notification shade
Audio quality doesn't disappoint
When connected to an active external amplifier, the R7s posted excellent scores top to bottom and garnished them with nicely high volume levels - there's really not much to say here besides "Good job, Oppo".
Plugging in a pair of headphones lead to a moderate increase in stereo crosstalk and slight deviations in the frequency response. Some intermodulation distortion also appears but that's hard to detect without dedicated equipment such as ours. Volume levels remain above average too, so it's a very good showing overall for the R7s.
| | | | | | | |
| --- | --- | --- | --- | --- | --- | --- |
| Test | Frequency response | Noise level | Dynamic range | THD | IMD + Noise | Stereo crosstalk |
| Oppo R7s | +0.04, -0.11 | -94.5 | 92.5 | 0.0017 | 0.0073 | -94.9 |
| Oppo R7s (headphones attached) | +0.33, -0.10 | -94.4 | 92.5 | 0.0073 | 0.234 | -59.6 |
| Oppo R7 | +0.02, -0.02 | -93.2 | 93.1 | 0.0011 | 0.054 | -94.1 |
| Oppo R7 (headphones attached) | +0.40, -0.38 | -92.9 | 92.8 | 0.0046 | 0.191 | -56.9 |
| Samsung Galaxy A5 | +0.02, -0.07 | -94.5 | 91.4 | 0.0044 | 0.012 | -93.8 |
| Samsung Galaxy A5 (headphones attached) | +0.23, -0.11 | -92.4 | 90.4 | 0.017 | 0.190 | -44.1 |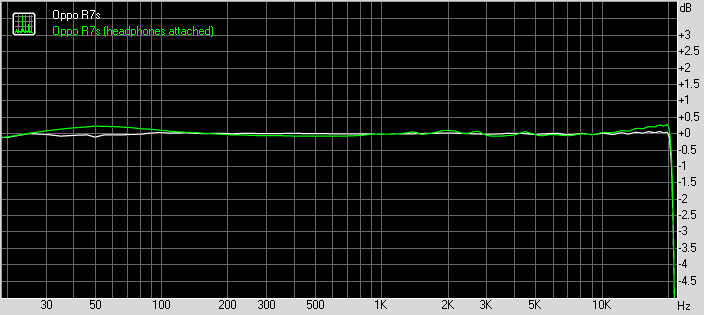 Oppo R7s frequency response
You can learn more about the tested parameters and the whole testing process here.