13MP camera packs plenty of features
The Oppo R7s comes with a 13MP camera, capable of capturing images up to 4,160 x 3,120 pixels in resolution. The lens has an f/2.2 aperture and for shots in the dark a single-LED flash can be of service.
Now, the plain R7 has a Samsung ISOCELL sensor and phase detection autofocus, while the R7 Plus is equipped with a Sony IMX278 imager and laser autofocus.
For the R7s the company has gone with the ISOCELL setup with phase detection from the R7, though we only dug this info up from Oppo's Taiwanese website.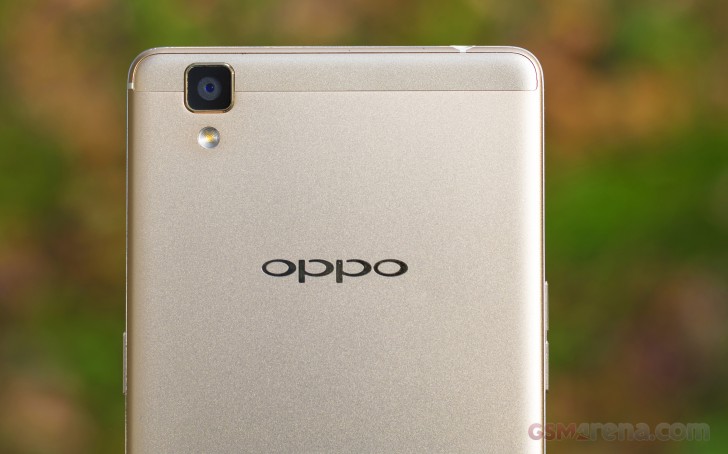 One of the best things about the camera app is that you can switch from stills to video with a swipe to the side before you hit record. That solves a long-standing problem that many manufacturers choose to ignore, namely the different aspect ratio and coverage between still images and video. Oppo got it right on the R7 and here on the R7s you can also frame your subject correctly before actually starting to record.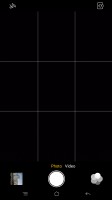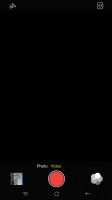 Stills viewfinder • Video viewfinder
The interface is straightforward with a shutter button, shortcut to the gallery and shooting mode button on one side, and flash mode selector and rear/front camera toggle on the other.
You get a plethora of shooting modes in the Camera shop, which you can install and add to your mode selector. You can alternatively leave only the ones you use for a less cluttered interface - who wants to scroll through two pages of shooting modes.
The R7s comes with the usual HDR and Panorama, but in typical Oppo fashion it also has an UltraHD mode, which outputs pictures in either 24MP or 50MP. RAW mode is another welcome feature for photography enthusiasts.
Those will also appreciate the Expert mode, where you get creative control over white balance (only presets, though, no temperature slider), shutter speed (as long as 16s), ISO and exposure compensation, as well as manual focus. The interface is a bit iffy when you hold the phone in landscape, rotating some elements and not others. It's been so for a while now, with Oppo stubbornly refusing to do something about in future releases. It doesn't get in the way of actual shooting, but it's annoying oversight.
When it comes to actual image quality, things aren't that great. The shots come out with average detail and uniform patches of color are often too noisy for our liking. There's a lot to improve in dynamic range as well.
Color rendition isn't exactly accurate, and the R7s tends to produce warm yellowish images. It's arguably the better side to err on, however, as consumers perhaps find warm photos more appealing.
The camera is quick to focus and does so accurately most of the time. It's also snappy overall, slowing down a bit when shooting RAW and HDR. UltraHD shots take while too, but they also require multiple exposures on top of the additional processing.
HDR mode works well to combat the limited dynamic range and brings out detail in the shadows as well as toning down highlights. The indoor sample shows a very conservative approach, but the shot from our balcony is a lot more dramatic.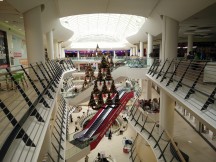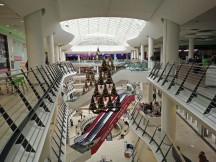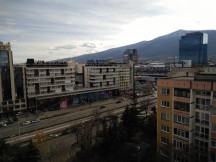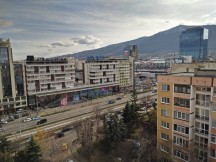 HDR off • HDR on • HDR off • HDR on
Panoramas are well-stitched with only the occasional artefacts and have good resolution. Detail isn't spectacular, but is pretty good, and exposure is even across the frame.
The 8MP selfie camera captures plenty of detail, and reproduces skin tones more accurately. Not so great is the tendency for images to come out with somewhat unusually bright exposure and noise is high too. There's also a three-step beautification feature, which evens out skin blemishes and wrinkles, though it does sacrifice some detail in the process.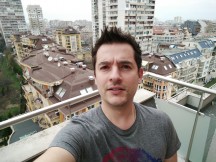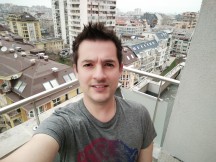 Selfie sample • Selfie sample with beautification set to Medium
Still camera comparison
You can check out how the Oppo R7s' primary camera stacks up against the competition in our Photo compare tool. We've chosen a couple of smartphones with 13MP cameras, but you can explore the tool and select other devices from the ones we've tested.
Video recording
The Oppo R7s shoots video at up to 1080p/30fps. There's a time-lapse mode in the range of 2x-10x speed as well as 1/4x speed slow motion mode in the unusual resolution of 720x480 pixels.
The recorded regular videos weigh in at 20Mbps, and audio is saved in stereo with a bitrate of 96Kbps. The output is lacking in detail, it's certainly far from the best in business. Exposure is a little shaky at times, but there's no focus hunting, once you're past the initial scanning of the entire range.
You can download an untouched video sample here - 11 seconds, 27MB.
Video camera comparison
Be sure to head over to our video compare tool to check where the Oppo R7s stands against the rest.