Oppo R819 360-degree spin
The Oppo R819 measures 136.5 x 68 x 7.3mm and weighs 110g. For comparison's sake, an HTC Desire 600 (with a smaller, 4.5" screen) measures 134.8 x 67 x 9.3mm and weighs 130g.
Design and handling
The Oppo R819 has a very standard Android phone design - a rounded rectangle with a silver strip running around its side, a big screen and three capacitive keys on the front. Unlike the Find 5, which was an attractive phone, the R819 is pretty ordinary. Nothing wrong with that, but you'll probably have people asking you what kind of Samsung or LG it is.
The first thing you notice when you pick up the Oppo R819 is how thin and light it is. It's just the right size to fit in the hand comfortably too. However, the bezels around the 4.7" screen are fairly thick compared to most other phones - by no means huge, but could've definitely been smaller.



The Oppo R819 feels thin and light in the hand
The back of the Oppo R819 is made of a glossy plastic with a subtle diamond pattern to it. It's not the best plastic we've seen, but we like it better than Samsung's favorite hyperglaze finish.
This back cover is actually removable, but there's not much you can do - the 2,000mAh battery is right there, but it's attached with cables and there' no microSD card slot. At least you can easily change the back panel yourself if it gets damaged.
Display
The Oppo R819 has a 4.7" LCD display of 720p resolution and 312ppi. It's sharp, as sharp as a flagship from last season, and sharper than most of the dual-SIM phones on offer.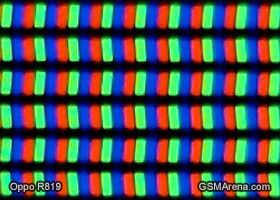 Oppo R819 screen under a microscope
The display has very good viewing angles with only minor shifts in contrast at extreme tilt. Colors are vivid and the high contrast makes for fine image quality, better than some of the competitors that passed by recently (HTC Desire 600 dual sim, Samsung Galaxy S4 mini duos). It's very good compared to midrange droids in general.
Display test
50% brightness
100% brightness
Black, cd/m2
White, cd/m2
Contrast ratio
Black, cd/m2
White, cd/m2
Contrast ratio
HTC Desire 600 dual sim
0.18
200
1106
0.46
532
1161
Samsung I9195 Galaxy S4 mini
0
166
∞
0
396
∞
Oppo R819
0.56
607
1078
0.62
754
1210
Samsung I9082 Galaxy Grand
0.37
382
1040
0.62
586
948
Huawei Ascend P6
0.14
136
986
0.62
670
1080
Sony Xperia Z
-
-
-
0.70
492
705
HTC One
0.13
205
1580
0.42
647
1541
Samsung I9505 Galaxy S4
0
201
∞
0
404
∞
Oppo Find 5
0.17
176
1123
0.51
565
1107
Nokia Lumia 920
-
-
-
0.48
513
1065
LG Optimus G
0.14
197
1445
0.33
417
1438
Nexus 4
0.22
314
1447
0.45
608
1341
Apple iPhone 5
0.13
200
1490
0.48
640
1320
Best of all, the display is bright - we kept it at under half brightness most of the time and that was quite enough. But you can push it to full brightness to help the sunlight legibility. The display is on the reflective side, so visibility under direct sunlight suffers.
Sunlight contrast ratio
Nokia 808 PureView
4.698
Apple iPhone 5
3.997
Samsung I9300 Galaxy S III
3.419
Nokia Lumia 925
3.402
Samsung I9505 Galaxy S4
3.352
Samsung Omnia W
3.301
Samsung Galaxy S
3.155
Samsung Galaxy S4 mini
3.127
Samsung Galaxy S4 zoom
3.118
Nokia N9
3.069
Samsung Galaxy Note
2.970
HTC One S
2.901
Samsung Galaxy S II
2.832
Samsung Galaxy S II Plus
2.801
Huawei Ascend P1
2.655
Sony Xperia ZR
2.672
Nokia Lumia 900
2.562
Nokia Lumia 720
2.512
HTC One
2.504
Sony Xperia Z
2.462
Samsung Galaxy S III mini
2.422
Motorola RAZR i
2.366
Samsung Galaxy Note II
2.307
Apple iPhone 4S
2.269
HTC Desire 600 dual sim
2.262
HTC One X
2.158
Nokia N8
2.144
Oppo Find 5
2.088
BlackBerry Z10
2.051
Apple iPhone 4
2.016
HTC One mini
2.003
Oppo R819
1.957
Sony Ericsson Xperia ray
1.955
Samsung Galaxy Camera
1.938
HTC Butterfly
1.873
Huawei Ascend P6
1.865
Sony Xperia V
1.792
Sony Xperia U
1.758
LG Optimus 4X HD
1.691
HTC One V
1.685
BlackBerry Q5
1.682
LG Optimus Vu
1.680
LG Optimus GJ
1.666
HTC Desire V
1.646
LG Optimus G Pro
1.552
LG Optimus 3D
1.542
Nokia Asha 302
1.537
Nokia Lumia 610
1.432
Gigabyte GSmart G1355
1.361
HTC Desire C
1.300
Nokia Asha 501
1.270
LG Optimus L7
1.269
LG Optimus L9
1.227
Meizu MX
1.221
Sony Xperia E dual
1.203
Samsung Galaxy Pocket
1.180
Sony Xperia tipo
1.166
Samsung Galaxy mini 2
1.114