Gallery and file browser
The Gallery on the Oppo R819 is a custom job, not too different from the vanilla app. The default view is Camera roll, but you can switch to a view of all folders that contain images. You can hide folders you don't want. Unfortunately, there's no web album integration either (so, no "Make available offline" option).
Images inside folders are arranged on a rectangular grid. You can select multiple images (folders too) and then Share and Delete options become available.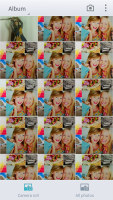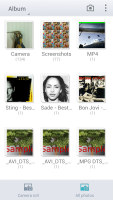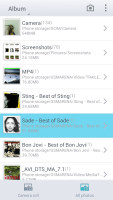 Camera roll • all images • list view for all images
When viewing an individual image, you can swipe left and right to navigate between images. A filmstrip of thumbnails at the bottom of the screen allows for faster navigation. A curios and helpful feature lets you rotate an image with two fingers, which is great if the screen autorotation is disabled or acting up.
The available features here are pretty standard - set image as wallpaper/contact image, share it delete it, rename it or rotate it. The details offer more info than most other galleries, including EXIF info (things like focal length, aperture, ISO, shutter speed, etc.).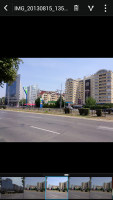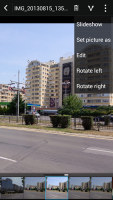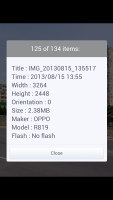 Viewing a single image and its metadata
There's a more advanced editor too, the stock Android one. Light adjustments let you bring out the shadows or the highlights, you can apply effects, color styles, red eye correction, straightening, sharpening and so on. Most of these options have a slider that lets you fine-tune the intensity of the effect.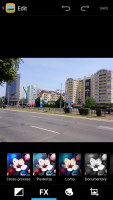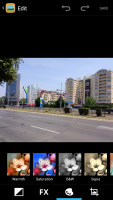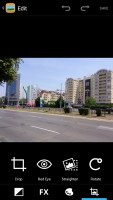 A more capable image editor is available too
The phone comes with a capable file manager out of the box. Its interface is laid out over two tabs, the first one organizes files by category, while the second is a traditional folder browser.
Files and folders can be copied, moved, deleted, renamed and compressed to ZIP (and ZIP files can be extracted). Batch operations are supported. The folder browser has list and grid views and you can change the sorting method. The system can be encrypted and password protected too.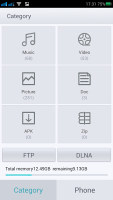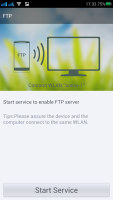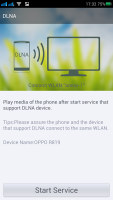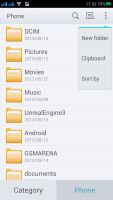 The file browser has built-in DLNA and FTP servers
The file browser also has built in DLNA and FTP servers, which makes it easy to access multimedia and general files on another device.
Music player with Dolby Mobile and Dirac
The Oppo R819 comes with a bespoke music player loaded with Dirac HD sound enhancements. The UI is pretty straightforward - your music library is organized into a list of all music, a list of artists, albums and playlists.
The Now playing interface is split into two - the current playlist and the album art. You can swipe between the two, the music controls are always visible. By default the player will look for lyrics and display them over the album art, though that didn't work for us.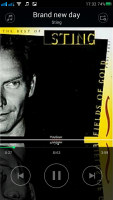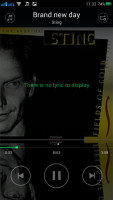 Now playing interface with lyrics support
There's a playback mode button (normal, shuffle, repeat track) and a toggle for audio enhancement. The Dirac audio works only with headphones plugged in and has no options, it's either on or off. There's no equalizer.
By the way, the music player successfully played a 16-bit FLAC file (24-bit didn't work).
While the player is on, the notification area features the album art and track info for the current song along with the basic playback controls. The default lockscreen lacks these controls but the other two preloaded lockscreens do have them.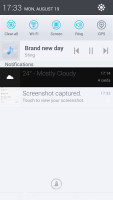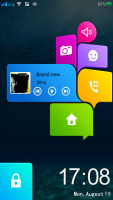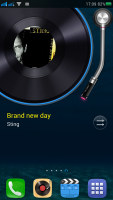 The music player controls in the notification area and the lockscreen • dedicated pane on the homescreen
The custom homescreen features an animated record player that serves as eye can be used to control the music player. You start and stop the playback by moving the tonearm on or off the record and change tracks by swiping up or down. There's also a button to toggle the repeat modes.
FM radio
The Oppo R819 features a stereo FM radio receiver with RDS support. The first time you start it, it will scan for available cannels and you can star your favorites. The phone can output the sound either through the headset or through the loudspeaker, but the headset needs to be connected in either case (it acts as the antenna).
Video player with great codec support, Pop up play
The video player is pretty basic, it just displays a list of all video files on the device. It can sort the list by name, time, date and size. There's a search function and you can just use the file browser too.
It has no problems playing 1080p videos in every format we tried - AVIs with DivX and XviD, MKVs, MPG, MOV and MP4. The audio codec support was great too, supporting both Dolby Digital and DTS, which are common stumbling blocks.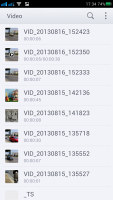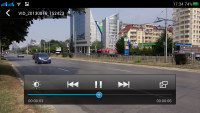 The minimalist interface of the video player is preserved
The player supports subtitles too, but there's only an on/off toggle here, you can't manually pick the subtitle file (so it would have to have the same name as the video file to work.
There is a separate brightness slider, but no Dirac audio option here.
A feature that seems lifted right off the Samsung Galaxy flagships is the pop-up player. It's a small floating window that lets you have other apps working underneath. You can move it around to get it out of the way, but there's no resize option.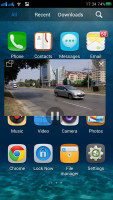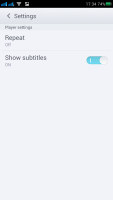 The pop-up play feature • settings
If you want to play the video on your TV, you can activate the Wi-Fi Display function, but you'll need a compatible HDMI dongle. Alternatively, you can use DLNA, but there's no MHL TV-Out.
Well-balanced audio quality
Despite its lower standing in the pecking order, the Oppo R819 doesn't do any worse than the Find 5 in terms of audio output.
In fact the R819 has an advantage over its rival when plugged into an active external amplifier. The volume levels are just as high, but the mid-range Oppo smartphone has better frequency response and slightly cleaner overall output.
On the other hand, the R819 loses more of its brilliance when you plug in a pair of headphones, experiencing increased stereo crosstalk and intermodulation distortion - it's not too bad but it's not perfect either. Volume levels drop a bit too, but they are still average at worst. Still the overall showing by the R819 is quite solid and should suffice to please everyone but the most demanding audiophiles.
And here go the results so you can see for yourselves.
| | | | | | | |
| --- | --- | --- | --- | --- | --- | --- |
| Test | Frequency response | Noise level | Dynamic range | THD | IMD + Noise | Stereo crosstalk |
| Oppo R819 | +0.04, -0.09 | -92.4 | 92.3 | 0.017 | 0.045 | -87.9 |
| Oppo R819(headphones attached) | +0.58, -0.13 | -91.0 | 90.9 | 0.015 | 0.438 | -48.7 |
| Oppo Find 5 | +0.34, -0.90 | -82.0 | 81.9 | 0.0072 | 0.020 | -81.4 |
| Oppo Find 5 (headphones attached) | +0.34, -0.89 | -82.1 | 81.9 | 0.0058 | 0.048 | -47.1 |
| HTC Desire 600 dual sim | +0.04, -0.31 | -91.3 | 89.5 | 0.020 | 0.052 | -89.6 |
| HTC Desire 600 dual sim(headphones attached) | +0.10, -0.25 | -91.1 | 89.4 | 0.020 | 0.045 | -47.5 |
| Samsung Galaxy S4 mini | +0.06, -0.05 | -93.5 | 92.7 | 0.0090 | 0.056 | -86.2 |
| Samsung Galaxy S4 mini (headphones attached) | +0.08, -0.04 | -93.2 | 91.8 | 0.029 | 0.089 | -53.3 |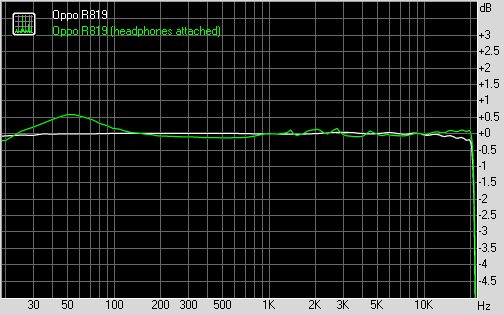 Oppo R819 frequency response
You can learn more about the whole testing process here.