Display
The shark fin pop-up module was necessary to keep notches away from the screen. And because of it the Oppo Reno 10x zoom enjoys a 6.6" AMOLED screen free of any interruptions. It is protected with a Gorilla Glass 6 and if that's not enough Oppo also applies an additional screen protector in its factory and ships the Reno with it.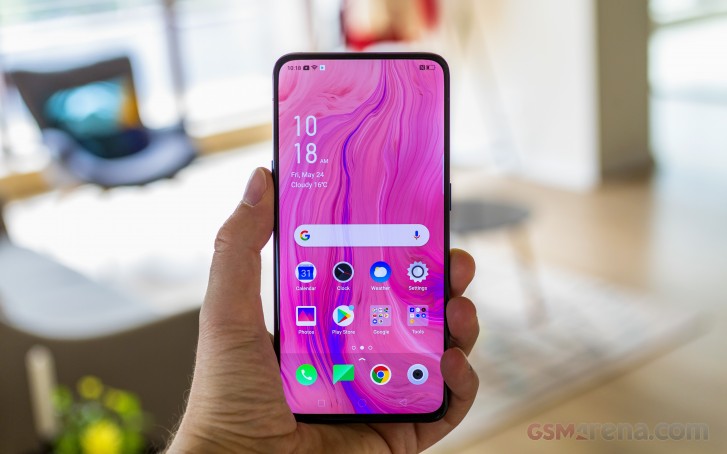 The AMOLED screen is of 1080p resolution or 1,080 x 2,340 pixels to be exact, making for a very tall 19.5:9 aspect ratio and 387ppi density. The matrix beneath is a Diamond PenTile, but you can't really tell that unless you are looking at it under a microscope (as we did).
The Reno screen is bright enough for an AMOLED at 440 nits, but it can't go beyond like Samsung's OLEDs. There is no brightness boost in Auto mode, so 440 nits is what you will get in both manual and auto brightness modes.
Display test
100% brightness
Black, cd/m2
White, cd/m2
Contrast ratio
Oppo Reno 10x zoom
0
440
∞
Oppo Find X
0
426
∞
Oppo F11 Pro
0.316
440
1392
Xiaomi Mi 9
0
428
∞
Xiaomi Mi 9 (Max Auto)
0
620
∞
Samsung Galaxy S10+
0
385
∞
Samsung Galaxy S10+ (Max Auto)
0
793
∞
Apple iPhone XS Max
0
653
∞
Realme X
0
448
∞
Huawei P30 Pro
0
571
∞
Huawei P30 Pro (Max Auto)
0
605
∞
Nokia 9 PureView
0
531
∞
Huawei Mate 20 X
0
459
∞
Huawei Mate 20 X (Max Auto)
0
655
∞
OnePlus 7 Pro
0
436
∞
OnePlus 7 Pro (Max Auto)
0
616
∞
Oppo doesn't offer many display options - you can choose Vivid (DCI-P3 color space) and Gentle (sRGB color space). There is also a color temperature slider going between Cool, Default, and Warm.
The screen is pretty accurate for both DCI-P3 and sRGB with an average deltaE of 3.5 and maximum deviation of 9.7 at point white (noticeable blue tint). If you drag the temperature slider in Display Settings to Warm, you'll get one very accurate color presentation with an average deltaE of 2.4 and a maximum deviation of 5 and thus get rid of the blue tint on white screens.
Battery life
The Oppo Reno 10x zoom is powered by a 4,065 mAh battery. The phone supports Oppo's 20W VOOC 3.0 fast charging and you get it within the retail box. It refills about 52% of the Reno's depleted battery in 30 mins.
We ran our battery tests, and the Oppo Reno 10x zoom posted an excellent overall score of 107 hours. That's among the best we've squeezed from a flagship, especially one with such a large screen.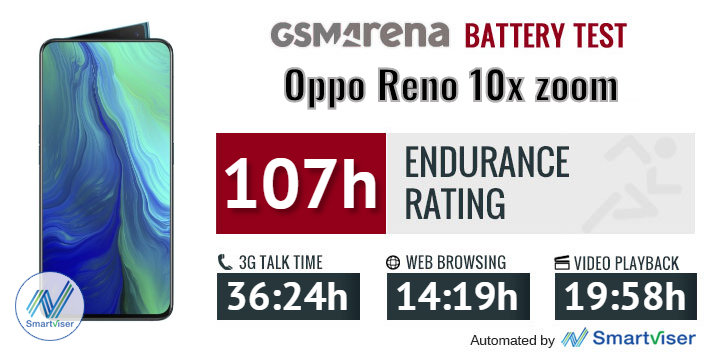 Our battery tests were automated thanks to SmartViser, using its viSer App. The endurance rating above denotes how long a single battery charge will last you if you use the Oppo Reno 10x zoom for an hour each of telephony, web browsing, and video playback daily. We've established this usage pattern so that our battery results are comparable across devices in the most common day-to-day tasks. The battery testing procedure is described in detail in case you're interested in the nitty-gritty. You can check out our complete battery test table, where you can see how all of the smartphones we've tested will compare under your own typical use.
Speaker test (old, new one below)
The Reno is the second Oppo smartphone to have two loudspeakers, and it's been more than five years since we met the first one - the Find 7. Unlike the Find 7 and its two large speakers, the Reno uses the new way of delivering the feature - meaning one speaker at the bottom of the phone and the earpiece serving as the second one.
Unlike Apple's latest iPhones, the Reno's earpiece is not powerful enough to match the bottom speaker. The sound coming from the earpiece is quiet, flat, and often squeaky, and it's mostly used to create the stereo feel and nothing else. Unfortunately, due to its poor quality, sometimes it may be an immersion breaker rather than booster.
The good news is the bottom speaker is pretty loud with excellent sound output. We've heard other mobile speakers performing a little bit better in the lows, but the Reno 10x zoom certainly doesn't disappoint. As far as loudness is concerned, the phone gets a Very Good rating. And we hope Oppo the Reno is the first of many Oppo phones with stereo speakers instead of becoming another outlier, following the Find 7.
| | | | | |
| --- | --- | --- | --- | --- |
| Speakerphone test | Voice, dB | Pink noise/ Music, dB | Ringing phone, dB | Overall score |
| Oppo F11 Pro | 67.6 | 72.3 | 80.5 | Very Good |
| Realme X | 67.9 | 73.5 | 80.4 | Very Good |
| Nokia 9 PureView | 68.9 | 71.8 | 81.1 | Very Good |
| Oppo Reno 10x zoom | 69.7 | 74.7 | 79.3 | Very Good |
| Xiaomi Mi 9 | 70.1 | 74.2 | 81.6 | Very Good |
| Oppo Find X | 70.7 | 75.2 | 81.2 | Very Good |
| Huawei Mate 20 Pro | 70.3 | 73.4 | 83.8 | Very Good |
| Apple iPhone XS Max | 70.5 | 74.0 | 84.7 | Excellent |
| Samsung Galaxy S10+ | 74.4 | 74.2 | 83.6 | Excellent |
| Huawei P30 Pro | 70.9 | 73.8 | 90.9 | Excellent |
| Huawei Mate 20 X | 71.4 | 73.5 | 91.1 | Excellent |
| OnePlus 7 Pro | 79.6 | 77.7 | 87.2 | Excellent |
Speaker test (new)
Use the Playback controls to listen to the phone sample recordings (best use headphones). We measure the average loudness of the speakers in LUFS. A lower absolute value means a louder sound. A look at the frequency response chart will tell you how far off the ideal "0db" flat line is the reproduction of the bass, treble, and mid frequencies. You can add more phones to compare how they differ. The scores and ratings are not comparable with our older loudspeaker test. Learn more about how we test here.
Audio quality
The Oppo Reno does not come with a USB-C to 3.5mm adapter. This means we couldn't test the audio quality because it very much depends on what kind of headphones or adapter you have - each has its own DAC and has to be tested individually.