The light side of life
Samsung B7300 OmniaLITE review: The light side of life

Connectivity is fully covered
When it comes to connectivity, the Samsung B7300 OmniaLITE is pretty much as well geared as a handset can be - HSDPA 3.6 Mbps, Wi-Fi, stereo Bluetooth. There is no HSUPA but we are willing to let that one go.
The network connectivity options of the touchscreen handset include quad-band GSM support and dual-band 3G (900/2100 MHz). In case you are wondering what bands your regional 3G network supports you can check out our Worldwide Network Bands distribution database.
USB 2.0 is supported as well through a microUSB port. When connected to a computer, the OmniaLITE automatically connects in either ActiveSync or Mass Storage mode - whatever you preset in the Settings menu. Unfortunately, there's no option to be prompted every time you pair the handset to a computer.
The OmniaLITE has a hot swappable card slot too. If you have a microSD card (up to 16GB) and a card reader ready at hand will certainly give you the fastest data transfer rates.
Web browsing: lack of Flash is a deal-breaker
The Samsung B7300 OmniaLITE comes with a couple of pretty decent browsers preinstalled to make best use of its rich connectivity. You get the new version of Internet Explorer Mobile with the WinMo 6.5 update, plus the Opera Mobile v9.5, which is also preinstalled.
The Opera browser is extensively touch-optimized and draws inspiration from the iPhone's Safari. The browser has matured since its first reincarnations and now exhibits no rendering bugs.
Opera Mobile v9.5 is heavily optimized towards vertical scrolling you can scroll through complex pages without missing a beat. Panning sideways is a little slower - a checkerboard pattern appears for a moment before the content is drawn, but this lasts for only a moment so it's no big issue.
Zooming in and out is also very fast. You can use the one-finger zooming pattern that we described in the gallery but its implantation isn't as smooth and responsive as it was the Omnia II. Double tapping is also very accurate as it zooms in to where you tapped, eliminating the need for much panning.
The WQVGA resolution of the ample display isn't as good for web browsing as the WVGA of the Omnia II so you will need some more panning with most web sites.
There is also a landscape mode which we prefer when there's more reading involved. The browser orientation is changed automatically of course, thanks to the built-in accelerometer.
Unfortunately, the OmniaLITE couldn't handle Flash videos, making anything but the mobile versions of sites like YouTube a no go.
The Internet Explorer Mobile web browser has also been blessed with some touch-optimization but we still find there is a lot more to be demanded from it. Still, the inclusion of kinetic scrolling is a nice move forward for Microsoft.
There are five available setting for the text size and there is a mobile view mode. Still we are far more comfortable using the desktop mode as web pages look much more natural that way.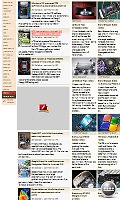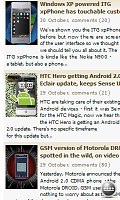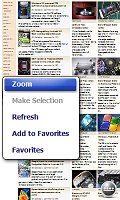 Internet Explorer is the alternative
Zooming though is a lot chunkier with the IE - the very convenient solution of the Opera browser doesn't work here. Instead you either have to access the zooming mode from the menu or hold you finger over the screen and go through the context menu to make a slider appear. You can then use it for controlling the zoom but there is no Fit-to-screen mode.
The double tapping is also present here but it was pretty buggy on our unit and only worked about a third of the total time we tried it.
A flaw of the IE browser is the fact that it doesn't automatically rotate the pages with the built-in accelerometer. One would think that this is the easiest thing for the developers to do but they obviously saved themselves the effort here. There isn't a setting for manually switching to landscape mode either, so like it or not - portrait is all you get. We saw Internet Explorer Mobile happily auto rotating on the Acer neoTouch, so we guess Samsung may fix that with a software update.
We guess that and the handicapped zooming is exactly what dooms the Internet Explorer Mobile of remaining second best to the Opera Mobile even after the major overhaul it has received.
Top-notch Organizer
Windows Mobile offers several time-management features and all of them are easily syncable with desktop MS Outlook. In the OmniaLITE you mostly get the standard Windows interface for the calendar. It has been slightly modified in the new version of the OS and doesn't look as dull now but there aren't too many changes in the functionality.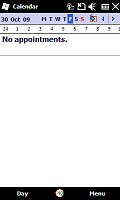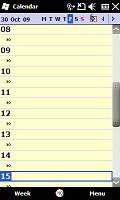 The default calendar is pretty bad looking
The Calendar offers daily, weekly, monthly and even yearly and agenda views but there are no different appointments available for setting up. Instead you get a single appointment item that you can place in different categories but you always get the same fields.
There is support for cutting, copying and pasting of events and you can also filter them by categories if you wish. Any of the available view modes can be set as default and you can choose the first day of the week to be either Monday or Sunday.
You also get the Touch calendar with the OmniaLITE, which has much better looks and is better optimized for finger use but slightly lags behind in terms of functionality.
The Tasks application allows you to add tasks and assign them priority. The Notes also come in handy, as you can either type or directly write the text down on the screen. The Audio Note and the Calculator need no explanation - their interface is only slightly polished, compared to previous-generation WinMo devices.
Smart Memo is an application that allows you to take notes by writing directly to the phone's screen. You get different colors and brush sizes plus you can zoom in and out of those notes. You can even save them as JPEG files or send them over MMS, email or Bluetooth if you want to.
The Alarm clock allows you to set a vast number of alarms to act as either wake-up or reminders. The dedicated wake-up alarm has three slots, which should allow you to wake up at different time in the different days of the week.
You can however set as many additional alarms as you want, each with its own name, repeat pattern, snooze time and ringtone. You also get to pick the volume and whether or not the alarm should power on the phone if it happens to be switched off.
The other extra features of the clock application are World clock application that can keep you updated with the time in as many time zones as you want, a stopwatch and an anniversary list. In the latter you can enter as many anniversaries as you want and optionally set up an alarm for each one to act as a reminder on either the day of the event or up to 7 days before it.
The final item in the organizing package is the neat and simple converter (fancily named Smart converter) that offers weight, length, area, volume and temperature conversions. There is also a currency converter and a neat Tip calculator.