The light side of life
Samsung B7300 OmniaLITE review: The light side of life

Document editor as good as usual
Among the other WM core applications is the Office Mobile package featuring support for viewing and editing Word, Excel, and PowerPoint files. With the latest version of Office Mobile, you also have the OneNote application.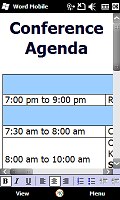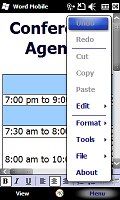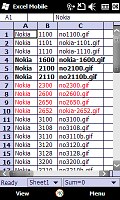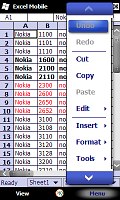 Document editing is also available on the Samsung B7300 OmniaLITE
Not only are their very good for viewing your office documents straight from the phone, but they also offer editing too. There are no extra charges - you are good to go straight out of the box.
Thanks to Adobe Reader LE, there is also support for viewing PDF documents. We are extremely pleased with the performance of the OmniaLITE in this area, as opening and handling PDF documents is usually rather slow on most handsets.
Applications are plenty
The Samsung B7300 OmniaLITE has got plenty of preloaded applications, outside its organizing and multimedia packages too. There's the regular stuff such as an RSS Reader and a Streaming Media manager for a start but there's some new cool stuff also.
The RSS Reader application is rather self explanatory. It gives you quick access to RSS feeds for staying on top of the latest news and content on your favorite websites. The Podcasts application allows you to subscribe and download video and audio podcasts of your choice.
The Digital Frame application allows you to use the B7300 OmniaLITE as a digital picture frame with content of your own and highly customizable styles.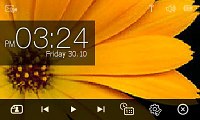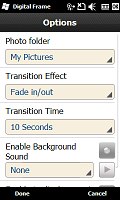 The OmniaLITE used as a digital frame
You can have music playing in the background too and, if needed, event alerts such as incoming message or alarms can be suppressed when the Digital Frame is running.
Another application is the rather handy Search Phone, capable of searching throughout applications and the whole file system. You have the option to set filters so that the application searches only in the places you need.
In fact the OmniaLITE is equipped with two search applications - the other is named Smart search and adds some nice graphics and transition effects to the whole searching thingy. Oh, and it's pretty good at actually finding what you are looking for too.
The MSN duo of applications - Money and Weather - is also here. Those are convenient tools for retrieving weather and stocks updates straight from you handset.
The Samsung B7300 OmniaLITE arrived with a pre-loaded app called Application Download, granting you access to Samsung's app store. Of course, there's the inevitable comparison to the App Store as the structure and concept is quite close.
Applications are displayed into several tabs - Recommended, Hot and Category. You can also see all downloaded items or to search for new ones. Before you download an app you can read its detailed description and check its rating.
We also found the Microsoft's own Marketplace in the Main menu. The application distribution solution should help third-party applications find their way from the developers to the users handsets by basically cutting off the middle man.
The interface of the new Marketplace application is pretty straightforward - it gives you shortcuts to the most popular applications, the most recent ones and category view. There is of course a search box too to make things easier as the number of applications grows.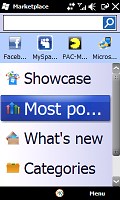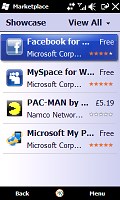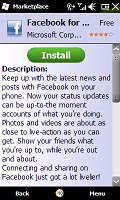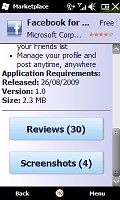 The marketplace isn't exactly brimming with content just yet
As of now, there are only 102 apps available within the Marketplace, which is almost twice as much as there was when the service launched. The number of free ones however remains disturbingly low with the prices for most ranging from a few pennies to 50 US dollars.
The Marketplace is nicely setup as well, offering user reviews, screenshots and, as usual, individual ratings.
GPS would be better off coupled with a satnav app
The Samsung B7300 OmniaLITE features a built-in GPS receiver with A-GPS support. The assisted GPS allows for much faster satellite lock upon cold start thanks to current satellite data downloaded over Wi-Fi or the 2G/3G network.
Unfortunately, there is no navigation software preinstalled on the OmniaLITE so you will have to get one on your own expense. We downloaded and tested the free Google Maps app just to see if the GPS would have any issues with a third party app. Google Maps had no issues recognizing the receiver also we guess using it with a third-party app of your choice will be as easy as cake.
As usual, GPS navigation software is a regional thing and on your local market the OmniaLITE can be pre-bundled with some sort of satellite navigation.