Standard Android gallery
The Exhibit 4G uses the standard Android gallery, which is great. It offers the good functionality, we're accustomed to, cool 3D looks and nice transition effects, but unfortunately (again) only shows a downsized version of your images.
The different albums appear as piles of photos, which fall in neat grids once selected. Online albums at Picasa show up as separate stacks as well.
You can also organize the photos by date via a button in the top right corner which switches between grid and timeline view.
In grid view, there's a date slider, which can also be used to find photos taken on a certain date.
If you are checking out a photo, you can use the tabs at the top of the screen to jump back to the main gallery screen, without having to go through its folder.
The gallery supports finger scrolling or panning so you can skip images without having to return to the default view. Just swipe to the left or right when viewing a photo in fullscreen mode and the previous/next image will appear.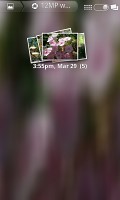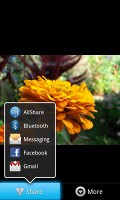 View and share gallery options
There are tons of options for a picture – you can crop or rotate it directly in the gallery. The Send feature offers quick sharing via Picasa, Facebook Email apps, Bluetooth or MMS.
The video player has everything you need
The video player of the Samsung Exhibit 4G is quite impressive. Along with the standard mobile video formats, it supports DivX videos right out of the box. Playing large video files was smooth and easy.
The on-screen controls offer play/pause, skip, and volume buttons. There is a 5.1 channel surround sound available when using headphones.
TouchWiz music player
The stock audio player has been among the weak features of Android OS since its very beginning. Thankfully, Samsung's TouchWiz UI has taken care of this issue in quite a stylish fashion. You can sort the music using the sorting options, which are neatly displayed in a tabbed interface. Among the options are current playlist, all tracks, playlists and albums, artists and composers. You are free to remove some of the filters to make the interface easier to navigate.
Music experience on the Exhibit 4G can be enhanced thanks to the included equalizer in the settings menu. The disc view of the albums and tracks provides additional eye candy.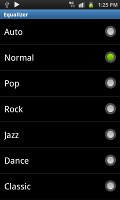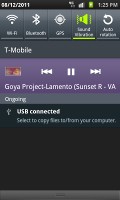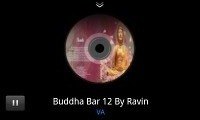 Equalizer • notification area view • disk view
As far as usability and looks go the music player on the Exhibit 4G is top notch and offers everything from creating playlists to enabling equalizer settings and enjoying an enhanced audio experience.