A basic, straightforward gallery
To go with the rest of the software, the gallery is really simplified compared to what top of the line Galaxies are getting. Photos and videos can be filtered by album (that is by folder) or by location. A panel on the left can be used to switch between the different albums.
That panel can be hidden with a swipe to make more room for the images. The pinch gesture that resizes the thumbnails is not available here. Support for online galleries is also gone.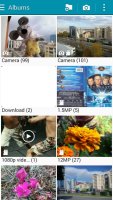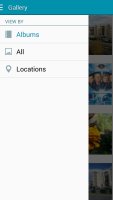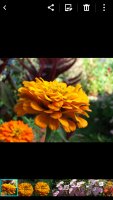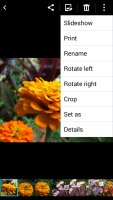 Gallery • filtering options • viewing and editing images
Photo editing is supported though our unit did not have the app installed out of the box. It's a free download and supports the usual crop, rotate, color adjust options plus face enhancement, free hand drawing and some stickers and photo frames.
Only Google Play Music out of the box
The discount TouchWiz theme continues with the music player - the Samsung one is gone and there's only Google Play Music out of the box. It's a lovely player with Material Design that fully supports offline play of your tracks, but also handles unlimited music streaming (if those are supported in your country).
Streaming music can be cached to ensure a seamless playback and can be limited to Wi-Fi only (to reduce data charges). For mixes, you have the option to block "explicit" songs.
A 5-band equalizer is available in the settings with a bass boost slider (available for headphones only) and a surround sound slider. While headphones are plugged in, a special row of shortcuts shows up in the notification area.
Play Music puts playback controls on the lockscreen and replaces your wallpaper with the album art of the track.
FM Radio with recording
An FM radio with RDS support is available, even though Galaxy flagships usually skip it. Audio can be played through the loudspeaker (but the headphones have to remain attached).
A rare function is broadcast recording, you can even hit pause in the middle of recording. Note that this feature might not be available in all regions.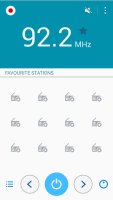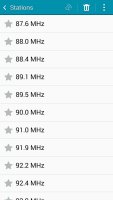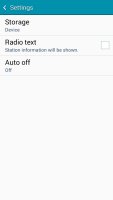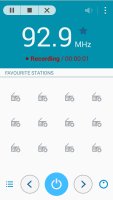 Listening to the radio • recording
Simple video player
A Samsung video player is pre-installed and it actually has a good set of features. It plays FullHD videos - in MKV, MP4 and MOV - containers with support for h.264. As usual audio works as long as you stick to the basics (MP3 and AAC).
Subtitles are supported and you can adjust font size and color, add an optional background and a few other tweaks. There's no DLNA support or wired TV out, leaving Miracast as your only way to put a video on a largeer screen.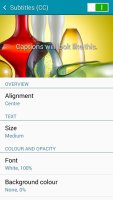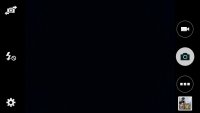 Subtitle settings and video player options
Audio output is great, not quite the best
The Samsung Galaxy A3 did very well in our audio quality test, despite its low standing within the A family and Samsung's lineup in general.
The smartphone had perfectly clean output when connected to an active external amplifier and well above average volume levels for one of the better performances in this scenario out there.
Plug in a pair of headphones and some stereo crosstalk and intermodulation distortion creep in. Neither is too much though and doesn't take almost anything away from the sonic experience. The volume levels stay high too, so it's a very solid overall performance.
It's worth pointing out though, that the Galaxy A3 has the bad luck of facing the HTC One mini 2 in its price range so it's not quite the best your money can get in terms of audio output. It does hold its ground perfectly well against all the others though.
And here go the results so you can see for yourselves.
| | | | | | | |
| --- | --- | --- | --- | --- | --- | --- |
| Test | Frequency response | Noise level | Dynamic range | THD | IMD + Noise | Stereo crosstalk |
| Samsung Galaxy A3 | +0.02, -0.08 | -94.2 | 91.8 | 0.0039 | 0.014 | -93.6 |
| Samsung Galaxy A3 (headphones attached) | +0.33, -0.02 | -92.7 | 90.9 | 0.067 | 0.208 | -51.2 |
| HTC One mini 2 | +0.02, -0.09 | -94.8 | 93.8 | 0.010 | 0.011 | -93.5 |
| HTC One mini 2 (headphones attached) | +0.08, -0.03 | -94.9 | 93.8 | 0.028 | 0.022 | -90.1 |
| Sony Xperia Z1 Compact | +0.08, -0.02 | -92.6 | 92.3 | 0.0052 | 0.012 | -89.0 |
| Sony Xperia Z1 Compact (headphones attached) | +0.15, -0.05 | -91.7 | 91.3 | 0.054 | 0.090 | -43.7 |
| Apple iPhone 5s | +0.02, -0.05 | -93.6 | 93.7 | 0.0013 | 0.0068 | -90.3 |
| Apple iPhone 5s (headphones attached) | +0.12, -0.00 | -93.4 | 93.3 | 0.0016 | 0.060 | -76.1 |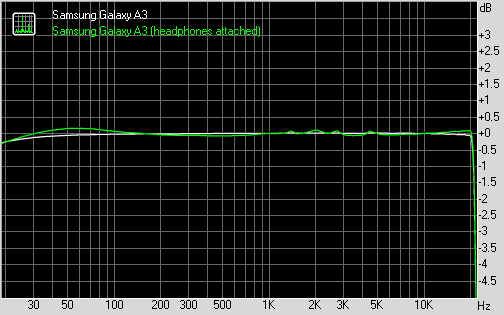 Samsung Galaxy A3 frequency response
You can learn more about the whole testing process here.