Competition
It's almost as if we're dreading what appears to be an impending flood of under-display cameras. Sure, they'll aid the development of bezelless phones and could potentially be the doom of notches and such. But under-display cameras will also deny us phones like the Galaxy A80 with ingenious moving bits, useful as they are simply cool.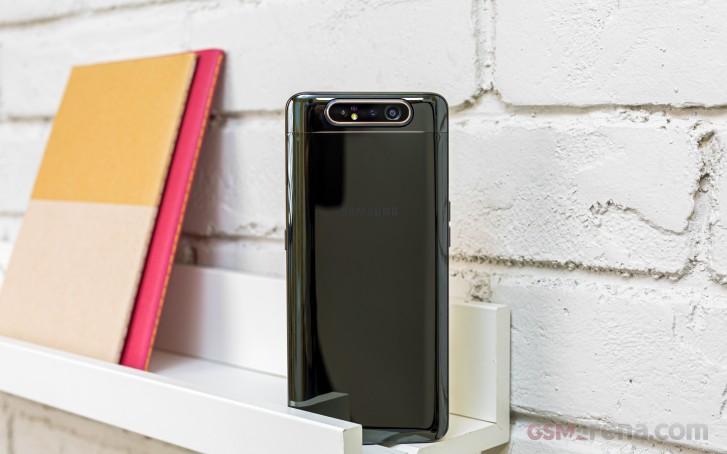 As for usefulness, the Zenfone 6's rotating camera wins hands down over the one of the Galaxy A80 - it can do automated panoramas, can be used at any angle, and doesn't impose any limitations in selfie mode (Update, June 26: The latter's now fixed on the A80.), plus it's got stabilization all the way to 4K60, a mode that the Galaxy doesn't even have in the first place. That's because the Zenfone has a more powerful chipset, so it'll be better for gaming as well. It also lasts longer on a charge, has a microSD slot and a headphone jack, and costs less than the Galaxy. The A80's display is superior, we'll give it that.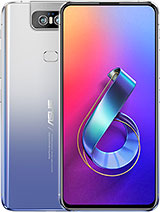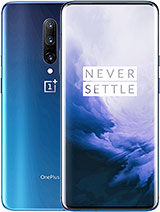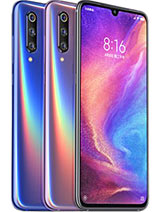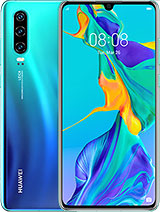 Asus Zenfone 6 ZS630KL • OnePlus 7 Pro • Xiaomi Mi 9 • Huawei P30
It gets even more difficult for the A80 to shine against a OnePlus 7 Pro, though admittedly the OP is a bit pricier. For the dozen-percent premium you'd get an even better higher-res display with 90Hz support, a trio of cameras (including a telephoto that's missing on the Galaxy), brawnier Snapdragon 855, and longer battery life. Alternatively, you could save some cash and go for the non-Pro OnePlus 7 and still get a better chip than the A80's.
The same Snapdragon 855 can also be had in Xiaomi Mi 9, again for less than the Galaxy's asking price, much less even. In addition to the price and performance advantages, the Mi 9 too comes with a telephoto shooter on top of the other two modules, and has better battery life despite a smaller battery. It's substantially lighter and more compact, though we could understand if you see the A80's display size as an advantage.
If, however, you're willing to go compact, the Huawei P30 is not a bad alternative, provided you also take a leap of faith that the Chinese maker will continue to do business in the western world. The P30 is another offering with a tele cam, a headphone jack and better battery life than the Galaxy, plus it runs on the flagship-grade Kirin 980 that's still more powerful than the A80's Snapdragon.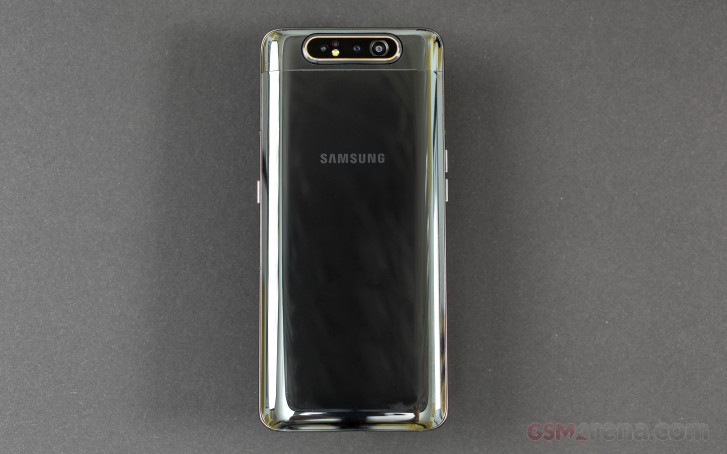 Verdict
For all the wow factor the Galaxy A80 undeniably possesses thanks to its unique camera and bezelless display, it's a really tough sell once reason gets in the way. At its launch price it's placed against proper flagships which come with benefits like superior performance, extra camera, better battery life - some are even more affordable than the A80.
We could have seen ourselves ending with something along the lines of 'get the Galaxy A80 if you want a selfie camera like no other, but otherwise look elsewhere'. The thing is though, the selfie camera like no other is to be found on the Asus Zenfone 6, and for less money.
The Galaxy A80 is a novel take on the flip camera, an interim step until under-display cameras become a thing, a proof of concept maybe. It's not a phone you buy, not at full retail price, or at least not based on rationality.
Pros
High-quality build, metal frame, GG front and back.
Truly unique pop-up camera mechanism.
Very nice display with high outdoor brightness and exemplary sRGB accuracy.
Good image quality overall.
Cons
No memory expansion slot, no headphone jack.
The moving bits look fragile and can drag dust inside the phone.
Unremarkable battery life.Update, June 26: Slightly improved in the web browsing and standby department.
Arbitrary limitations when using the camera for selfies.Update, June 26: This has been fixed.
No video stabilization in 4K, glitchy in 1080p.