Software
The Galaxy A8 (2018) runs Android 7.1.1 Nougat - no Oreo just yet, but it will come eventually. There's a healthy dose of Samsung Experience on top, version 8.5, so everyone who's seen an S8, Note8, or even a recent J7, should be right at home.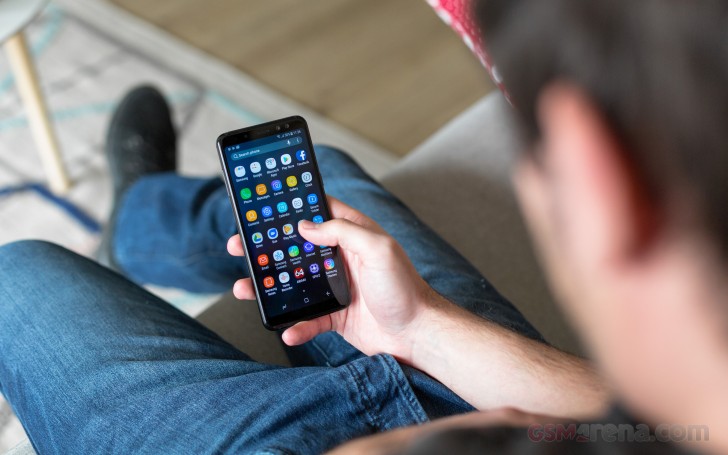 The Galaxy A8 (2018) has every software trick the S8 duo had - Always-on display, super-fast and always-on fingerprint scanner, Android Smart Lock, and powerful interface.
Nothing has really changed on the lockscreen, homescreen, or the notification shade. The task switcher is the place where you can initiate multi-window or pop-up apps.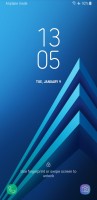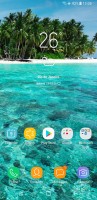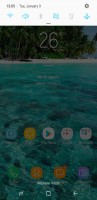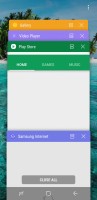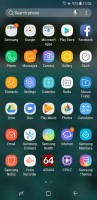 The lockscreen • homescreen • notification shade • task switcher • app drawer
Just like other Galaxies, the A8 has a rich theme support via Samsung's own Theme Store. You should definitely check it out.
The Game Launcher has been Samsung's way of improving mobile gaming since the S7. It groups all your games in one place, so they don't get lost in the busy app drawer.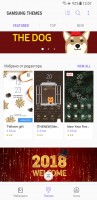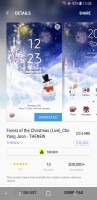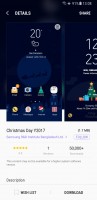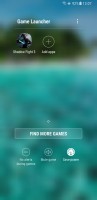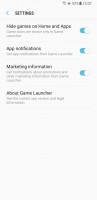 Theme Store • a theme • a theme • Game Launcher • Settings
The in-play Game tools portion allows you to turn off notifications during a game and disable the home and navigation buttons. You can grab screenshots, and record gameplay too. Once again there is no resolution control. The A8 only has a FullHD panel, to begin with, but given the hard time the Mali-G71MP2 might be having with the native pixel count, we do wish there was the option to take some of the load off and run games at 720p instead.
The Nougat OS with the latest Samsung Experience is a treat, sure - easy to use, fast, and straightforward. But if you like to customize and tweak a variety of settings, you'll find the interface quite powerful, too.
Performance
The Galaxy A8 (2018) is powered by Samsung's own Exynos 7885 chipset. At least that's what benchmarking apps report - Samsung hasn't gone official with such an SoC, and it's not listed in the spec sheets either.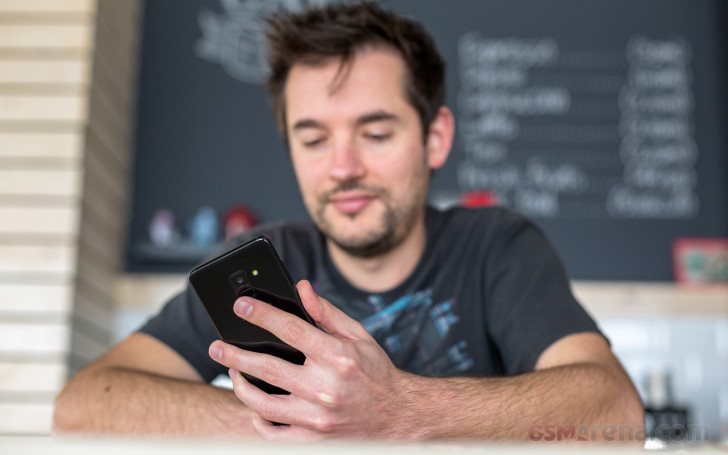 The new chip has a CPU configuration, which we haven't seen before. The processor consists of two powerful A73 cores clocked at up to 2.2GHz, and six A53s ticking at up to 1.6GHz. Odd it may be, but we are grateful for the A73 powerful cores as they would make a real difference in regular Android operation.
And now - it's benchmark time. GeekBench is what we ran first, and the new processor did fine. A single A73 core is a powerful tool capable of handling anything you throw at it. We are not sure what cores are used for the multi-core calculations but here the A8 shows unimpressive improvement over the Galaxy J7 Pro's A53-based Exynos processor.
GeekBench 4.1 (single-core)
Higher is better
Samsung Galaxy S8
1991
OnePlus 5T
1960
Oppo R11s
1614
Samsung Galaxy A8 (2018)
1532
Samsung Galaxy J7 Pro
735
GeekBench 4.1 (multi-core)
Higher is better
OnePlus 5T
6701
Samsung Galaxy S8
6656
Oppo R11s
5907
Samsung Galaxy A8 (2018)
4418
Samsung Galaxy J7 Pro
3768
According to AIDA64, the Galaxy A8 (2018) has a dual-core Mali-G71 (MP2) GPU. The previous Exynos 7880 had a dual-core Mali-T830 GPU, which means the Exynos 7885 inside the A8 employs a better GPU core. In fact, the G71 is found inside Kirin 960 (Huawei P10) and Exynos 8895 (Galaxy S8), but instead of two, there are 8 and 20 computing cores respectively.
Anyway, the G71 is more powerful than the T830 (offscreen test), but when we factor the increased resolution (onscreen test), it turns out the A8 performs similarly, or slightly lesser, than the Galaxy A7 (2017).
GFX 3.1 Manhattan (1080p offscreen)
Higher is better
OnePlus 5T
41
Samsung Galaxy S8
36
Huawei P10
22
Oppo R11s
15
Samsung Galaxy A8 (2018)
9.9
Samsung Galaxy A7 (2017)
9.1
Samsung Galaxy J7 Pro
3.3
GFX 3.1 Manhattan (onscreen)
Higher is better
OnePlus 5T
35
Huawei P10
30
Samsung Galaxy S8
23
Oppo R11s
15
Samsung Galaxy A7 (2017)
9
Samsung Galaxy A8 (2018)
8.7
Samsung Galaxy J7 Pro
3.3
Finally, we ran the all-round AnTuTu test and the A8 (2018) scored above average for the class, taking a comfortable position between the flagships and the preceding mid-rangers.
AnTuTu 6
Higher is better
OnePlus 5T
179790
Samsung Galaxy S8
174435
Huawei P10
126629
Oppo R11s
121638
Samsung Galaxy A8 (2018)
85389
Samsung Galaxy A7 (2017)
60767
Samsung Galaxy J7 Pro
47920
The new Exynos 7885 is a small improvement over the 7880, as the name suggests. The CPU is the most notable upgrade and the daily Android operations handled by the new A73 cores should see a potential boost if you are coming from a J7 or A7. Sure, there are minor almost unnoticeable hiccups here and there, but we came to accept those as fine for anything that's not a flagship Android.
The GPU may have been refreshed, too, but the pixel count bump ate the extra power, so you will get the same gaming experience as on the A7. And it's not bad at all, even with two GPU cores the A8 is perfectly capable of handling all popular titles we've tried.
And finally, the chip is built using 14nm process and thus is rather cool. We haven't noticed any major heat dispersion, but if you do, you can always use the game launcher to tweak some settings.
Is the Exynos 7885 the best mid-range chip out there? No, the Snapdragon 660 does much better. But it's powerful enough and in the meantime - power-efficient, which makes it up for the job.