Rich organizing skills
The S Planner fills the role of your calendar app, and can be viewed by Day, Week, Month or Year, or by a list of all your upcoming tasks or events. The small squares for each date give only limited info on the events for the day, but thanks to Air View you can point to a day to read the full description of events.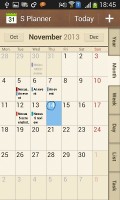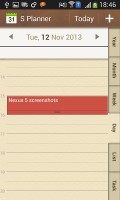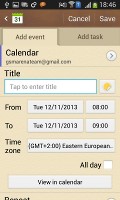 The S Planner calendar application
Adding a new event is quick and easy, and you can also set an alarm to act as a reminder.
There is also a calculator aboard. It is nicely touch optimized - the buttons are big enough and easy to hit.
The Samsung Galaxy Ace 3 features a decent alarm clock application which allows a huge number of alarms to be set, each with its own start time and repeat pattern. There's also a World clock, stopwatch, and timer.
The Ace 3 features the standard Memo app, which only allows for text input. There's no handwriting support like in the S Memo app found on the more premium Galaxy S and Note range of devices.
The My Files is Samsung's universal file manager that comes pre-installed on every Galaxy we've met so far. It offers all you need in a file explorer: multiple selection, cut, copy, paste, create folders, etc.
There's also a voice recorder that lets you record and store voice memos.
Google Maps Navigation gives you the most out of GPS
The Samsung Galaxy Ace 3 comes with a GPS receiver, which got a satellite lock in about three minutes with A-GPS turned off. A-GPS can speed this up quite a bit, but requires Internet access.
The Galaxy Ace 3 comes with Google Maps and Navigation. Google has recently upgraded the Maps app (v7.0) with new user interface, but its functionality is the same.
Voice-guided navigation has become a viable solution since the v5.0 update. Vector maps are smaller and easier on the data traffic and reroute is an option if you go off course without the need to connect to the Internet. In fact, the only time you need a data connection is when you initially plan the course - Navigation will cache the needed maps.
Quite naturally, the app also supports the Street View mode. If it's available in the area you're interested in, you can enjoy a 360-degree view of the surroundings. When the digital compass is turned on it feels like making a virtual tour of the location.
If Google Maps Navigation doesn't do it for you, you can grab an alternative app from the Android Market - there are both free and paid ones.
Google Play, Samsung Apps and Hub
The Google Play Store features several scrollable tabs - categories, featured, top paid, top free, top grossing, top new paid, top new free and trending. Apps usually have several screenshots (some even offer a demo video) so you can get an idea of what the app looks like before installing it.
You can also check out comments and ratings, as well as the number of downloads and so on, to help you decide if the app is worth it.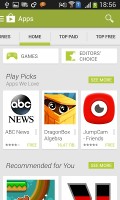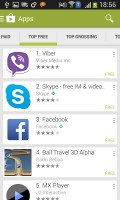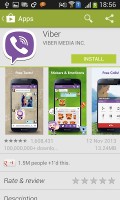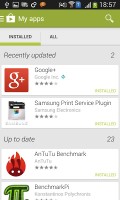 The Android Market will give you access to hundreds of thousands of apps
The Google Play Store is full of all sorts of apps, but in some countries it also offers music, movies and TV shows, books and magazines.
Samsung Apps features largely the same type of interface as Google Play, except here you'll find a far lower number of apps. The good news is Samsung uses this repository to distribute some exclusive titles and some promotional offers available only to its customers.
Samsung has a store too for books and games through Samsung Hub. The Book store allows a preview of the first few pages of a book. You can read book reviews and synopses, author bios and search for more books by the same author.