Great messaging capabilities
The messaging department is quite straightforward: a list of all your messages organized into threads with a Compose message button in the top right.
There's application-specific search that lets you quickly find a given message among all your stored SMSs and MMSs.
Swiping on a message header will do exactly the same as in the phonebook - a right swipe starts a call, while a left swipe starts a new message.
To add message recipients, just start typing the corresponding name or number and choose from the contacts offered.
The keyboard of the Galaxy Ace 3 doesn't have an additional numeric row above the letter keys because of the small screen size. The layout is pretty much the same as what we used to see in the third generation of Galaxies. Typing on it is much less error-prone than on the Galaxy Ace 2 with its smaller screen.
There's also a Swype-like mode, which tracks your finger and guesses the word you're trying to type. This feature works great but has limited language support.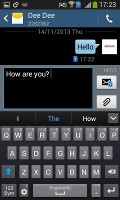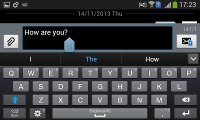 Portrait and landscape QWERTY keyboards
Additional input methods include a regular handwriting and Google's voice input, which can work even offline if you've downloaded the required language files.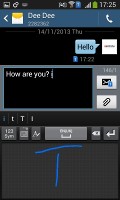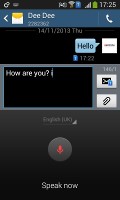 Handwriting recognition • Voice input
Adding any multimedia content to the message automatically turns into an MMS. You can either quickly add a photo or an audio file to go with the text or compose an MMS using all the available features (like multiple slides, slide timing, layout, etc.). The multiple slides are all shown inside the compose box.
Samsung has left a lot of room for customizing your messaging experience. You can choose from different speech bubble patterns and background, and can use the volume keys to increase or decrease the font in conversations.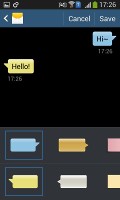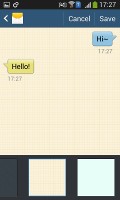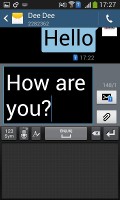 Customization options • Upsizing the text with the volume rocker
When you're composing a new message you can use the Translate option to translate it into another language. The same goes for messages you've received. This feature probably won't see much use but it's there if you ever need it.
What will come in good use, however, is (again) the Direct call feature. When you are reading a message from someone, their number will be automatically dialed just by lifting the handset up to your face.
Just like the dialer, the Messaging app has built-in spam filter. You can block some numbers (or all unknown numbers) and even add specific phrases to be blocked.
The new Gmail app now displays contact images in mails. If an email has multiple recipients, they're shown in a grid similar to the Hangouts app. If there is no contact image, it just shows the first letter of the sender against a color background. You can disable sender images in the email app if you wish.
Gmail v4.5 also includes the four new inbox options. You can have your mail sorted by Primary, Social, Promotions and Updates as you can on the web version of Gmail, which makes it easy to keep track of your mail.
The Samsung Email app can handle multiple POP or IMAP inboxes. You have access to the messages in the original folders that are created online, side by side with the standard local ones such as inbox, drafts and sent items.
Hangouts, the ex-GTalk client, handles the Instant Messaging department. The new app offers group video chats, emojis, photo exchange, history sync across multiple devices, and a completely new UI design. It's available on iOS as well.