Display
The Samsung Galaxy Ace 3 has a 4-inch screen of WVGA resolution (480 x 800 pixels). The screen is a bit larger than the 3.8-inch display on the Galaxy Ace 2, which results in a slightly worse pixel density (233 ppi), but makes operation so much easier since honestly, Android feels a bit cramped on anything less than a 4-inch WVGA screen. The larger screen allows for easier text input, for instance, as the keys of the virtual keyboard are not as small..


The Galaxy Ace 3's WVGA screen
The WVGA resolution does not get stretched significantly by the larger size either, and we'd say the slight sacrifice to pixel density is worth the extra screen estate. Otherwise, colors are good as is the brightness, and we didn't see much contrast shift in viewing angles either.
Overall, the contrast is not the best we've seen, but is good for its class.
Display test
50% brightness
100% brightness
Black, cd/m2
White, cd/m2
Contrast ratio
Black, cd/m2
White, cd/m2
Contrast ratio
Samsung Galaxy Ace 3
0.22
180
828
0.54
472
879
LG Nexus 5
0.31
298
948
0.54
526
967
LG G2
0.10
149
1522
0.45
667
1495
LG Optimus G
0.14
197
1445
0.33
417
1438
Sony Xperia Z1
-
-
-
0.38
580
1513
Samsung I9505 Galaxy S4
0
201
∞
0
404
∞
HTC One
0.13
205
1580
0.42
647
1541
Oppo Find 5
0.17
176
1123
0.51
565
1107
Sunlight legibility is the same story - nothing spectacular, but still good for an entry level device.
Sunlight contrast ratio
Nokia 808 PureView
4.698
Apple iPhone 5
3.997
Samsung Galaxy Note 3
3.997
Samsung I9300 Galaxy S III
3.419
Nokia Lumia 925
3.402
Samsung I9505 Galaxy S4
3.352
Samsung Omnia W
3.301
Samsung Galaxy S
3.155
Samsung Galaxy S4 mini
3.127
Samsung Galaxy S4 zoom
3.118
Nokia N9
3.069
Samsung Galaxy Note
2.970
Sony Xperia Z1
2.950
HTC One S
2.901
BlackBerry Q10
2.856
Samsung Galaxy S II
2.832
Samsung Galaxy S II Plus
2.801
BlackBerry Z30
2.790
Huawei Ascend P1
2.655
Sony Xperia ZR
2.672
Nokia Lumia 900
2.562
HTC One Max
2.537
Nokia Lumia 720
2.512
HTC One
2.504
Sony Xperia Z
2.462
Samsung Galaxy S III mini
2.422
Motorola RAZR i
2.366
Samsung Galaxy Note II
2.307
Apple iPhone 4S
2.269
HTC Desire 600 dual sim
2.262
LG Nexus 5
2.228
HTC One X
2.158
Nokia N8
2.144
Oppo Find 5
2.088
BlackBerry Z10
2.051
Apple iPhone 4
2.016
HTC One mini
2.003
LG G2
1.976
Sony Ericsson Xperia ray
1.955
Samsung Galaxy Camera
1.938
HTC Butterfly
1.873
Huawei Ascend P6
1.865
Sony Xperia V
1.792
Sony Xperia U
1.758
Meizu MX3
1.754
LG Optimus 4X HD
1.691
HTC One V
1.685
BlackBerry Q5
1.682
LG Optimus Vu
1.680
LG Optimus GJ
1.666
HTC Desire V
1.646
Samsung Galaxy Ace 3
1.622
Sony Xperia Z Ultra
1.578
Samsung Galaxy Core
1.563
LG Optimus G Pro
1.552
LG Optimus 3D
1.542
Nokia Asha 302
1.537
Sony Xperia M
1.473
Nokia Lumia 610
1.432
Gigabyte GSmart G1355
1.361
HTC Desire C
1.300
Nokia Asha 501
1.270
LG Optimus L7
1.269
LG Optimus L9
1.227
Meizu MX
1.221
Sony Xperia E dual
1.203
Samsung Galaxy Pocket
1.180
Sony Xperia tipo
1.166
Samsung Galaxy mini 2
1.114
We also put the Samsung Galaxy Ace 3 screen under our microscope to show you its display matrix. It has the same inline RGB pixels as the Ace 2, although they're shaped differently and slightly tilted.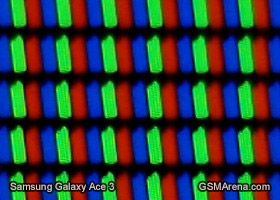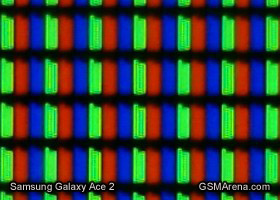 The screen matrix of the Galaxy Ace 3 next to the Galaxy Ace 2
Handling
The Samsung Galaxy Ace 3 is really easy to handle with its curved back fitting nicely in the palm of your hand. Given the friendlier, compact size, the slippery finish is a lot less of an issue than some of the larger flagship and phablet offerings from Samsung. Single-handed operation is a breeze as well.
Our only complaint when it comes to the Ace 3 aesthetics is that the design language has been used by Samsung for almost two years now and it is already becoming a bit tiring and boring. Not to mention you would have a hard time distinguishing the Koreans' midrange smartphones apart just by looking at them. While this may be a certain advantage of driving sales (the affordable midrange phones look just like the company's much advertised flagship), the lack of product differentiating bears the danger of backfiring (making users look for an alternative smartphone that stands out elsewhere). Where's the fun in having your new phone look just the same as your old phone?