Fast at the core
Samsung Galaxy Core LTE review: Fast at the core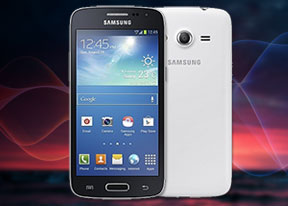 Samsung Galaxy Core LTE 360-degree spin
The Samsung Galaxy Core LTE measures 132.9 x 66.3 x 9.8 mm and weighs 136 grams. Compared to the original Galaxy Core, that's quite a growth, but is understandable due to the larger screen.
Design
Samsung didn't feel an urge to experiment with the design of the Galaxy Core LTE. The Samsung Galaxy S4 template is pretty much set in stone. The company pulled an identical stunt with the original Galaxy Core, which took after the then incumbent Galaxy S III.
The textured matte finish on the back, however, is a welcome break from the high gloss on most entry-level Samsung handsets. Other than that, the design of the Galaxy Core LTE will feel immediately familiar, not to say repetitive.



Familiar design with a matte battery cover
The phone has rounded edges and there's an aluminum-acting plastic frame going all around the front and sides. The front is covered in glass, while the plastic back is removable, letting you replace the battery if needed and allowing access to the memory card slot.
Controls
Interestingly, the Galaxy Core LTE has exactly the same layout of controls as its bigger sibling, the Galaxy Grand Neo. Below the display you get the usual three-button setup of hardware Home button and capacitive Menu and Back keys.


The usual set of keys sit below the display
There are proximity and ambient light sensors next to the earpiece, along with a 1.2MP front-facing camera.


There's an array of sensors in between the earpiece and front-facing camera
The only two buttons on the sides of the device are the volume rocker on the left and power/lock button on the right.





The volume rocker is on the left • power/lock button on the right
Up top is a 3.5mm audio jack, while at the bottom you'll find the microUSB port and microphone pinhole.




The 3.5mm audio jack on top • microUSB port on the bottom
Around back is the 5MP camera along with an LED flash and a loudspeaker grille.



The 5 megapixel camera on the back
Taking the back cover off is a bit of a pain as the tabs, which hold it in place, are a bit overzealous. Underneath, you'll find the removable 2,100mAh battery alongside the SIM and microSD card ports. The latter is hot-swappable.
Battery life
The Samsung Galaxy Core LTE packs a 2,100mAh battery, which did surprisingly well in our dedicated battery test, scoring a rating of 62 hours.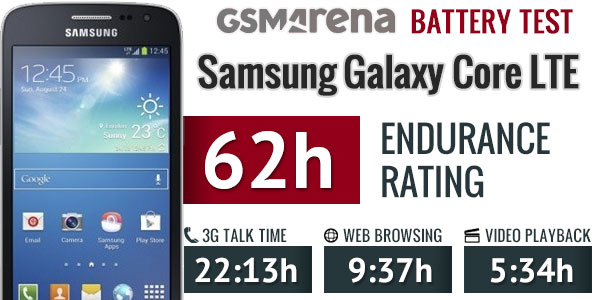 The Core LTE didn't handle video playback too well but other than that, it was spot on. Couple this with a solid stand-by time and you've got a long-lasting phone in your hands. For more information regarding the battery life test, check out our blog.