GrandisSIMo
Samsung Galaxy Grand I9082 review: GrandisSIMo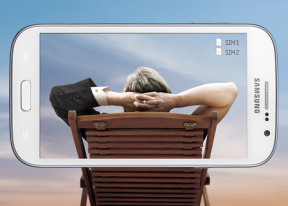 Final words
Going by the sheer screen size of the Galaxy Grand, Samsung is obviously looking to cater to a crowd that wants the most recent trend in smartphones. The catch is that it's a certain set of users that would love the extra real estate but not pay a premium price. Now, throw a dual-SIM into the mix and you end up with a target audience that will be hard-pressed to find something better than the Grand.
But... Not paying a flagship price entails compromise. In the Galaxy Grand, it's the size of a ... well... five-inch screen. The image quality isn't bad, but is far from top notch either. The contrast is decent if unspectacular, but more importantly, the WVGA resolution gets stretched pretty thin on this kind of screen diagonal.
The Galaxy Grand also won't give you some of the extra goodies that are a part of a flagship's standard equipment, like NFC.
Samsung's first-gen phablet, the Galaxy Note, has everything the Grand has (besides the dual-SIM support obviously), and then some. It will gladly offer a larger, crisper Super AMOLED display of 800 x 1280 pixels resolution, which is covered with Gorilla Glass to boot. Keep in mind that the Note, even after all the price cuts, is still notably more expensive than the Galaxy Grand and has no dual-SIM version in case that's what you are after.
If a massive screen and dual-SIM support aren't absolute must-haves, but keeping within the budget is the Samsung Galaxy S II Plus is the straightforward alternative. It has almost identical specs as the Grand, and while the screen is smaller at 4.3 inches, it is of the Super AMOLED Plus variety.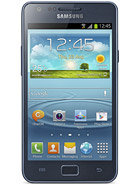 Samsung I9105 Galaxy S II Plus
To be honest though, the defining feature of this particular package is dual-SIM support - otherwise it would've been the single-SIM version of the Galaxy Grand topping our popularity chart.
It's weird, considering dual-SIM phones are supposed to be niche devices. Well, the Galaxy Grand obviously doesn't mind being the big fish in a small pond. And Samsung are more than happy to send a strong message to the likes of the LG, HTC and Sony, who want a piece of the dual-SIM pie too.