User interface
The Samsung Galaxy J2 runs Android 5.1.1 Lollipop with the usual customization provided by TouchWIz UI. Samsung's proprietary user interface has become a lot snappier than before. Looks have also been improved compared to previous iterations.
The lockscreen follows Android trends with a list of notifications and a couple of shortcuts - dialer and camera. Sadly, the Galaxy J2 doesn't support the handy camera shortcut of double pressing the Home button.
What's also missing is the feature to add weather information on the lockscreen. That's something the majority of other Samsung phones have and it's quite handy.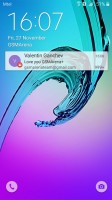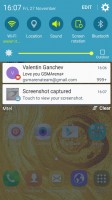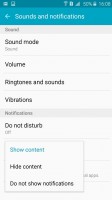 The lockscreen lacks weather • You can hide notifications on the lockscreen from prying eyes
You get the traditional Android locking methods on - swipe, pattern, PIN and password. There's no Private mode either, even though Private mode can be set to use only a password. Sadly, Samsung has omitted adding a Theme store to the Galaxy J2. The only customization you can make with the default TouchWiz launcher is changing the wallpaper.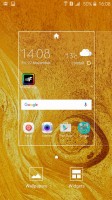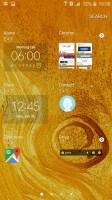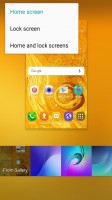 Changing the homescreen wallpaper
The homescreen is quite normal. You don't get Samsung's Briefing pane on the left which we've become accustomed to. You can add widgets from long pressing on the homescreen, but that's just about it.
Happily, the notification area is just as functional as it is on more expensive Samsung phones. It has one scrollable row of quick toggles with some displaying text underneath - like the name of the Wi-Fi network you're connected to. The only way to view all toggles is to hit the edit button.
The brightness slider is below the toggles. Instead of an Auto toggle it has an Outdoors mode that temporarily boosts the brightness (it will be switched off automatically later to preserve battery).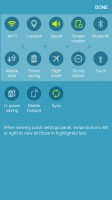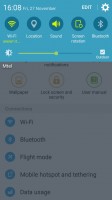 The notification area looks the same but doesn't work the same • changing the brightness
The Samsung Galaxy J2 had a screen worth of apps drawer. Samsung tucked away Google's mandatory apps in a folder and placed its home-brewed alternatives up front. You can disable apps you don't want (but can't uninstall the TouchWiz ones).
The task switcher is the standard for Android 5.1 Lollipop. It displays a card-styled interface showing you currently and recently opened apps. You can clear them from the RAM, but that will make them slower to open afterwards.
The Setting menu features Quick settings - a selection of the most used options you can use. Below that is the full list, though we prefer using the search function as the extensive features that Samsung has provided can be hard to track down among menus and submenus.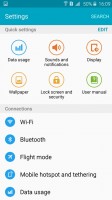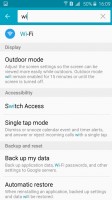 The settings menu takes it easy to navigate the many options it offers.
TouchWiz and Android were quite stable during testing. However, we encountered a lot of Wi-Fi disconnects on one of our networks. The problem didn't occur when we connected to another one.