Browser and Google Chrome
While Samsung dropped its music player, it kept its custom browser. It supports multiple tabs (including incognito ones), but the option to sync tabs between devices is gone. There's no fingerprint sign-in either (obviously, since there's no fingerprint reader).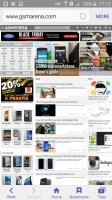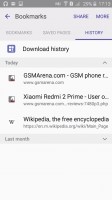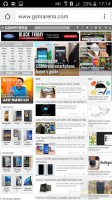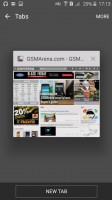 The internet app • switching tabs
Chrome comes on all Androids as part of the Play Services package. It can sync tabs (based on your Google account) and has the data-saving option of compressing pages before they are sent to the device. It will even automatically detect foreign language sites and offer to translate them.
Other preinstalled apps
Smart Manager shows even more collaboration and is a one-stop shop for maintenance of your device. It's divided into four parts. Battery shows estimated battery life remaining/time until charged and will warn you of abnormal battery usage. The Power saving and Ultra power saving modes can be activated from here.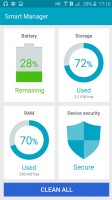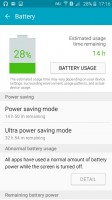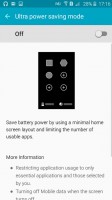 Smart Manager • Battery use • Ultra power saving mode
The Storage section leans on Clean Master to free up some storage by deleting unnecessary files. RAM closes running apps to free up RAM.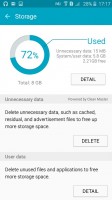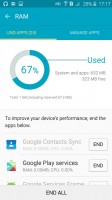 Cleaning up the storage • freeing up RAM
The fourth section is Device security. On most Samsung smartphones, this is where you find My KNOX, but on the Galaxy J2, it's replaced with anti-malware protection provided by Intel Security.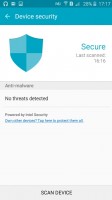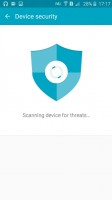 Scanning the phone for malware
S Planner is the familiar Samsung replacement for the Google calendar. Tapping on a day shows in Month view a preview of the scheduled events for that date. You can add a 7-day weather forecast and multiple calendars.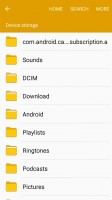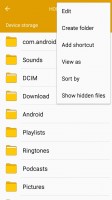 My files handles local and cloud (Google Drive) files
The Voice recorder app features a single mode - voice notes. The option to automatically transcribe them has been cut. You can write down notes yourself with the Memo app, which lets you add checklists, images and voice memos.