Right on the mini
Samsung Galaxy Mini S5570 Review: Right on the mini

User interface
Just like recent Samsung Galaxy phones, the Galaxy Mini runs Anrdoid 2.2 Froyo out of the box. As usual Samsung has thrown its TouchWiz UI overlay which not only makes the icons look pretty, but also improves general usability. There are four buttons docked at the bottom of the homescreen, which stay there even when you open the app drawer.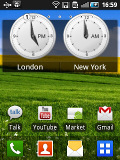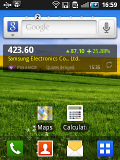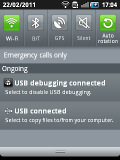 The TouchWiz 3.0 user interface comes preinstalled on top of the Android OS
We've prepared a short video demo of the Samsung Galaxy Mini for you.
This little fellow, like any true Droid, supports up to seven homescreen panes, which can populate every widget and pack of icons you'll even need. However, if you don't need all seven of them, the unnecessary ones can be deleted by hitting the edit option in the menu. Doing so makes the Galaxy Mini noticeably snappier. You can add, remove and rearrange the panes as you desire.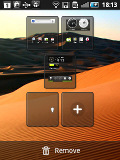 Add, delete or reorder homescreen panes by a pinch to zoom out
Sliding the notification bar down reveals the mighty Android notification area. It is majorly overhauled from the stock Android one and holds five switches for Wi-Fi, Bluetooth, GPS, sound and rotation-lock.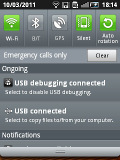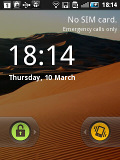 The notification area and the lockscreen
Pressing the menu button while on the homescreen lets you add variety of content on it (a press and hold on the homescreen does the same thing), add or delete homescreen panes, change the wallpaper or quickly access the settings menu Live wallpapers are supported as well with only one coming preinstalled and many more available in the Market. The contextual menu has shortcuts too for search and notifications.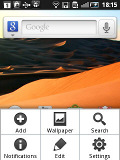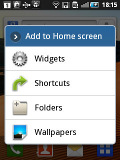 Homescreen edit mode • Wallpaper menu • The widget list
Typically the main menu consists of side-scrollable panes, much like the homescreen, instead of a vertical scrollable grid (like in the vanilla Android). List view is not available.
The main menu panes can be rearranged just like the homescreens – pinch to zoom out and you can rearrange the current panes or add new ones. The icons in the panes can also be rearranged to suite your personal needs.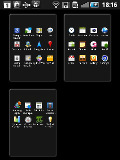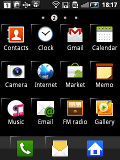 Edit the homescreen panes with pinch zoom out gesture • standard edit mode
An interesting change in the Android 2.2-compatible version of Samsung's TouchWiz launcher is the built-in task manager. Complete with a homescreen widget that shows the number of currently active apps, it saves you the need to install a task killer.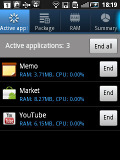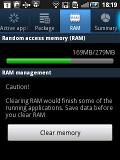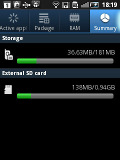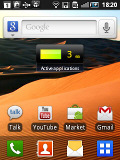 The task manager • the task widget in the center of the homescreen
We also stretched the Mini's legs with some benchmark tests to see how it stacks up against some competition.