Mid-tier AMOLED for the Lite Note
The Galaxy Note10 Lite has a 6.7-inch display with 1080x2400px resolution in a taller than usual 20:9 aspect ratio.
As we've come to expect from Samsung on anything other than a very budget-focused phone, it's an AMOLED. The company's started differentiating the branding of its panels and this one is just Super AMOLED, in a world where recent true flagships have gotten the Dynamic AMOLED moniker, while the Galaxy S10 Lite's is Super AMOLED Plus. Irrespective of its AMOLED-ness, it's an Infinity-O unit, meaning a punch cutout for the selfie cam, centered in this case.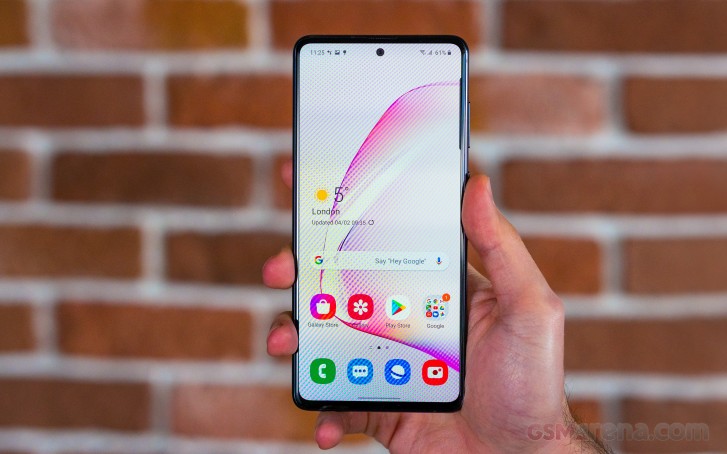 The brightness performance of the Note10 Lite's display was similar to other current Samsung midrangers and the flagships of yesteryear - there was no 800nits with Adaptive brightness enabled as you'd get on the S10 or the Note10 non-Lites. Still, a peak value of 622nits under direct light is more than enough, while under manual slider operation you'd be looking at around 400nits. Minimum brightness was 1.8nits - so perfectly good as well.
Display test
100% brightness
Black,cd/m2
White,cd/m2
Contrast ratio
Samsung Galaxy Note10+
0
381
∞
Samsung Galaxy Note10+ (Max Auto)
0
794
∞
Samsung Galaxy Note10 Lite
0
410
∞
Samsung Galaxy Note10 Lite (Max Auto)
0
622
∞
Samsung Galaxy Note9
0
367
∞
Samsung Galaxy Note9 (Max Auto)
0
658
∞
Samsung Galaxy S10+
0
385
∞
Samsung Galaxy S10+ (Max Auto)
0
793
∞
OnePlus 7T Pro
0
429
∞
OnePlus 7T Pro (Max Auto)
0
596
∞
Realme X2 Pro
0
500
∞
Realme X2 Pro (Max Auto)
0
708
∞
Oppo Reno Ace
0
511
∞
Oppo Reno Ace (Max Auto)
0
717
∞
LG G8X ThinQ
0
330
∞
LG G8X ThinQ (Max Auto)
0
603
∞
You get Samsung's new-found way of dealing with colors that was introduced a year ago with the S10s. Out of the box, the phone comes in Natural mode, which is tuned for faithful reproduction of sRGB content and we measured an excellent average deltaE of 1.6 for our set of test swatches.
With accurate sRGB reproduction, however, comes a relatively lifeless output, which can be addressed with a switch to Vivid mode. Alongside the saturation boost, you should be getting accurate rendition of the DCI-P3 color space, which wasn't strictly our experience - we measured an average deltaE of 3.8 for the test swatches, with primaries way off (Red, in particular, was 9.4 units away from the target), and slightly bluish whites. A bump of the Cool-to-Warm slider one notch to the right improved the whites considerably and delivered an average deltaE of 3.2, though the primaries remained inaccurate.
The Note10 Lite makes few claims for HDR capabilities. It will play back Youtube videos in HDR, but won't play nicely with Netflix, despite having the appropriate Widevine security level. It could very well be up to Netflix to extend support for HDR to the Note10 Lite, but it's not there yet at the time of writing - meanwhile, the S10 Lite does support HDR playback in Netflix.
Samsung Galaxy Note10 Lite battery life
The Galaxy Note10 Lite sets the record for battery capacity in the Note smartphone lineup at 4,500mAh, narrowly beating the current top-dog Note10+. The Lite does have the previous-gen flagship chipset at the helm and the 10nm vs 7nm manufacturing process is bound to make a difference. That difference goes out the window when comparing against the Galaxy Note9 but other variables get in the way like the Note9's higher-res display and different OS version at the time of testing.
Anyway, the battery life we got out of the Galaxy Note10 Lite wasn't life-altering, but it's more than solid. We clocked 14:37 of web browsing over Wi-Fi, which is a significant advantage over both the Note10+ (12:07h) and the Note9 (12:36h). The Lite couldn't match the other phones results in video playback, however, its 15:23h result falling short of the Note10+' whopping 18:50h or the Note9's 16:45h. In our voice call test, the Note10 Lite managed 27:03h.
In the end, the Galaxy Note10 Lite's overall Endurance rating worked out to 92 hours.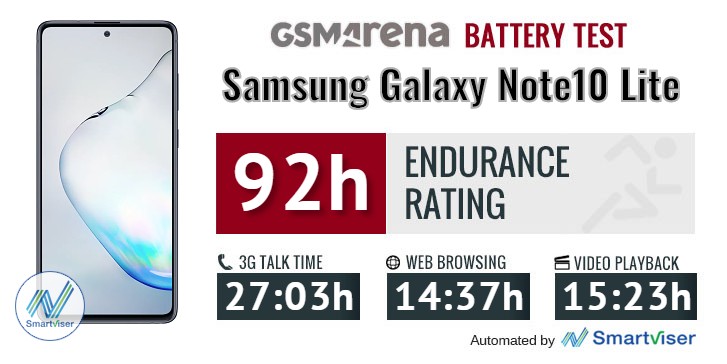 Our battery tests were automated thanks to SmartViser, using its viSer App. The endurance rating above denotes how long a single battery charge will last you if you use the Samsung Galaxy Note10 Lite for an hour each of telephony, web browsing, and video playback daily. We've established this usage pattern so that our battery results are comparable across devices in the most common day-to-day tasks. The battery testing procedure is described in detail in case you're interested in the nitty-gritty. You can check out our complete battery test table, where you can see how all of the smartphones we've tested will compare under your own typical use.
The bundled 25W adapter charges the Galaxy Note10 Lite from flat to full in 1:23h with 50% showing in the battery indicator 30 minutes into the process. It's more than a decent speed, considering the capacity and the battery life you can get out of that 50 %. Having said that, the Galaxy S10 Lite charges fully some 20 minutes faster.
Speaker test
Another one of those Lite bits about the Note10 Lite is its loudspeaker - gone is the proper Notes' stereo setup and it's only a bottom-firing single unit on this phone. Predictably, the Note10 Lite isn't as loud either - it got a 'Good' rating in our test compared to the 'Very good' results of the company's proper flagships.
Use the Playback controls to listen to the phone sample recordings (best use headphones). We measure the average loudness of the speakers in LUFS. A lower absolute value means a louder sound. A look at the frequency response chart will tell you how far off the ideal "0db" flat line is the reproduction of the bass, treble, and mid frequencies. You can add more phones to compare how they differ. The scores and ratings are not comparable with our older loudspeaker test. Learn more about how we test here.
Audio quality
Next up - evaluating the quality of the Galaxy Note10 Lite's audio output via its 3.5mm jack. The smartphone did solidly when hooked to an active external amplifier reproducing the test track perfectly and at above-average loudness.
Headphones caused a moderate spike in stereo crosstalk, but overall didn't have a notable impact on the quality. Volume remained unaffected too, which always a good thing and helps the Note Lite to a very good mark here.
Test
Frequency response
Noise level
Dynamic range
THD
IMD + Noise
Stereo crosstalk
Samsung Galaxy Note10 Lite
+0.03, -0.05
-93.3
93.2
0.0010
0.0086
-91.4
Samsung Galaxy Note10 Lite (headphones)
+0.14, -0.18
-90.7
92.1
0.093
0.170
-59.6
Samsung Galaxy S10 Lite
+0.04, -0.17
-93.7
93.7
0.0016
0.0013
-94.7
Samsung Galaxy S10 Lite (headphones)
+0.05, -0.16
-93.8
93.7
0.00327
0.021
-71.6
Samsung Galaxy S10+
+0.03, -0.05
-93.0
92.8
0.0015
0.0070
-94.3
Samsung Galaxy S10+ (headphones)
+0.06, -0.03
-92.7
92.5
0.0044
0.044
-87.2
Huawei P30 Pro
+0.04, -0.02
-90.5
90.4
0.0014
0.013
-93.0
Huawei P30 Pro (headphones)
+0.14, -0.23
-90.4
90.3
0.0046
0.211
-47.0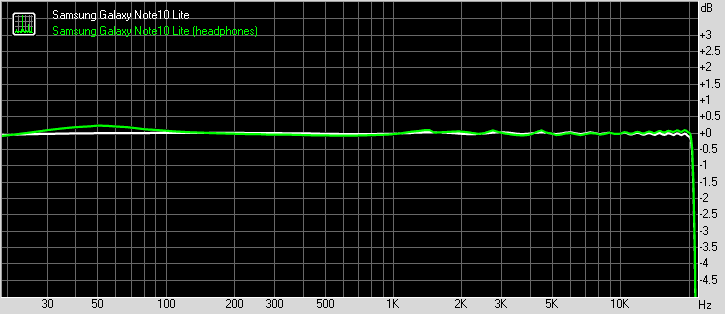 Samsung Galaxy Note10 Lite frequency response
You can learn more about the tested parameters and the whole testing process here.