First look
Samsung Galaxy Note Pro and Tab Pro hands-on: First look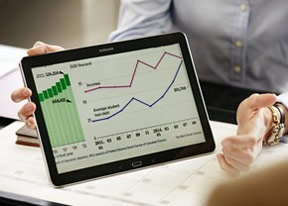 Samsung Galaxy Camera 2 hands-on
Samsung did well to refresh the Android-powered Galaxy Camera, yet despite the "Galaxy Camera 2" moniker, the changes are minor. The most obvious thing is the finish - gone is the glossy plastic, replaced by Samsung's cool faux leather.


The Samsung Galaxy Camera 2 comes in black and white, both with the faux leather texture
This, combined with the brushed metal accents (also plastic), actually makes the camera look classy. The camera is a tad larger than the original, but lighter. The change in size isn't that noticeable (it's a huge device, no matter how you slice it), but shaving off a few grams had a positive effect (a small one).
The core of the camera hasn't changed - it uses a 1/2.3" BSI sensor with 16.3MP effective resolution and a 21x optical zoom lens with optical stabilization. The pop-up xenon flash is of course on board too.







The long zoom lens on the Galaxy Camera 2
The chipset has been updated too, the quad-core processor is now clocked at 1.6GHz, though it's unclear whether Samsung used a newer core design (the original used Cortex-A9). The RAM has been doubled to 2GB and the storage grew twofold too. Don't ask us how, but Samsung managed to leave only 2.8GB accessible to the user out of the 8GB total. You'll want a microSD card in ASAP to do any serious shooting.
Despite the slight increase in processing power, the video recording skills remain the same - the Samsung Galaxy Camera 2 will do 1080p @ 30fps, 720p @ 60fps and there's a 120fps mode at 512p.



The camera interface is the same
Samsung did spruce up the camera with a newer OS - Android 4.3 Jelly Bean. The Remote Viewfinder app that allows you to control the camera from an Android smartphone has been updated too. The camera also features NFC connectivity, which enables the Tag & go feature. This should enable sharing photos snapped with the Galaxy Camera 2.
More importantly, the battery capacity has been bumped up to 2,000mAh (up from 1,650mAh).





The Galaxy Camera 2 packs a bigger battery, but drops the SIM card slot
The screen is the same - a 4.8" Super Clear LCD of 720p resolution (306ppi). It's great for a point-and-shoot camera and average for an Android smartphone.



A look at the TouchWizzed Android 4.3 and the Galaxy Camera 2's screen
A smartphone this is not though, the Galaxy Camera 2 we saw at CES is missing a SIM card and doesn't have 3G/LTE connectivity. Samsung may as well release a 3G/4G later on though.