Leather and steel
Samsung Galaxy S5 vs. HTC One (M8): Leather and steel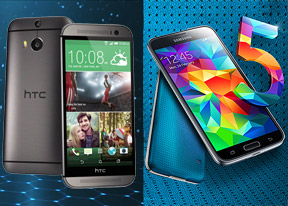 App package
Both phones come with a complete Office package courtesy of Polaris Office 5. It handles viewing and editing of Office documents and PDF files with a comprehensive feature set.
Samsung and HTC have provided their own custom apps for the gallery, music and video players. HTC's player is no longer Beats branded, a BoomSound setting has taken its place. It can only be turned off and on (only when headphones are plugged in), but there's no equalizer.
Samsung's music player has SoundAlive presets and a manual equalizer too. It can automatically adjust the equalizer with the Adapt Sound feature and level out differences in volume between tracks with Smart volume.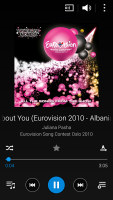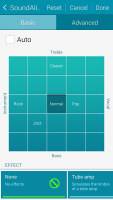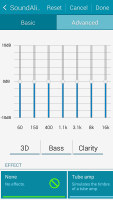 The Galaxy S5 music player has more options, including an equalizer
Both players support FLAC audio (both 16 and 24 bit), and each phone has a microSD card slot since you'll need the extra storage for FLAC or DLNA. Album art and artist info can be automatically downloaded.
Check out the Audio quality section to see if the two phones have quality audio processing hardware to make FLAC really count.
The One (M8) certainly has a big advantage when playing music on the loudspeakers. It won't let you tune the player to your liking but another player from the app store will open that door for those who want it. We'll see in the next chapter whether the Galaxy S5 can score back any points with headphones plugged in.
The HTC One (M8) has an FM radio with RDS if you want to listen to local broadcast stations for news or music. The Galaxy S phones haven't had FM radio for a while.
Zoe is now a standalone app in Sense 6. It lets you manually select the photos and videos that will be compiled into a Highlights video, also choose a theme and sound track for them. Better yet, Zoe is now a social experience - you can collaborate with friends and share multimedia to create a combined Highlights video.
The Gallery app on the HTC One (M8) shows a timeline of your photos by default. They can be grouped by Event, Day, Month or Year. Alternative views are Albums and Location. There's an option that automatically searches the gallery for images similar to the current one, which works pretty well.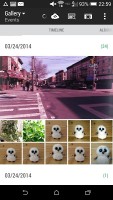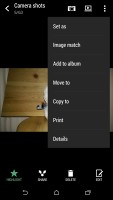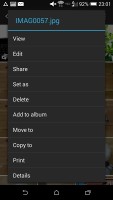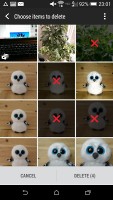 Gallery app on the HTC One (M8)
Samsung's Gallery app tops that by scanning photos for people, pets, vehicles, flowers, food, scenery or documents and grouping them accordingly. It's an impressive feature, and quite accurate too.
Both phones have custom video players and but codec support is patchy. The popular MKV and MP4 formats with H.264 works but audio is limited to MP3 and AAC. Neither handled DTS, Dolby or AC3 sound. Worse still, the phones had issues with DivX, even XviD was hit or miss.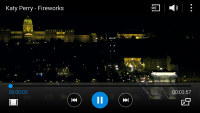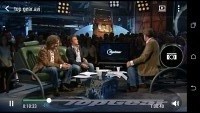 Galaxy S5 video player • HTC One (M8) video player
The Galaxy S5 does have extensive subtitle support, which is a must-have for non-English speakers. It also has the audio options from the music player. The HTC One (M8) carries over its own advantage - the front-facing speakers let you better appreciate movie audio.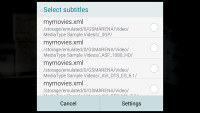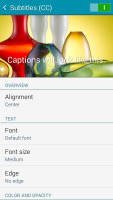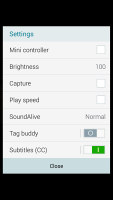 Subtitles and audio options are available in the Galaxy S5 video player
The two flagships feature IR blasters allowing them to control a TV, cable box and a AV receiver. The respective apps will ask you where you live and who your service providers are so you can browse the TV schedule and pick out what to watch, set reminders and so on.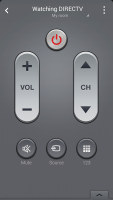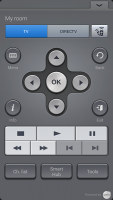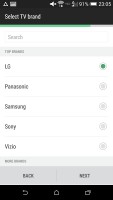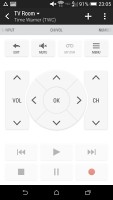 Samsung's remote control app • HTC's remote control app
The One (M8) has a couple of nice tricks here. It can be set to automatically wake up when you pick it up, so changing the channel feels more like using a physical remote (no unlocking). The phone can also learn signals from existing remotes so if a button doesn't do what it should or you're using a device not in the extensive database you can teach the app.
The Galaxy S5 cannot learn new signals (it only has an IR emitter, not a receiver), but it does have a more extensive library of signals built in, allowing it to control disc players, streaming players and even air conditioners.
Couch potatoes will enjoy controlling their HTPC setups, but they can get some exercise with either of the two phones as well. The Samsung Galaxy S5 has the feature-rich S Health app, which other than the phone itself, can work with a Gear smartwatch or one of several third-party trackers.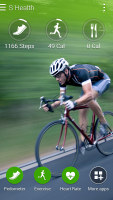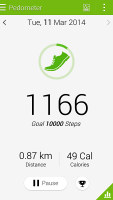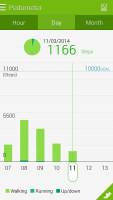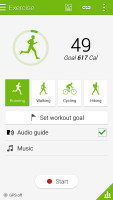 S Health app works with third-party accessories too
The app can use the phone's heart rate sensor for instantaneous readings or you can use a Gear smartwatch or dedicated heart rate sensor. These readings make the calorie tracker much more accurate.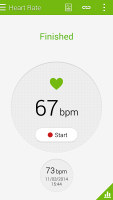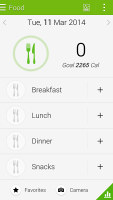 Measuring your heart rate • counting callories
The HTC One (M8) comes with the free Fitbit app, which is designed to use Fitbit's trackers (and only them). If you don't have one, the app can rely just on the phone's sensors. The Fitbit range includes a scale to automatically upload your weight, but you can input those values manually. S Health can use wireless scales too, but it supports a couple of brands.
For weight watching, both apps let you keep track of your diet, calculating calorie intake and burn rate. The Fitbit app can also track how much water you drink, which is also important for weight loss.
Considering you can download Fitbit's app on any phone and that it works much better with one of Fitbit's devices, HTC's contribution here isn't much. Samsung's custom S Health app on the other hand is exclusive and one of the most feature-rich we've seen. It supports third party devices and the heart rate readings make it more suitable for serious exercise.
HTC traditionally has an option to copy contacts and messages from your old phone, which facilitates the switch to your new One (M8). If you're upgrading from an Android phone, Google will take care of that by syncing seamlessly, but in case you're trading in an iPhone this app can save you some hassle. That's only if you haven't synced your iPhone with Google's services though.
Winner: Samsung Galaxy S5. The HTC One (M8) has certain hardware advantages, which help it in the media player department, but Samsung's app package is richer out of the box. The S Health app is amazing too.
The HTC One (M8) has an FM radio for those who still haven't made the switch to Internet streaming. You might be switching its music and video players because they lack some needed features and the Fitbit app is non-exclusive, which hurt HTC's case here.