Third time's the charm
Samsung Galaxy Tab 3 10.1 review: Third time's the charm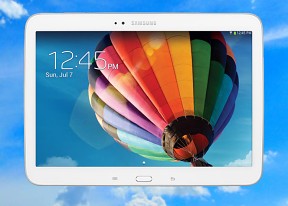 Phonebook has all you need
On 3G-enabled versions of the Galaxy Tab 3 10.1, you'll find a phonebook that packs an incredibly wide range of features. You'll find the same features from Galaxy smartphones here as well, including four tabs on top, which provide access to the Phone app, Groups, Contacts and Favorites. You can import/export contacts to/from the SIM card but you can't display them alongside the phone memory entries.
Like the settings menu, the phonebook is divided into left and right sections, with your contacts on the left, and their relevant details on the right. Information is perfectly organized into different sections for phone, email, etc.
If the phonebook finds duplicate contact entries, it'll prompt you to join them. Furthermore, there are a plethora of options once you hit the Menu button. You can view the call history, as well as join, unjoin and share contacts.
There's plenty of contact information you can assign to each contact and it still remains neatly organized. You have a variety of fields listed (numbers, email addresses, etc.) and, just like the previous version of TouchWiz, there's a plus sign on the right - tapping it adds another item of that type. Conversely, pressing the minus sign under it deletes the unneeded field.
Full-featured telephony
The Samsung Galaxy Tab 3 10.1 (model number P5200) that we are testing has 3G connectivity and telephony to go with it.
It offers top notch in-call audio and managed to hold onto a signal trouble-free. Earpiece volume is great and Samsung has even gone as far as adding an in-call equalizer, which does wonders. Obviously, the Galaxy Tab 3 10.1 is not the most comfortable piece of hardware to use while calling - especially if you want privacy - so if you have to use its telephony, you're better off doing it via a headset.
The phone app on the Tab 3 10.1 features Smart Dial, which searches names and numbers simultaneously.
Voice dialing is available too and taken care of by the newly added S Voice, which activates on a double tap of the home button. All you need to say is "Hi Galaxy" and speak your command (e.g. "call Dexter"). It takes a while to process voice commands but it has more uses than other voice-recognition apps for Android.
The call log is the tab next to the dial pad. It displays all the dialed, received and missed calls in one list, sorting your call history by contacts.
The available options during a call include taking a using the keypad, muting, boosting the volume, or adding another call to this conversation.
Messaging with room for customization
The messaging department is fairly straightforward, you get a list of conversation threads, with the recipient(s) being indexed on the left, and the actual threads being displayed on the right. There's application-specific search that lets you quickly find a given message among all your stored SMS and MMS.
The keyboard of the Galaxy Tab 3 10.1 displays an additional row above the letters for numbers - like a full-fledged computer keyboard does.
There's also a Swipe-like mode which tracks your finger and guesses the word you're trying to type. This feature works great but has limited language support for now. Another swiping function lets you move the text caret by swiping left or right on the keyboard. Only one of these two features can be enabled.
There's also handwriting recognition, as well as a split keyboard that allows you to type with just your thumbs on opposite ends of the display.
On a screen this big, the floating keyboard is a nice option. It takes up less space on the screen and can be moved around, plus the smaller keyboard may be easier to type on for some ("smaller" here is relative, it's still quite big compared to phone keyboards).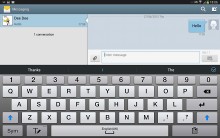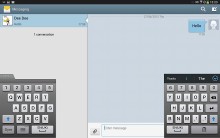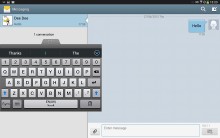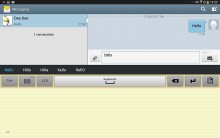 The Tab 3 10.1 offers numerous input methods
Adding any multimedia content to the message automatically converts it into an MMS. You can either quickly add a photo or an audio file to go with the text or compose an MMS using all the available features (like multiple slides, slide timing, layout, etc.). The multiple slides are all shown inside the compose box.
You can use S Voice to dictate your message or use Google's built-in voice recognition software if you don't feel like typing. Since this is a Jelly Bean device, you can also use voice typing without a data network connection, as long as you have downloaded the necessary language packs. Samsung also provides the option to change the default input method.
Samsung has left a lot of room for customizing your messaging experience. You can choose from different bubble styles and colors, and even change the background image to whatever you want. Also, the volume controls let you increase or decrease the font in conversations to really make use of the large screen.
Just like the dialer, the Messaging app has built-in spam prevention. You can block some numbers (or all unknown numbers) and even add specific phrases to be blocked.
Moving on to email, the Gmail app now features color coded sender images, based on the first letter of the sender's name. This lets you easily see who your most popular email correspondences are with. The default app supports multiple Gmail accounts, but there's no unified inbox.
A cool feature in Gmail is that you can swipe an open message left or right to go to the previous / next. Swiping on a specific line in the inbox will archive the message.
The Samsung Email app can handle multiple POP or IMAP inboxes. You have access to the messages in the original folders that are created online, side by side with the standard local ones such as inbox, drafts and sent items.
In terms of functionality, the Email app is very similar to the Gmail one, with the key difference being the addition of support for multiple third-party accounts.