Splashing colors
Samsung Galaxy Tab S 10.5 review: Splashing colors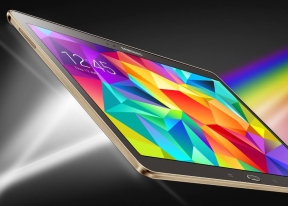 Introduction
Samsung Galaxy Tab S 10.5 is the full-size member of the freshly announced tablet family by Samsung. Like its smaller sibling, the Galaxy Tab S 8.4, the newcomer capitalizes on the world's only 10.5-inch Super AMOLED screen panel and aims to capture a spot at the top of the tablet hierarchy, currently dominated by the Apple iPad Air.





Samsung Galaxy Tab S 10.5 official images
The South Korean manufacturer has thrown some of the best hardware out there into the tablet's ultra-slim body, headed by stunning Super AMOLED display with the ultra-high resolution of 2560 x 1600 pixels. The increasingly important class-leading tablet user interface based on the latest Android KitKat is on board as well - there's enough of it to satisfy even the most discerning user.
Key features
10.5" WQXGA Super AMOLED display with a resolution of 2560 x 1600 pixels
The Wi-Fi-only version comes with Exynos Octa 5420 chipset; quad-core Cortex-A15 CPU plus quad-core Cortex-A7 CPU; Mali-T628 GPU, 3GB RAM
The LTE (Cat.4) version comes with Snapdragon 800, quad-core Krait 400 @ 2.3GHz; Adreno 330 GPU; 3GB RAM
16/32GB of built-in storage, expandable via the microSD card slot
8MP camera with LED flash; 1080p video recording; 2.1MP front-facing camera
Built-in fingerprint sensor
IR port for remote controlling other
Built-in stereo speakers
7,900mAh battery
Impressively light and slim for its size
Android 4.4 KitKat with TouchWiz UI; split-screen multitasking
A number of free premium content subscriptions out of the box
Optional docking station with a matching finish and a full QWERTY keyboard
Main disadvantages
The available color schemes might not fit all tastes
Android still lags behind iOS in terms of tablet-optimized apps
GPU performance leaves a lot to be desired
No NFC
The high-resolution Super AMOLED display is undoubtedly the tablet's biggest highlight. The screen has been racking up accolades since tablet's announcement for a good reason - it is simply stunning to look at.
The rest of the hardware is not too shabby either. The list of available features includes IR port and fingerprint sensor and is certain to satisfy even the biggest spec sheet junkie, while the new design language will certainly appeal to the Samsung Galaxy S5 owners looking for a matching tablet companion for their smartphone.
GPU performance is one of the major question marks in the Samsung Galaxy Tab S 10.5 - we found the Mali-T628 GPU to be lacking in flagship-worthy oomph when we tested the smaller Tab S model. We will surely take a close look at how the big brother handles graphic-intensive tasks.



Samsung Galaxy Tab S 10.5 live photos
Does the Samsung Galaxy Tab S 10.5 have what it takes to send the Apple iPad Air home packing? Read on to find out! As always, we'll kick the review off with on unboxing, followed by design and hardware inspection.
R
After almost 8 years my tab is still running with nice battery although I don't use it heavily or play games. The screen is splendid and try to match my new samsung S7 plus tab. Well made samsung.
S
I obtained a Micro B to USB C adaptor and connected to my TV HDMI port. Does not work! Whereas my Samsung Galaxy phone connects through the USB charging post to HDMI ok. Any suggestions?