Hardware
It is no secret that modern wearables and especially smartwatches generally borrow most of their internals from the smartphone realm. In fact, many of today's Android Wear devices rely on older Qualcomm chips - most notably, the Snapdragon 400. That isn't necessarily a bad thing, as it is cost-effective and in their current state of development, most wearables aren't really starving for computing power.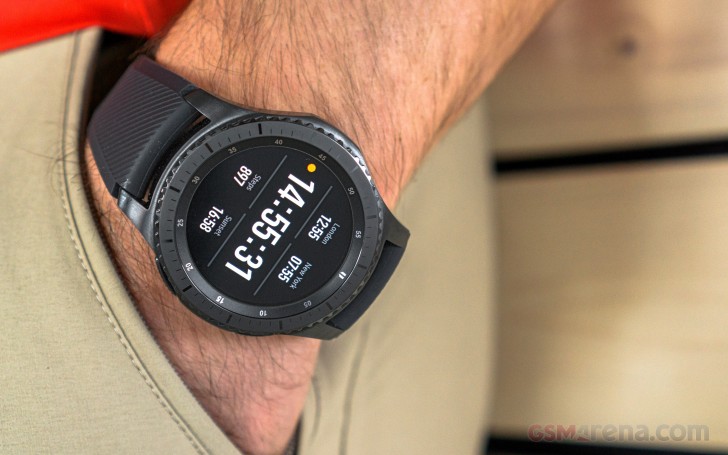 On the flip side, however, an old chipset means old architecture and manufacturing process. In this case, 28nm. That is far from ideal when it comes to power efficiency. And when you have a 380mAh battery to work with, that can become an important consideration .
Than being said, for the Gear S3, Samsung has decided to go with one of its in-house Exynos chips yet again. The really cool part is that the Exynos 7 Dual 7270 is based on a 14nm FinFET process. This is definitely a key factor in achieving Samsung's claimed, and largely true, 4-day battery life.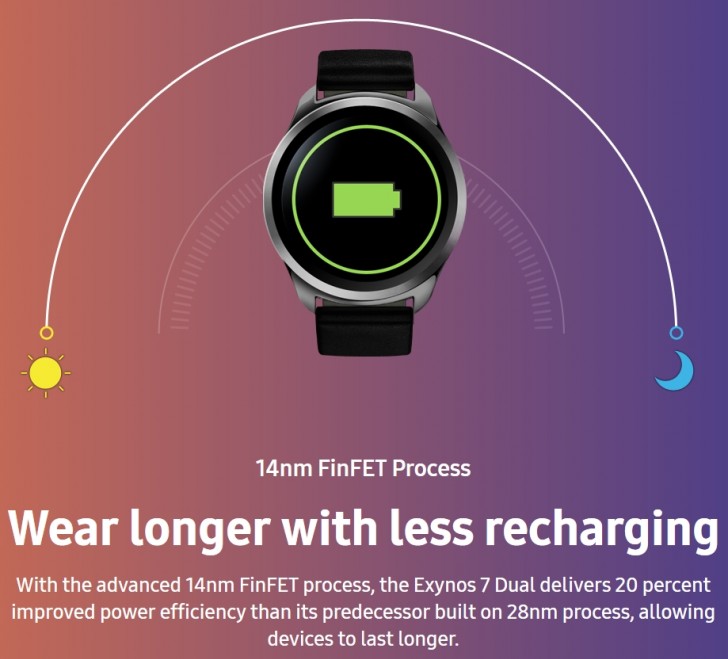 Another truly great trait of the Exynos 7270 SoC is its SiP-ePoP package design. What it enables is for the processor to be stacked together with RAM and the eMMC storage, as well as the power management IC into a tiny 10mm by 10mm package. The whole module is 30% slimmer than its predecessor and thus allows for lower profile wearables, as well as fitting more internals in the limited space.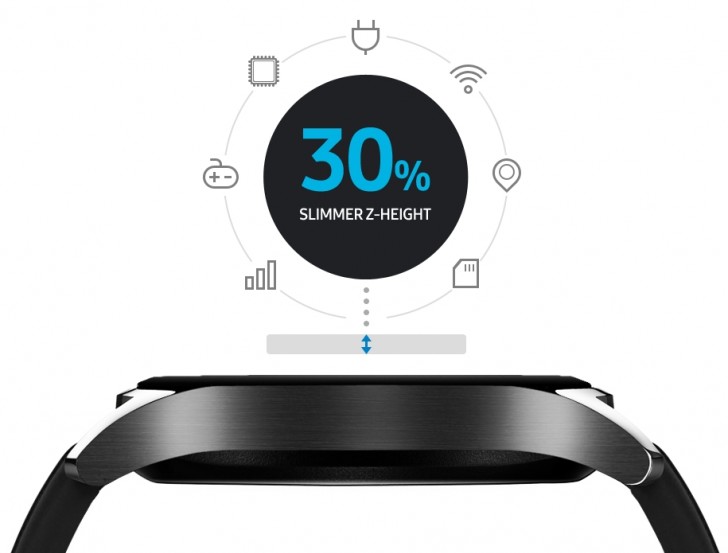 Speaking of which, the Gear S3 has a lot more going on the inside than its 11.4mm profile would lead you to believe. As already mentioned, the single chipset package is home to the pair of processor cores, as well as the 4GB of storage and 768MB of RAM. This is also where the LTE modem lies, but you will only be able to take advantage of it if you opt for an LTE-enabled Frontier model. But more on that in the connectivity section.
As far as other modules go, you get a slew of sensors, including Accelerometer, Gyro, Barometer, HRM and Ambient light. The rest of the Gear S3's body is mostly occupied by the 380mAh battery. Last, but not least, there is a special coil, as well as the accompanying control circuit that enables the device's WPC wireless inductive charging.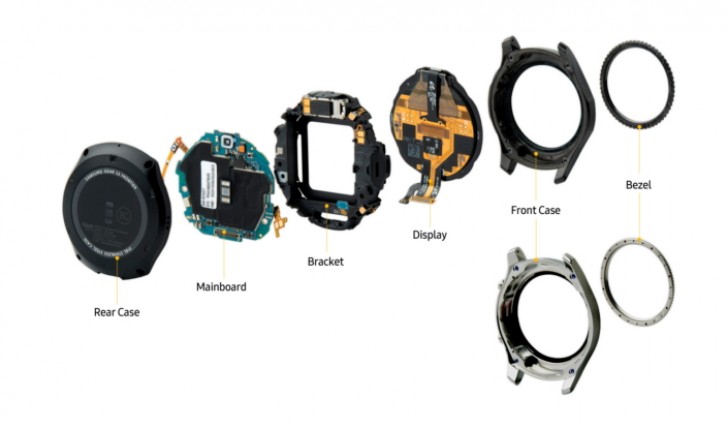 Speaking of the display, you get a top-notch Samsung-made Super AMOLED panel. It does great in both color reproduction and contrast, providing practically infinitely deep blacks. Samsung also decided to preserve the 360 x 360-pixel resolution. Since the panel is 0.1-inches bigger than the one on the Gear S2, this has led to a slight decrease in pixel density down to 278, but that's only for those of you who are keeping score.
Everything is still perfectly sharp, and the preserved resolution definitely helps in reducing the development load for re-purposing the system UI and apps alike.
There is one notable concern with AMOLED panels. While they are undoubtedly better for conserving battery life, the panel is, theoretically, susceptible to burn-in. Android wear gets around it with burn-in protection, hidden away in the developer menu. The Gear S3 employs similar tactics, combined with some clever tricks such as turning off the screen when the watch isn't on your hand or you are not looking at it.
Connectivity
Since, like most smartwatches, the Gear S3 is intended to serve as an accessory to your phone more than anything else, connectivity options are key. Samsung does have a more independent mentality for its wearables than most, but more on that later. As far as current offers go, the Gear S3 seems to be "specked-out" in this department.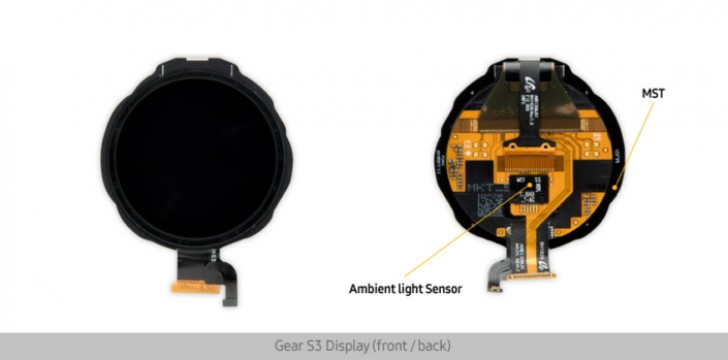 First off, there is power-efficient Bluetooth 4.2, which you will likely be using as your primary data channel most of the time. If that fails (probably because you've separated the two devices), there is Wi-Fi b/g/n as a backup connectivity channel. The watch also has the ability to fetch your saved Wi-Fi passwords on most Android phones, for extra convenience.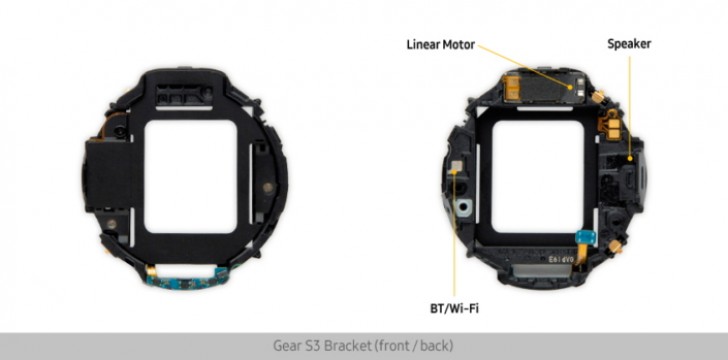 While on Wi-Fi, the Gear S3 can continue to function normally, as if it is on a local Bluetooth connection, provided that your phone has internet access as well.
Even if there is no smartphone connectivity whatsoever, the Gear S3 can still do a surprising number of things. Since its Tizen-based OS offers access to connection channels and data API's, including things like a Web view directly, some Gear apps can actually do their work entirely on your wrist, with no phone required. We will definitely get back to this in the software section of the review and compare it to Google's current and future approach with Android Wear.
Unlike the previous Gear S2 generation, all Gear S3 units, including the Classic and Frontier, now have a built-in speaker and can be used for taking and placing calls from your phone, both through Bluetooth and Wi-Fi.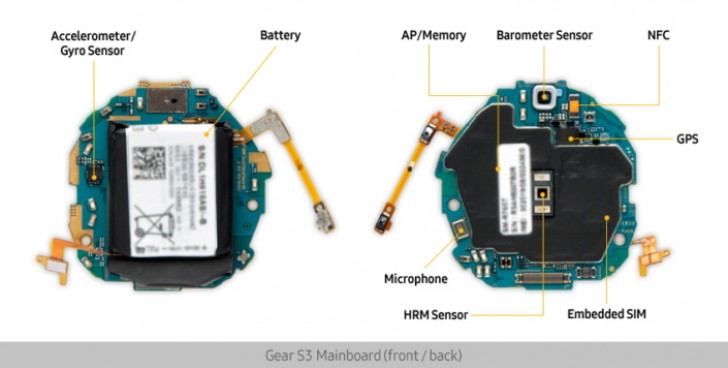 The feature that is still reserved for a limited subset of the models, however, is LTE connectivity. Only the Frontier exist in an LTE variant. It uses a built-in eSIM to connect to a carrier network. Through that, it can place calls on its own and access 4G data. That makes said variant even more independent from your phone, as it has a third option to connect to it remotely, apart from Bluetooth and Wi-Fi.
The obvious downside, of course, is that the LTE frontier will require another contract line with your mobile carrier. If you are okay with that, the Gear S3 frontier LTE is currently up on offer at both AT&T and T-Mobile in the US. As far as we know, going to a carrier is the only sure way to get the LTE variant. Any other vendor will likely ship you the vanilla version of the Frontier.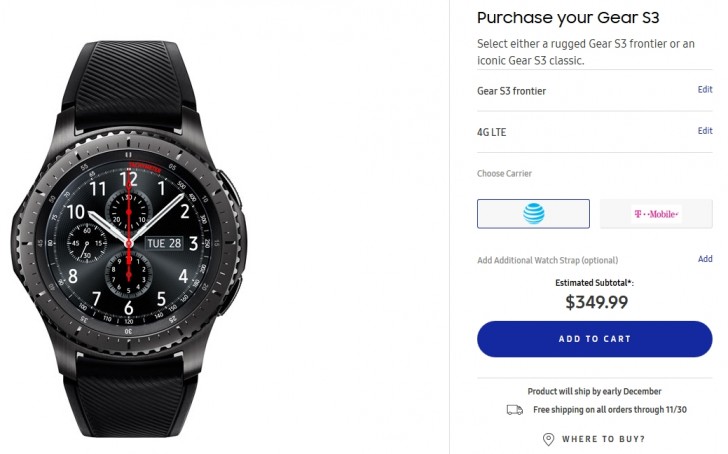 GPS is present on all Gear S3 models. It can aid in outdoor activity tracking immensely but should be good for turn-by-turn navigation as well. All you need to do to take advantage of the added functionality is download one of the surprisingly many navigation apps from the Galaxy store. Some rely on Here maps, others on Google, so you are not left without choice either. The GPS can provide speed reading as well.
It is also worth noting that the LTE-enabled Frontier model has A-GPS as well, which should definitely improve its positioning speed.
Contactless payments
Mobile payments also play a major part in Samsung's notion of a great wearable experience. To that end, mostly, Samsung included NFC in the feature mix. Through it and using Samsung Pay, you can easily pay on supported terminals in countries that have the system in place. To sweeten the deal even further, the Korean giant has also included MST in the Gear S3 so it will emulate any of your cards that are secured only by a magnetic strip.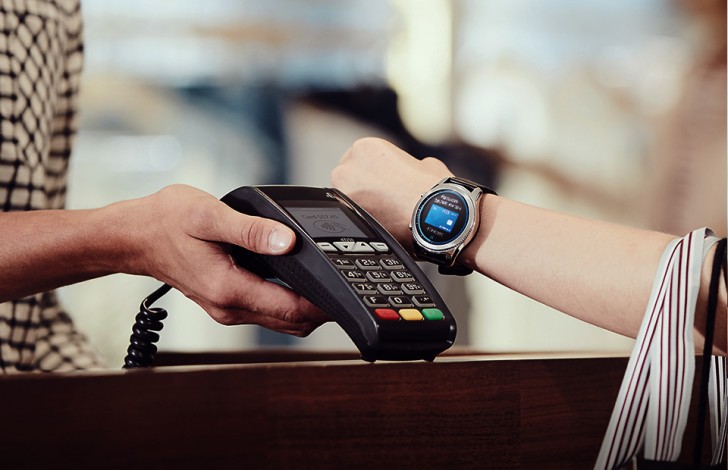 If you are not familiar with the technology, the acronym stands for Magnetic Secure Transmission and its main purpose is to fool older swipe-style bank terminals into thinking you inserted and ran a card through. It's a unique technology that we have already seen in action on some of the company's high-end handsets, and it is surprisingly reliable as well.
This combination, plus the fact that once properly set up, the watch can make payments on its own, without your phone, gives the whole system incredible versatility. Better yet, Samsung recently released Samsung Pay for general use on non-company Android 4.4 and newer devices as well. The only problem is that the payment gateway still isn't live and available in most of the world.

Still, if you live in the US, chances are you can already take advantage of the system. Plus, as an added bonus, Samsung Pay also lets you add other club or loyalty cards to the app and beam them to readers as well so you can leave your purse or wallet at home altogether.
Battery life
It is no secret that battery life concerns are still a major drawback for many prospective wearable buyers. Even if you are willing to stomach the, often times unreasonable price tags, just for the sake of the new experience, having to charge the unit on a daily basis can suck all of the fun out of it in no time.
As already mentioned, Samsung has really gone the extra mile to ensure it can squeeze as much usage time per charge as it possibly can. The 14nm Exynos chip definitely shines in the endurance department. Sadly, we couldn't conduct any standardized tests on the Gear S3, but we did manage to replicate Samsung's advertised 4-day battery life.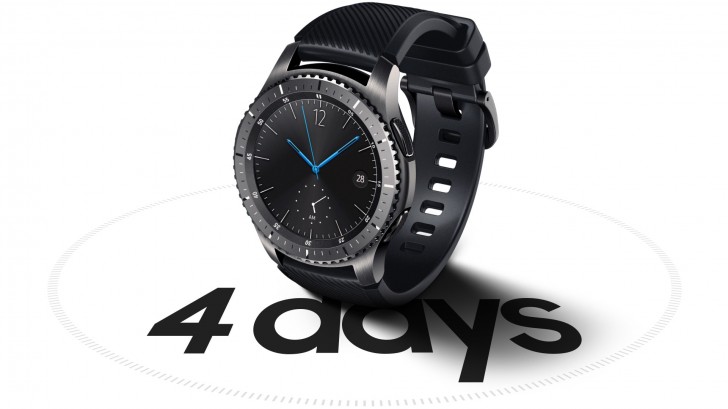 We did so by disabling the Always On screen mode. However, turning it back on didn't really make that much of a difference, since the watch does try its best to give the panel a rest by turning it off whenever it could. In this mode, we still managed a good 3 days or so.
Our usage pattern includes plenty of notifications all day long, a couple of voice calls and intermittent switching between Bluetooth and Wi-Fi. Mind you, this is without using the GPS.
If you are low on juice, Samsung also made sure to include a power saving mode. It can typically extend the life of your battery by a couple of hours. As a trade-off, you only get notifications and a few other basic features.
But, there is an even more interesting battery saving mode as well. If you let your battery fall all the way to 5%, you get a notification, prompting you to enter what is essentially watch-only mode. In it, the device practically disables every bit of smart functionality it has, including all communication channels and apps. What you are left with is a digital clock readout that can only stay on screen for a few seconds, each time you press a button.
It is a great last resort measure to have, and we really hope Samsung enables toggling it manually at any battery level in the future. Using it, we managed to get through a whole day on what was only 3% charge left. Perhaps the Gear S3 would have gone beyond that as well, but there was no way to tell the current charge anymore.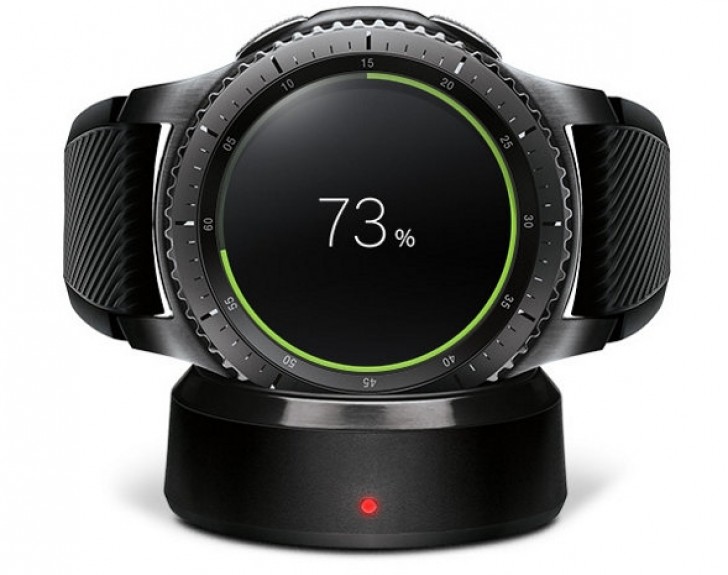 As for charging, the Gear S3 relies on WPC wireless technology. Charging it from around 5% to 100% takes just over two and a half hours. A traditional wired charging method could have improved that, but you do get the bonus of having no exposed metal contacts to worry about.
Plus, the charging cradle is really convenient. It is practically identical to that of the Gear S2. When charging, the device sits sprung up on a vertical panel, held in place by magnets. This allows you to monitor the charging process easily and even use the Gear S3 as an impromptu nighwatch by your bed.