Fitness tracking, apps
Fitness tracking is a big part of the Gear experience. The companion S Health app on the Gear S3 is excellently designed and gives you an easy overview of your daily activity. It tracks steps and runs, calories, heart rate as well as coffee and water intake (if you care enough to input those on every consumption). This time around, there is also Floor tracking, which, we guess is kind of a cool idea.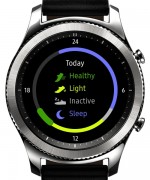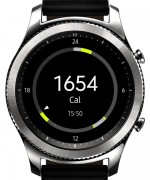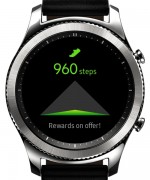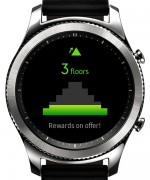 S Health offers an enormous amount of functionality
Automatic workout and activity detection is great to have on a daily basis, but if you really want to get serious, S Health has you covered as well. You can start your running session and with the GPS guidance the smartwatch will tell you when to end the run, the distance you've reached and will draw your course on the map. The data is nicely synced with the full blown Android S Health app. In fact, the two are so tightly integrated that we often found ourselves wondering where each interface was coming from and who is actually doing the heavy lifting - the wearable or your phone. The level of integration is truly impressive.
The S Health app now offers support for a surprising number of other activities and sports as well. You can even track your sledding, if that is your fancy.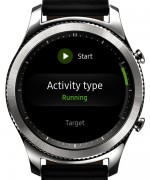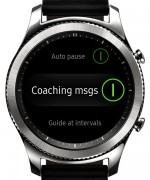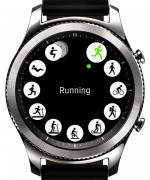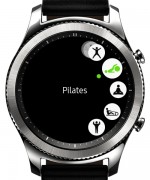 Advanced activity and sports tracking
To make things even more convenient, most every aspect of the S Health app is constructed to allow embedding on a home pane of its own or as a source of data for a complication on a watchface.
But if all you wanted was activity tracking, you would have probably gotten a dedicated device for that. The Gear S3 can do so much more, even out of the box. The wearable is quite flexible when it comes to media consumption. Well, audio, to be exact, as we doubt anybody would really want to browse photos or watch YouTube videos on a 1.3-inch panel. Although, both are still doable.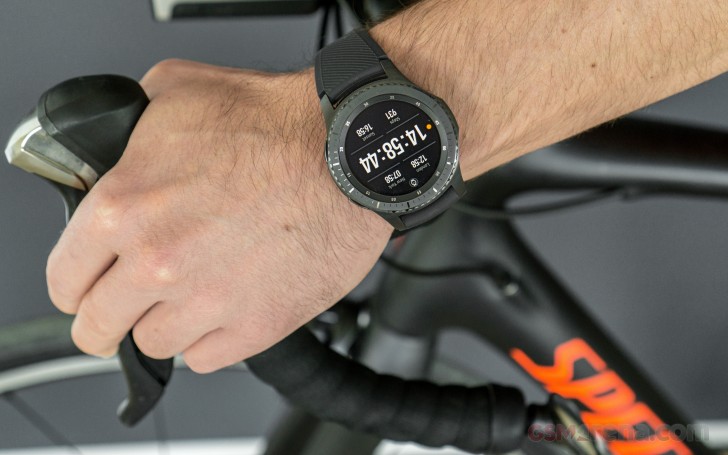 The default Gear music app served a dual purpose. You can use it to control most popular music players on your phone, complete with track skipping, volume controls and beautiful album art backgrounds.
A little button in the top right corner allows you to switch to local playback. In this mode, the Gear S3 can access any song on its local 4GB storage and play it through the loudspeaker. Admittedly, that isn't all that convenient, but you can also pair Bluetooth headphones or speakers directly to the watch as well.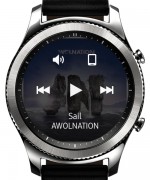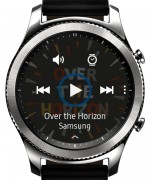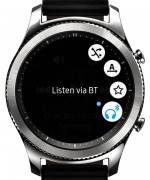 The Music player also acts like a remote
Samsung did also promise a dedicated Spotify app for the Gear S3 and presumably older Tizen wearables as well. It will allow for phone-independent music streaming, but is yet to make its way to the Galaxy store. We did get a demo of it back at CES 2016 when the Gear S3 was announced, so, it seems to only be a matter of time, before we get the app. It is this kind of independent app-running potential that really has us excited about the future of Tizen.
You get a few other default Gear apps out of the box as well. Phone, Email and Messages are among them. You can browse your call history and place a call to any entry on the list, favorite contact or even punch in a number, so the freedom is definitely there.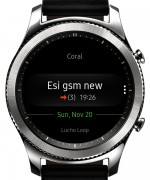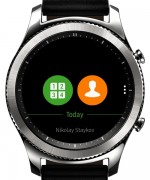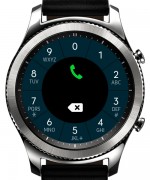 Phone and Contacts applications
All other basic commodities that you would expect to see in an app drawer of any sort are also present. The wearable can manage alarms, timers, has a stopwatch, schedule and a weather app.
One of the more advanced features includes an Altimeter plus Barometer combo. There is also a Find My Phone feature, which offers both paging the device through whatever communication channel is currently available, as well as positioning on a map, using the last known location, or a fresh one, if available.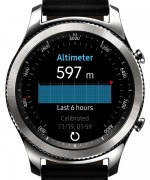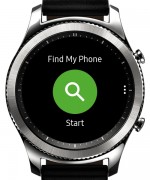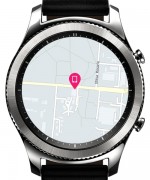 Altimeter/Barometer • Find My Phone
Interestingly enough, unlike the Gear S2, the Gear S3 does not come with any Maps app pre-installed. Luckily, however, quite a few are available on the Galaxy store. You even get a fair amount of choice when it comes to map data vendors, as well as added functionality. Thanks to Tizen's independence, the Gear S3 is even capable of using its on-board GPS for routing and navigation, given the right software.
Here maps used to be the standard on the Gear S2 and while there has obviously been some versioning and remodeling work behind the scenes, you can still get the Here maps experience for the Gear S3 from the Galaxy shop, free of charge. We don't know, for a fact, why the app didn't ship pre-installed, but finding it is easy. All you have to do is search for Here or Navigator.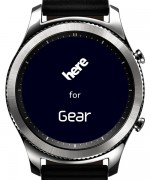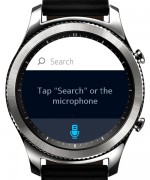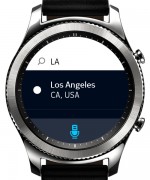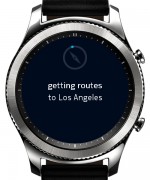 Here WeGo navigator is really powerful
The app itself is quite complex and full-featured, with a lot more options now available on the wearable. It also requires its Android equivalent to be installed on your handset for all the functions to work properly. The Galaxy app store has an easy way of installing both apps at once, for added convenience.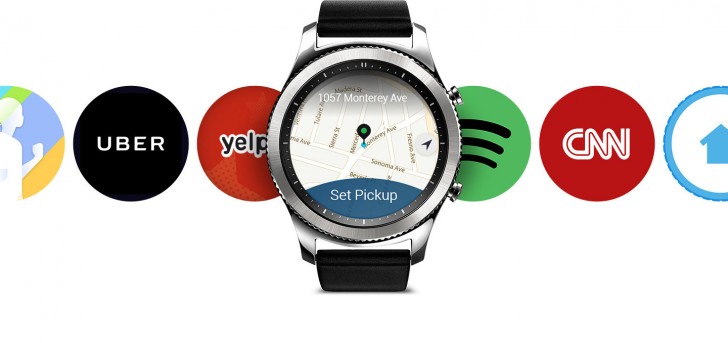 Speaking of third-party apps, things are definitely picking up for Tizen. Samsung's SDK and IDE studio are now cleaner and more approachable for developers than ever. The gab between it and the Android Wear ecosystem is still significant, but is definitely getting smaller.
The allure of advanced app functionality and APIs could definitely play a role in the advancement of Tizen's popularity among developers. Samsung is also making strides to streamline the entire app delivery process. The Gear S3 can now fetch and install apps on its own, independent from your phone.

It is hard to say exactly what will happen once Android Wear 2.0 finally arrives with its expanded functionality. But if nothing else, we definitely have to give Samsung credit for trying hard to give Tizen a fighting chance on the playing field.