The Tizen way
The wearable market has had a somewhat unusual history and development these past few years, and Samsung has been an active participant in the better part of it. Google's Android Wear OS definitely revitalized the stalled market and perhaps even re-invented it significantly, by allowing third-party hardware designers to throw their gloves into the ring, while skipping on some major software development costs.
While not necessarily a bad thing, this kind of approach does bring about a sort of unification that was, perhaps, a bit too early for the recently rebooted smartwatch industry. Add Google's unwillingness to break its standard and allow custom implementations on the Wear OS to the mix and what you end up with is a growing market that doesn't really foster much creativity beyond actual hardware design.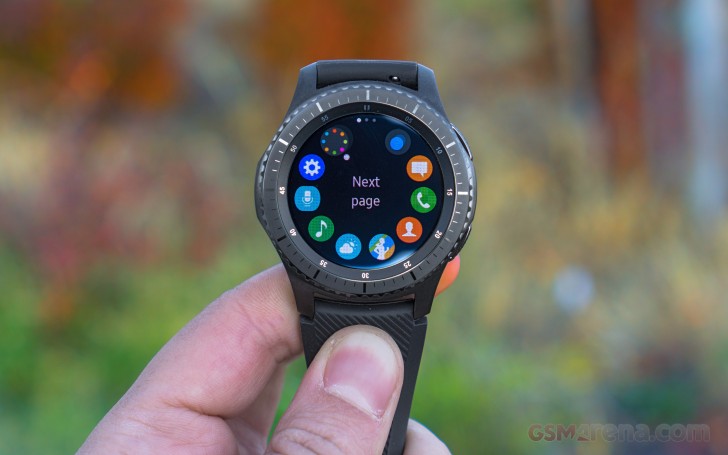 The obvious alternative to said, premature unification is the good old and well familiar proprietary development path. This is quite like Apple's ongoing strategy, and the Apple Watch is a perfect case study for the merits of a tailored approach to the new market. After a bit of soul-searching and trial and error, Samsung was quick to realize this as well and is now arguably better off for it.
On the mobile front, Tizen might still be nothing more than an experiment, a plan B, if you will and an exciting new platform with lots of possibilities. In Samsung's smartwatch division, however, the open source platform is king and has been enabling powerful and flexible experiences for years now.
And we mention field-test handsets like the Samsung Z3 to make a very particular and important point here, namely that in its current state, Tizen is a lot different from its main Google-crafted competitor on a conceptual and functional level.
Android Wear started its life as an extension to Google's mobile OS. For the most part, it is intended to act as a companion, a faithful sidekick for your handset. This is why, currently, most every Android Wear app is developed and shipped as an additional interface, bundled with the phone's main APK. Typically, the phone calls the shots, it is the source of all the data and not only relays things to your wrist but also mostly limits the Wear OS itself from single-handedly tapping into its own hardware and communication channels. This is a big part of the reason why you don't see many phone-independent apps and experiences on Wear these days, including highly sought-after things like autonomous Web experiences or custom keyboards.
Most of this is poised to arrive with Wear 2.0 early next year. But, the thing is, Tizen is already suited to work this way. In its core, it is a lot more complete and self-sufficient. Thanks to an extensive set of APIs, Gear apps can truly be untethered from your phone. All important communication channels, like Wi-Fi and even mobile data on the LTE models, can be tapped into locally. Web experiences and pages can be rendered and used in full and high-level functionality like music streaming, NFC and MST payments are also possible on the watch independently from the phone. Take into account the optional voice calling features and you end up with a device which is more of a second, wearable smartphone that just happens to play nice with your main one.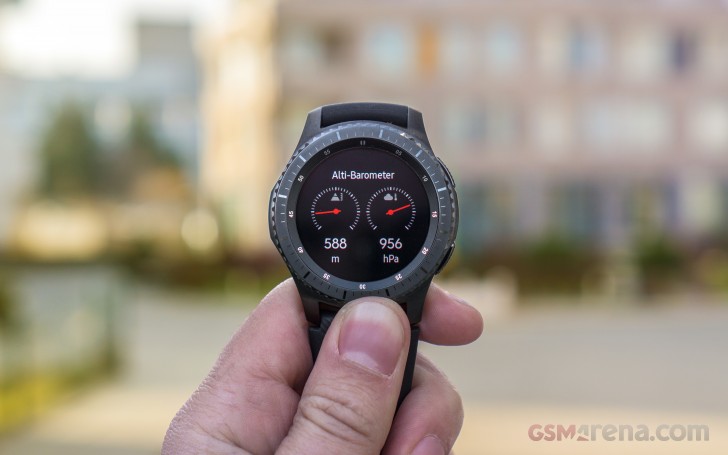 But, let's step back a bit. Speaking of the watch to phone communication, Tizen has you covered with an extensive set of supported synch and comm channels and controls. Since, this is the part of the experience most users will care about, leaving these nitty-gritty implementation details to developers, we can't miss to showcase and explore it.
On the phone side, Samsung still uses the Gear Manager app to power communication to your watch. Samsung has already broken out of its restriction policy of the past and allows non-Galaxy smartphones to connect to its smartwatch.
Naturally, the Gear S3 still prefers to play with a Galaxy phone, preferably a recent and higher-end one, but a TouchWiz-based environment is not mandatory, as long as you are running Android 4.4 or higher and have 1.5GB of free RAM on your phone.
It is also worth mentioning that the Gear app has a lot more going on under the hood than might meet the eye. It is actually a big framework of various API's, hooks and services that attach themselves to almost every core functionality of your device, so as to monitor and relay information to your wrist, be it notifications, calls or multimedia.
The Android Wear companion app is pretty much the same deal, so this shouldn't worry you, but whereas Google has already set a lot of the groundwork for its wearables inside Android itself, Samsung has a lot more code to implant for the Gear S3 to work. What this all means is that while the Gear S3 can be used with most any recent Android phone out there, your experience may vary greatly and compatibility issues are not unlikely. But, just like iOS compatibility for Android Wear, no one seems to be expecting or aiming for perfection.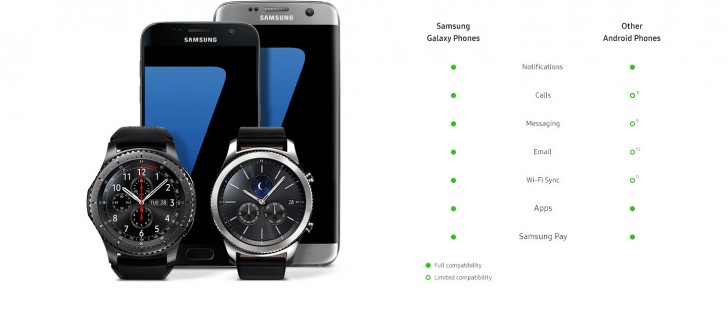 But despite all the aforementioned complexity of the Gear app, it is surprisingly well organized and straight-forward form a user standpoint, which is all that matters at the end of the day. The main app interface is divided into two main tabs. The Info one provides a convenient overview of you Gear and its status.
This includes Battery, Memory and RAM figures, many watchface and app suggestions, tailored to your preferences and all sorts of notifications, including updates.
Clicking on the stats widgets brings you to the About menu and a more detailed stats page per metric. This is a really great way to find misbehaving apps that are eating your battery, or check out what is taking up all your storage, as 4GB don't really stretch too far.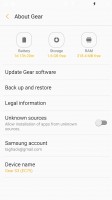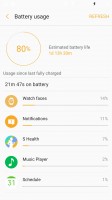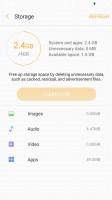 Detailed resource usage statistics
The second Settings tab within the Gear manager is filled to the brim with convenient functionality. First up, is the Watch face manager and editor. It is quite powerful and allows easy access to all aspects of the design, provided the developer has made them editable. This includes changing the dial and various interface colors.
Best of all, however, is the robust complications functionality. Complications are areas that a developer defines on a watch face, which can be filled by different kinds of user-selectable data. Just like little widgets for your watch, only even better, since the data gets automatically formatted to match the style of the watch face.
Data from complications can be sourced from many native watch API's to pull things like battery readings, steps count, elevation and others. However, developers can also leverage the complications platform and develop data sources of their own. Besides bringing relevant app data to the device's home screen, clicking on a custom complication can then be used to bring up a custom interface with even more custom data and functionality or perhaps to link to the developer's app itself, running on the system.
This is a truly powerful modular development approach and just one more example of the advanced functionality Tizen and Samsung have already brought to the smartwatch scene. Similar functionality is promised for Android Wear 2.0.
Besides the already mentioned watchface editor, the Gear app also offers a notification center for per-app control, as well as an easy way to manage the software running on the Gear S3 itself. You can reorganize the watch's main menu, install new apps from the Samsung store and even change available setting on the ones you already have installed.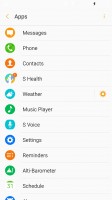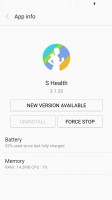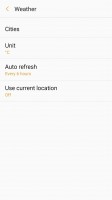 Gear app manager, info and settings
While on topic, Samsung still uses its Galaxy app store to list and deliver Gear apps. These have their own category within the platform, but sadly, there are no additional sub-categories within. Or at least none we managed to access. There are, however, a few suggested lists as well as curated ones for things like productivity and watch faces. However, overall, unless you know what app or at least type of functionality you are looking for, you are pretty much left helpless using only the search. Discovering new and exciting applications is hard.
Updating, on the other hand, is implemented excellently. It is also handled by the Galaxy store, but via a separate tab for Gear apps. That way you will always know what device you are updating.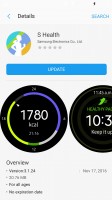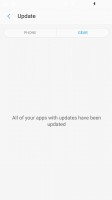 Galaxy app store for Gear apps
Transferring media to and from the Gear S3's 4GB on-board storage is also done through the Gear Manager and is quite straight-forward: select the media, upload it and it becomes available in Music or Gallery, respectively.
Following is an SOS settings menu. The Gear S3 can be used to page your emergency contact. It works as intended, but the trigger is simply holding the home key on the watch for three seconds, which can easily happen by accident as well.
The Find My Gear feature is pretty cool as well. It can track down your watch easily and make it light up and vibrate. This can naturally be done through Bluetooth or an internet connection. So, if your watch has an active Wi-Fi connection, it should be reachable as well.
Conveniently enough, Samsung has made sure that the Gear S3 seamlessly gets all the Wi-Fi profiles your phone has, making the whole system even more versatile. On the 4G model, finding the device is even more powerful - it simply needs to be powered and within cell range.
Last, but not least, you can quickly edit your quick response and call-decline messages from the Gear manager app.
Navigation and basic functionality
As already mentioned, the Gear S3 has no shortage of input controls and you can use most of them interchangeably across the user interface. This is quite convenient and drastically reduces the learning curve for new users. The rotating ring is a real pleasure to use, in particular, since the entire interface is really built in a circular manner.
The main starting point of the interface is, of course, the watch face. It lights up automatically when you bring the Gear S3 up and look at it. The detection works pretty well and is consistent, but you can also wake up the watch by tapping any other button. Oddly, tapping the screen to wake up, which was a thing on the S2, doesn't seem to work here.
You also get a low-energy variant of the watchface. Samsung has redesigned it this time around to include quite a bit more color and second arrow motion almost as fluent as in the main interface. The Gear S3 also recognizes a cover gesture. It is quite convenient. If the watch is in your way at any time, just put your palm on the screen and it will go off.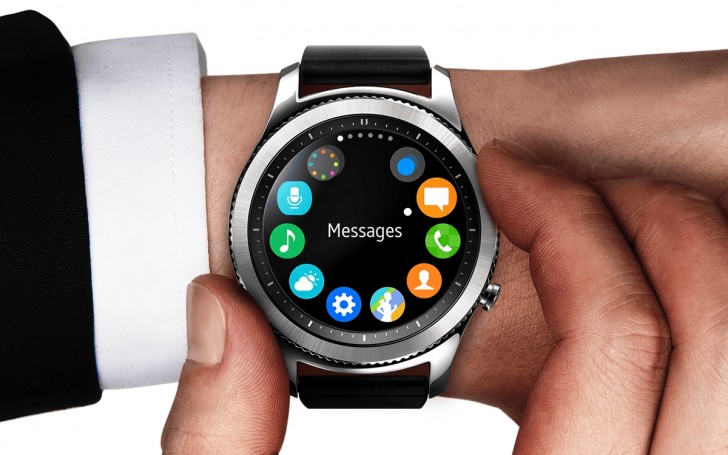 A flick to the left or a turn of the bezel in the same direction gets you to the notification pane. Tapping on a notification, depending on what it is, allows you to perform a contextual action: Facebook Messenger will give you a thumbs up, while an email can be deleted. Swiping up will dismiss them.
Going to the right gets you to the Gear S3 home screen panes. You can add, remove or edit any of them without affecting the performance of the watch.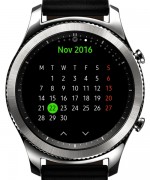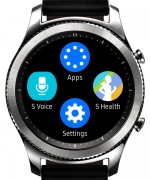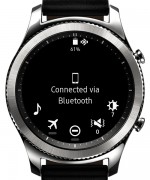 Screen panes and the options shade
Pull down from the top reveals a quick settings menu. There, the Gear S3 shows the battery level, whether Wi-Fi is turned on, as well as shortcut to the Music app, airplane mode, do not disturb mode, volume and brightness settings.
In any other interface, besides the watch face, pulling down acts as a Back action. You can always use the top or bottom physical buttons for that as well - the top one being a single step back and the bottom, acting more like a home button that just brings up the watch face.
The Gear S3 does have an app drawer. It can be accessed quickly by tapping the home or lower button while on the watch interface. Or, in other words, double tapping the button from any other interface will get you to the drawer. You can also add a shortcut to the drawer on one or multiple panes of your choice, as a shortcut or widget.
In fact, this is generally the case with most Gear apps. Most have the necessary interfaces to be opened directly as an app, placed as a widget on one of the panes or even used as a data source for a complication on the watchface.
The app drawer is where all your additional software resides. The custom Tizen OS might not be as rich as the sprawling Android Wear ecosystem, but there are still quite a few apps to download from the Samsung store and all the basics seem to be covered. There are also more than a few apps that shine with advanced functionality on a level currently not possible on Android Wear.
The interface is beautifully designed and arranged in a circle. Scroll all the way to one side and the page switches. It is a nice and convenient system that works well and takes full advantage of both the form factor and the available controls.
The integrated S Voice functionality allows you to issue commands to Samsung's S Voice, as well as respond to messages across the interface. In our testing, the voice recognition fared decently. S Voice does get better with training and some misbehavior is to be expected in the beginning. Plus, unlike Google's voice assistant, S Voice still seems incapable of understanding commands to message people on third-party IM clients. Hopefully, Samsung will bring this in a future update.
The microphone pinhole is slightly below the two buttons, and you'll get mixed results depending on how noisy the surrounding area is .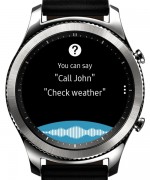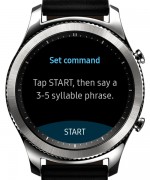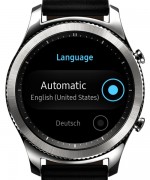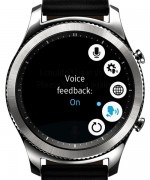 S Voice gets the job done, but there is room for improvement
Overall, S Voice definitely works better on the Gear S3, compared to a year ago when we tested it on its round predecessor. One great addition, in particular, is the ability to easily add a custom wake-up word. You can also choose whether the watch should listen to you when its screen is off and whether it should use voice prompts to answer. Recognition is supported in multiple languages as well.
Voice will likely be your main way of inputting text into the Gear S3, but just like its predecessor, it does have a keyboard as well. As hard as it might look to type on it, with a little patience, you can send an occasional emergency text. It also has support for touch input and a decent selection of emojis.
It is also worth noting that a proper keyboard is something Android Wear is still struggling with. Not to mention custom keyboard support, which has been a thing on Tizen for some time now as well.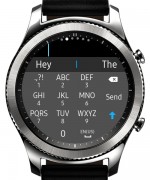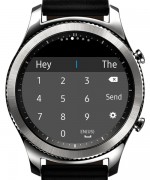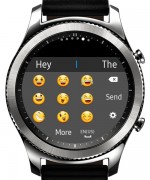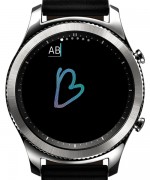 The keyboard is surprisingly usable
Of course, we can't really blame you if typing on a 1.3-inch screen isn't your thing. In that case, you can always use the list of pre-defined responses and emojis. Of course, you can edit them as well.